Click here to get this post in PDF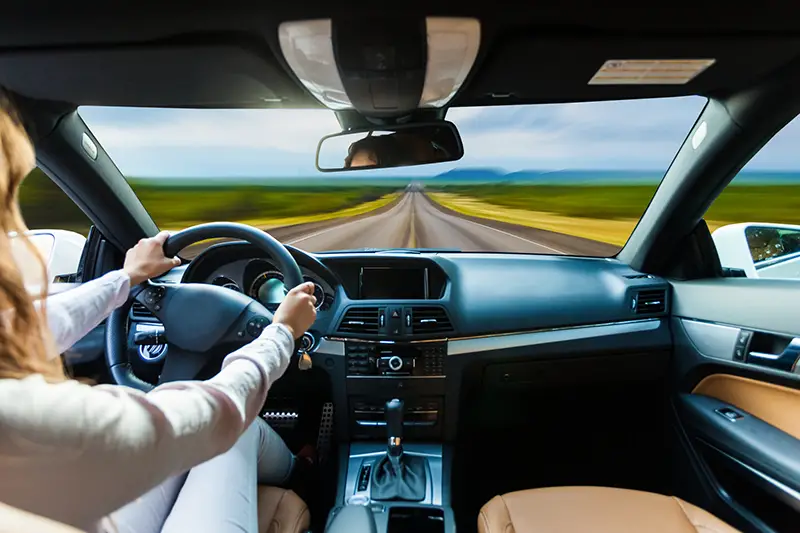 Remember when the scriptwriters on Minority Report promised us remote-driving cars? Or when Kit rode all over mainstream media in the early 80s as part of that dynamic duo of Knight Rider? Yup, there's a technological debt owed to us that Hollywood has been promoting for countless years — self-driving, interconnected cars. We're almost there, regardless of the complexity involved; the concept of interconnected cars isn't that far off. But, to create them, to get those products up and running, and take the next big step, rigorous testing is required. Autonomous cars might be a bit sci-fi for now, but not V2X, or vehicle to everything. Let's find out what it is and why V2X testing is important to ensure that the technology works as intended and that it is safe for use.
What is Vehicle-to-everything technology? 
Vehicle-to-everything technology is a wireless communications system that enables vehicles to communicate with each other and the infrastructure around them. It is a key component of autonomous vehicles.
V2X improves safety, efficiency, and comfort for drivers, passengers, pedestrians, bicyclists, and other road users. The technology will allow cars to talk to each other and the world around them.
Vehicle-to-everything technology can be used for many purposes, such as:
● Connected Vehicle Applications.
● Automated Driving Systems.
● Autonomous Vehicles.
V2X is an extension of IoT — The Internet of all Things.
The V2X technology enables vehicles to transmit and receive data from each other and roadside units, such as traffic lights, signs, and signals. The information is transmitted wirelessly through radio waves or Bluetooth or WiFi networks.
It also provides an opportunity for vehicle manufacturers to add new services and features for their customers – like navigation, parking location services, emergency assistance, vehicle health monitoring, etc.
The story of V2X communication – as an initiative to increase safety and reduce accidents and driver assistance – can be traced to the early 1970s. Spearheaded by projects such as the US Electronic Road Guidance System (ERGS) and Japan's CACS. Most big breakthroughs came from either Europe, the US, or Japan.
V2X has, as of 2022, 7 types of vehicle connectivity:
Vehicle-to-network (V2N)
Vehicle to infrastructure (V2I)
Vehicle to vehicle (V2V)
Vehicle to the cloud (V2C)
Vehicle to pedestrian (V2P)
Vehicle to Device (V2D)
Vehicle to grid (V2G)
Sub-areas of V2X
The sub-areas of V2X are ADAS and ITS.
Advanced Driver Assistance Systems – ADAS – is the subset of V2X that focuses on driver assistance. It is designed to help drivers avoid collisions, reduce the severity of accidents, and make driving more comfortable. These systems include adaptive cruise control, blind spot monitoring, lane departure warnings, and collision avoidance systems.
Intelligent Transportation Systems – ITS – is a broader category that includes ADAS as well as other types of transportation technology such as smart roads and smart intersections. ITS includes technologies like traffic lights that communicate with cars to reduce congestion or intersections that know when to stop or go based on traffic flow.
As vehicle to everything technology evolves new sub-areas and applications will arise. As a tech and standard, V2X is just getting started.
Testing procedures for V2X
For the tech to be properly customized, utilized, and commercialized by brands a huge amount of testing is required — not only to ensure that it works as planned, but to promote consumer safety, and to adhere to strike governmental bylines and standards. 
Let's look at some of the testing procedures available for vehicle to everything tech.
Interoperability and field testing
In a lab, everything more or less functions as it should — the real test occurs when the unexpected, and real-world situations are introduced. Interoperability and field testing are numerous exams performed to compare a device's programmed behavior in a qualified environment. How it connects to other products or devices, and how it reacts to certain situations. etc.
Security testing
The V2X technology helps to connect vehicles with other objects like traffic signals, pedestrians, bicycles, or even wildlife.
V2X Security testing is a process of identifying vulnerabilities in V2X systems. It is an important part of any development process because it ensures that the software, hardware, and functionalities of the product will be secure for its users when it goes live.
Functionality and performance
Vehicle-to-vehicle – V2V – and vehicle-to-infrastructure -V2I – technology is a new frontier for the automotive industry. This capability will allow vehicles to communicate with each other and the road infrastructure. Vehicle manufacturers are developing V2X systems to make roads safer, more efficient, and environmentally friendly.
The future of V2X technology is promising because it has many potential benefits in terms of safety, efficiency, and environmental impact. However, some risks need to be addressed before they can be deployed in a wide-scale manner such as security concerns and regulatory issues. Vehicles need to be tested, like all types of products, so what you advertise is what it ultimately does.
Vehicle Gateway Testing
V2X Testing is an essential part of Vehicle Gateway testing. the main objective of V2X testing is to ensure that all V2X functionalities are working as expected, including safety features like Emergency Vehicle Warning, Lane Departure Warning, and Blind Spot Detection.
The gateway provides live tracking and other capabilities.
Penetration testing
V2X penetration testing is a type of test to supervise whether a car can be remotely hijacked — penetration attacks target the communication between the vehicle and the infrastructure. The goal is to intercept, modify or replay messages that are transmitted over this link to change how a vehicle behaves. 
V2X penetration testing includes the following steps:
Install a V2X driver and sniffer on the vehicle that is under test. 
Check if there are any devices connected to the vehicle that are vulnerable to hacking, and map out these vulnerabilities using software tools such as CanvasWireshark or Metasploit.
Exploit these vulnerabilities to change how the vehicle performs.
Harness the vulnerabilities to take control of the vehicle and exfiltrate data and commands to a remote car hacking device, such as a drone.
Perform a simulated attack on the target's car from their perspective, including turning their lights on/off, honking their horn, etc.
Infiltrate into the target's car once more to monitor what they are doing in real time.
Accelerated Testing
It's important to test the V2X capability to modify and perform vehicle acceleration — its ability to go from rest to a creation speed.
Conformance & Regulatory Testing
V2X Conformance & Regulatory Testing is the process of developing and verifying a system's compliance with regulatory standards. The testing process can be divided into three major parts: Verification, Validation, Compliance
Why is V2X Testing important?
Let's talk about crash test dummies —- those dolls were basically created to test whether a vehicle was in fact a mode of transportation and not a human blender on wheels. Today, things – due to our ambitions – have become more complicated. Vehicles are more complex and we need all kinds of crash test dummies, including digital ones. 
Vehicle-to-vehicle -V2V – and vehicle-to-infrastructure -V2I – communications are required for autonomous vehicles to operate reliably. V2X testing is the process of verifying that these communications are working properly.
A V2X test can be done in a lab environment or on public roads. The main purpose of this test is to find any design flaws or issues with the system before they become a problem. The first step in V2X testing is to verify that the communication between vehicles and infrastructure is possible, which requires a lot of hardware and software development.
You may also like: What You Need to Know About Autonomous Vehicles
Image source: Depositphotos.com