Click here to get this post in PDF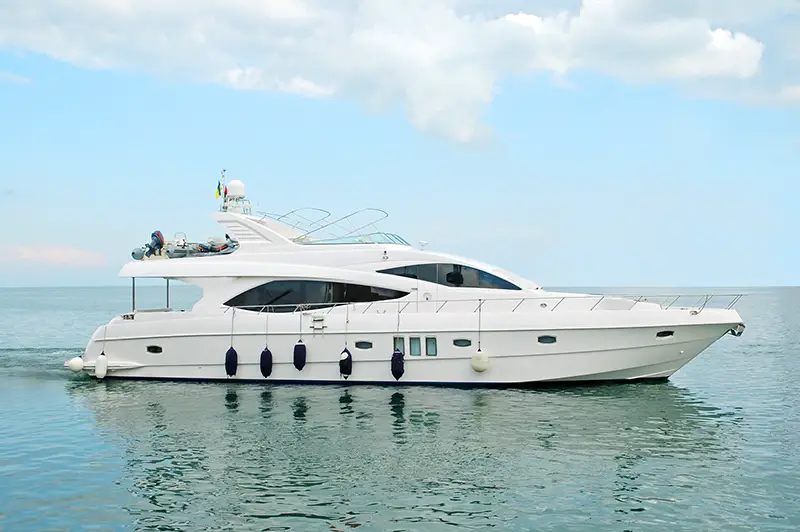 Private yacht charters offer luxury like nothing else because you are sailing to your destination without any other people. With Sydney Yacht hire, the possibilities for luxury on a private charter vary. For now, what is there not to love about cruising exclusively?
What is a Private Luxury Yacht?
There's no mistaking a luxury yacht. From their sleek lines and opulent interiors to their impressive size and features, these vessels are nothing short of unforgettable experiences. But what makes a private luxury yacht truly stand out? 
Well, for one, they're typically reserved for the very wealthy. That means that you won't find them cruising around town or hopping on and off of other boats – instead, these are privately funded vessels that are exclusively for the use of their owners and their guests. In addition, many luxury yachts offer unique amenities and services that you simply won't find on other boats – fromimmerspace innovations to 24-hour butler service. Whether you're looking for an idyllic getaway, a special business trip for VIP clients, or an escape from the everyday rigors of life, a private luxury yacht is the perfect vessel for a truly unforgettable experience!
Pros and Cons of a Private Yacht
Luxury charters are becoming more and more popular, offering an extreme luxury experience for those looking to explore remote parts of the world. There are pros and cons to this type of travel, so here is a look at each: 
PRO: Private luxury yacht exploration allows for a truly unique and customized trip that can't be found with traditional cruise ships. With a private yacht, you can explore destinations that would be difficult or impossible to reach on a cruise ship. Plus, you have all the privacy and convenience of chartering your own vessel – no waiting in long lines or dealing with crowded conditions. 
CON: While private luxury yacht exploration can be extremely luxurious, it can also be expensive. The cost of renting a yacht by the day, week or month can be quite expensive, so it's important to compare costs carefully before making your decision. Also, since most luxury yachts are used for exclusive trips only by high-net-worth individuals and their families, space may be limited, meaning that you will likely not share the voyage with other passengers. 
Ultimately, it's important to weigh the pros and cons of luxury yacht exploration before deciding if this type of
Types of private yachts
The luxury yacht exploration industry is booming and continues to grow at an astonishing rate. With the proliferation of social media and the general interest in luxury travel, private yachts charter in Riviera Maya have become one of the most popular ways to experience the world. What are the different types of luxury yachts? 
There are many different types of luxury yachts, each with its own unique benefits and features. The following is a list of some of the most popular types of luxury yachts:
• Luxury cruising yachts: These vessels are designed for long-term cruising, often taking passengers on multiday cruises around exotic ports. They can range in size from small personal boats to large expedition-style vessels capable of accommodating up to 100 guests. Some luxury cruising yachts also offer accommodations on board as well as opportunities for exclusive shore excursions.
• Charter yachts: This type of yacht is perfect for those who want to explore a new part of the world without having to put a lot of effort into planning each step of the trip. Charter yachts can be hired by individuals or groups, making them a great option for travel enthusiasts who want to explore a new destination without having
There are many types of luxury yachts out there that cater to a range of different needs and preferences. Some of the most popular types of yachts include: 
1) Private Cruises: These are yachts that are chartered privately by individuals or groups for a voyage. They can be used for everything from a weekend getaway to a luxurious vacation on the high seas. 
2) Charter Yacht Rentals: This type of yacht rental is perfect for families or groups of friends who want to take a relaxing vacation but don't have the time or resources to purchase their own yacht. 
3) Luxury Yacht Charters: This is the perfect option for those who want to explore more than just the coastline. With a luxury yacht charter, you can explore all the beautiful waters around the world. 
Whatever your preferences, Luxury Charters has got you covered. So, whether you're looking for a relaxing cruise on the water or an unforgettable adventure on land, our team can help you find the perfect luxury yacht rental for your needs.
Benefits/Reasons to charter a private yacht during your vacation
There are many reasons to charter a yacht during your vacation. Here are some of the benefits: 
1. The privacy and isolation of a yacht are unmatched compared to other forms of travel. You'll have plenty of time to enjoy your vacation without feeling rushed or confined to a resort or city. 
2. Yachts offer spectacular views of the surrounding ocean, coastline, or islands. You can explore new areas without worrying about getting lost or exhausted. 
3. Yacht charter services often include exclusive dining and entertainment options that can really set your trip apart from the rest. There's nothing like enjoying gourmet meals and drinks while gazing at the sunset or sunrise over the ocean. 
4. Some luxury yacht charter services even offer spa treatments, fitness facilities, and other wellness amenities that can make your vacation feel even more special.
There are countless benefits to chartering a luxury yacht during your vacation, even if you're only planning a short trip. Here are five reasons why you should consider chartering a private yacht: 
1. Commune with Luxury. When you charter a private yacht, you can experience all the luxurious amenities and top-of-the-line amenities the vessel has to offer. This gives you the chance to truly enjoy your vacation without having to worry about overcrowding or having to share a bathroom with other passengers. 
2. Customized Getaway. If you're looking for an adventure tailored specifically to your needs and interests, chartering a luxury yacht is the perfect option. You can choose from a variety of itineraries and destinations, all of which will be designed specifically for you and your party. 
3. Unlimited Activities and Excursions. Who says spending your vacation lounging on the boat has to be boring? Chartering a luxury yacht gives you access to dozens of different activities and attractions on land and at sea. There's no limit to what you can do –whether it's exploring new ports or taking on thrilling watersports challenges.
How Chartering a Luxury Yacht can help your upcoming trip
Chartering a luxury yacht can make for the ultimate luxury travel experience. Not only will you be sailing among the most beautiful sights on earth, but you'll also be enjoying top-of-the-line amenities and cuisine. If luxury is what you're after, look no further than a charter on Fancy Boat Hire Ibiza yacht!
When planning a luxury vacation, there is no better way to explore stunningly beautiful locations than by chartering a luxury yacht. With adjustable decks and canvas walls that offer stunning views of the area you are sailing in, these vessels provide an immersive sailing experience unlike anything else. Whether you're looking to explore new and exotic locations or simply relax and rejuvenate on a magnificent ship, chartering a luxury yacht is the perfect solution for your next getaway.
But which luxury yacht should you choose? There are literally thousands of options available, so it can be hard to decide. Luckily, our team of experienced charter brokers can help narrow down your options and find the perfect vessel for you. We carry a wide range of luxurious vessels, from exquisitely designed yachts to more traditional cruising ships so we can accommodate any budget or desired level of luxury.
No matter what your needs or desires, our team at Charter Yacht Brokers can help make your dream voyage a reality. Contact us today to schedule a consultation!
There are many places to find luxury charters in the Caribbean, but some of the best places include the Virgin Islands, St. Barts, Antigua, and Tortola. These destination islands provide a unique luxury yacht experience that is sure to impress any traveler. Whether you are looking for an adventure filled sailing voyage or simply want to relax and enjoy gorgeous views, these islands have something for everyone.
One of our favorite luxury yacht charter destinations is Virgin Islands. This beautiful archipelago offers an array of activities for those who want to relax and enjoy the sun and sand while exploring its stunning landscapes. Kayaking and snorkeling are popular favorites among tourists, while others opt to explore the uninhabited coves and lush jungle inland. One of our favorite operators based on Virgin Islands is Infinity Yacht Charters, who offer a wide variety of options for exploring this amazing island chain.
Another top pick for luxury yacht charter in the Caribbean is St. Barts. This enchanting island boasts one of the most diverse coastlines in all of the Caribbean, with crystal-clear waters and coral reefs surrounded by rugged hillsides covered in dense vegetation. The
When is the best time to charter a luxury yacht?
There's no one answer to this question, as chartering a yacht can be quite flexible depending on your needs and budget. However, here are a few guidelines to help you decide when the best time is to charter a luxury yacht:  
-If you are looking to explore new areas or destinations, chartering at the beginning or end of the season is ideal. This will allow you to enjoy more leisurely itineraries with fewer crowds and lower prices. 
-If you have specific desires or interests that you would like to experience while on board a luxury yacht, it is best to book in advance. This will ensure that the vessel and its amenities are tailored specifically to your needs. 
-Finally, if money is not an issue, there is no reason why you cannot charter a yacht at any time during the year. Just be sure to factor in additional costs such as fuel and crew members for added flexibility and convenience.
There's no one answer to this question since it can depend on your specific needs and lifestyle. However, some of the best times to charter a luxury yacht are during the off-season, when rates are typically lower, and during peak season when demand is highest.  
If you don't have a tight budget or don't mind waiting a few months for a yacht that's in high demand, you can opt for a luxury charter during the summer or fall. But keep in mind that weather can be unpredictable at these times, so make sure you have your travel insurance ready in case there are any delays along the way. 
Finally, if you have the money to spend and want to experience everything the luxury yacht world has to offer right away, chartering during hurricane season is definitely worth consideration! This is because hurricanes tend to keep luxury boats anchored close to shore where they aren't seen as often by tourists. This means fewer challenges with scheduling and higher prices, but it's definitely an experience not to be missed!
Conclusions
As a luxury yacht explorer, cruising the world's most beautiful waters is always on my bucket list. However, I didn't really know where to start. After all, cruising isn't cheap, and there are so many different types of yachts out there. What type of yacht should I choose? 
That's when I came across luxury charters. What is a luxury charter, you ask? It's simply sailing on a private yacht with some of the world's best-known chefs, winemakers and luxury hotels as your crew. Not only will you be dining in some of the most prestigious restaurants in the world, but you'll also be spending your nights in some of the best accommodations on the water. 
This is the perfect way to explore new ports and island paradises without ever having to break the bank. Plus, since luxury charters are private vessels, you can always opt for an intimate experience over a large group tour if that's what interests you. So, if you want to add a little bit of luxury to your travels then I highly recommend taking a luxury charter voyage!
So, the luxury yacht charter review has come to a close. After four months of research and careful consideration, we've come up with our top five picks for the best luxury yacht charters in the world. While each yacht is unique and offers its own set of perks and amenities, all of these charters offer world-class service and breathtaking views that will leave you feeling like a celebrity. If you're looking for an unforgettable luxury vacation experience, these are the charter boats for you!
You may also like: How to Handle Long Flights: Best Traveling Tips and Tricks
Image source: Shutterstock.com