Click here to get this post in PDF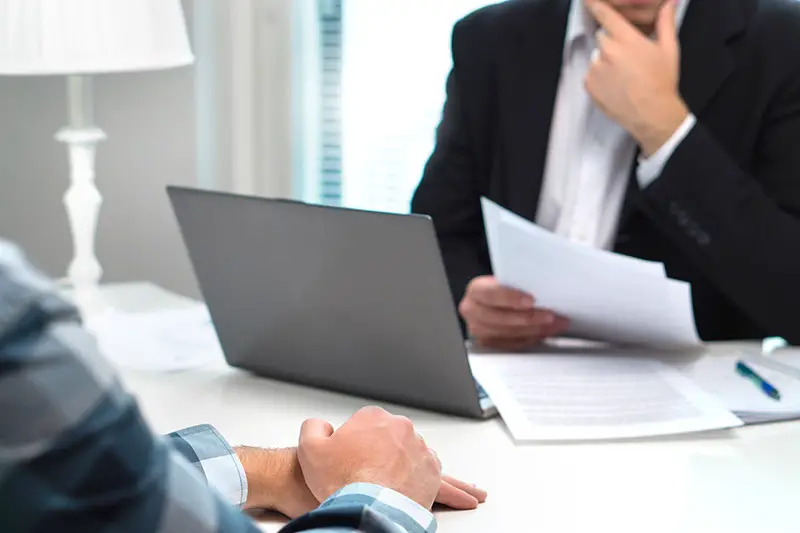 Job interviewing is never a hostage of your short factual statements taken from the general resume objective for entry-level. Apart from objective information tailored to the job, this process implies a deep understanding of questions, the right intonations, and a clear message, which are oftentimes more significant. 
You are to articulate the essential things without a hick to convince the recruiter you have the appropriate skill set for this role. Panic, muffled speech, stumbling answers, or shifting away from the topic will be followed by strict analyses. The negative evaluation of your improvisations will result in disastrous refusal. 
To ace the interview by getting convincible responses and confidence, you need preparations, planning, and detailing. In order not to miss a thing you want to share with a hirer is having a handy checklist. This reference list prevents your stuck, allows focusing, and ensures you don't go on tangents or rush in answering with less effective illustrations.
The Fundamentals to Include
The checklist serves to prevent inherently nerve-wracking situations. And you may bravely use it while being interviewing. As soon as the interviewer notices it, they understand that you are well-prepared for the interview, and then these notes greatly ease their job. You can compile your references at no time. All you need is a clear space on your table, a tablet (or a pen and a blank sheet of paper), and the guide below.
Step #1. Set Everything Up.
Place leftward the job description and the relevant information about the company you'd like to be hired by and put the resume to the right. Set a tablet  (or a sheet of paper) in between.
Step #2. Trace the Connections Between Given Information.
Read carefully the requirements in the job description and connect them and company data on the left with your skills set and related background stated in your resume on the right. Find the connections that indicate both a requirement and your experience and build a list. Several requirements may get connected with the same experience, as well as several spots of resume may link to one requirement, resulting in a complex net. These connections will turn into the items your checklist contains.
Step #3. Compile Your Checklist.
To build the interview outfit just list the requirements for the role, you're applying for, and the great illustrations of your relevant abilities and experience. Use checkboxes to tick off as you mention them during the interview. Place the items in priority order to spot them near the top. It is convenient to see which are not covered towards the end of the interview.
There's no need in writing out particulars and details, as it is a focused version of your resume. It's better to use code words that remind you of some examples to share, for instance, in this way:
☑ Data Science/Java Experience: Project "Unicorn" at company Zeta; Java & Hadoop since 2017. 
☑ Mobile Apps: Project "Inferno" at company X; Won the Google Play Award + Webby Special Achievement. 
☑ Teamwork: Built several teams (A, B, and C); led the effort of the team at company Y on the project for Mister Y.
A Guide on Sharing Information
Apart from the questions asked by an interviewer, your main task is to share everything you've prepared on your checklist. You are to be smart and think quickly during the whole process. There are different kinds of questions that will be helpful to include relevant accomplishments. 
How to Handle Direct Questions
Provide short and concise specific answers and examples on specific questions to make sure the interviewer can follow you. They should be positive in nature and directly address the question, emphasizing you've had a similar kind of experience and environment before. Your checklist is your reference to quantify all work accomplishments and facts. It gives weight to your answer, approving you're suitable for the job.
E. g.:
Interviewer: 'How do you handle stressful work situations?
You: 'My previous experience at company Z shows that clear communication has always been the key for me in stressful work situations. If everybody gets on the same page and in sync with responsibilities, works best. For example, when I was developing a project together with team A, we found it had serious bugs a week before the final release. To let the project stay on track both teams gathered, discussed the problem, and prioritize the goal for the next two days. Establishing open communication lines was helpful to increase the efficiency and finish the final version debugged and produced right in time.'
How to Handle Indirect (Generic) Questions
Interviewers will also test your motivation, drive, and commitment, and indirect questions are great to do that. The questions like 'Please, tell me about yourself' never imply your story-telling about Sunday's going fishing or midlife crisis problems. Use your checklist here to share relevant work experience and skills that have led you to this job opportunity.  
The typical generic question is 'Why do you want this job?' Don't panic, the answers have been included in the checklist by correlating the experience and this job alignment. Mind, this question means only what value you can bring for the company and not vice versa.
How to Handle Traditional Questions
There is a traditional set of questions you are to get asked about your long-term career goals, where you see yourself in five years, your hesitations about this position, or some difficult situation you had to work through. Keep calm, as your checklist holds the useful links to the right answers. 
The inevitable classics of the genre definitely include 'Why should we hire you?' Instead of helpless repeating again your reasons to get this job, share more from the checklist. Information to share may include the following:
extra applicable skill sets you've not mentioned;
your ideal matching the culture, processes, challenges of the company;
personal traits, such as manageability and flexibility;
your value and potential contribution to bringing to their table; 
the tendency to go beyond a job description.
The Final Thoughts
A successful interview relies on your thoughtful well-prepared responses as well as your competence. The candidates who do their homework feel comfortable, confident, and ready to shine, standing out over the tensed and stressed. If you feel you might forget important points, bringing a note-pad is a rule. Consider the fact that your checklist guides and eases the process for everyone. The notes with key information add confidence to your voice, impress the potential employer, and inspire their decision that you are the best fit. 
About the Author
Gillian Grunewald
Gillian is a talented writer with a strong research approach in the career field. Has over 12 years of experience in resume, LinkedIn profile writing, and editing. Education Master of Fine Arts, Writing Eastern Washington University.
You may also like: Interview red Flags for Employers to Look for in Candidates
Image source: Dreamstime.com