Click here to get this post in PDF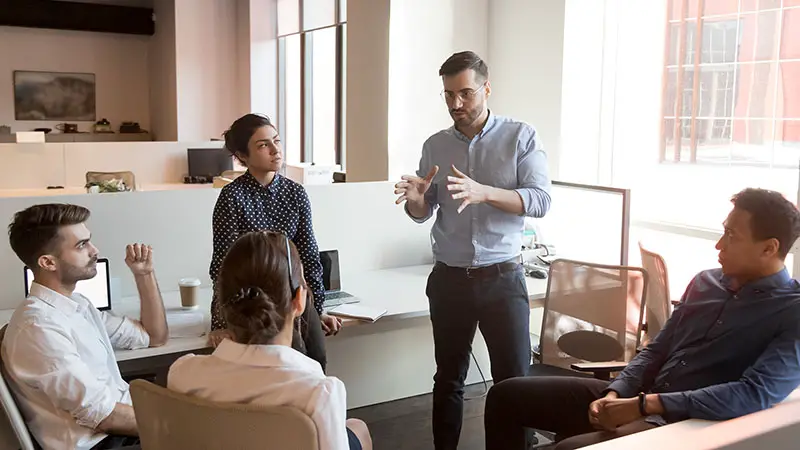 Management issues in an organization do not have a narrow or departmental focus or impact. Instead, their influence spreads to the entire organizational structure and every staff member.
Specifically, management issues have the potential to disturb teamwork, communication, and the work structure. 
Unstable and ineffective management also directly attacks employees' confidence and work attitude. As such, management's dealing can disturb teamwork, leading to unnecessary argumentation. 
Staff members are also prone to encountering several other challenges, such as insecurity, underperformance, overload, and work pressure.
The myriad of such problems eventually hinders organizational capabilities, leading to higher and frequent losses. 
At this point, it must be clear how management issues can threaten the very survival of an organization.
Even if preventing ups and downs altogether is impossible, postponing core causes can lead to widespread damages. Thus organizations should look for potential indications and deal with them early on.
The following sections further discuss how organizations can mitigate and fix management issues before unavoidable mishaps.
1. Refine knowledge of the leadership
If the organization fails to administer and oversee, several issues start surfacing. Unfortunately, it is also the case with the organization's key position holders, such as leadership. 
Leaders have a vital role in running and navigating an organization according to the preconceived business blueprint.
At times, their knowledge may not accommodate emerging trends and challenges. As a result, they may fail to lead the organization effectively according to market dynamics and changing scope. 
Repeated leadership gaps may necessitate hiring new talents. However, in most cases, replacing them can be costlier than pursuing their skill development.
Thus advanced management programs, such as Master of Science in Organizational Management (MSOM), are cost-effective approaches to update their understanding with a fresh outlook.
Candidates can enroll in the msom degree which enhances leaders' decision-making, tactical, competitive, and innovative capabilities than what they already know. Even if organizations are expanding or downsizing, resilient and adept leaders can easily take the reins without stumbling. 
Regardless of the commercial route, their entrepreneurial and business development capabilities can ensure organizations make a smooth transition towards development.
However, their inadaptability can create more chaos and uncertainty in workers. As a result, organizations may encounter unimaginable damages during the transition period. Thus enhancing leadership knowledge is vital to minimize management issues. 
2. Acknowledge and emulate workers' viewpoint
The workforce is one of the vital tools to identify instabilities or issues in an organization's management. Their opinion is not superficial but learned from day-to-day happenings and their responsibilities.
Most importantly, employees' opinion is fundamental when the management issues have a direct bearing on them. Thus consider them as valuable stakeholders whose interests are also directly linked to the organization's success.
Even if it is the executives' job to resolve management problems, other staff members can offer a different angle to observe and detangle the complexity of the problem.
Mostly, seasoned employees have a scrutinizing and observatory lens about surfacing issues and the reasons behind them.
Thus welcoming diverse perspectives is inevitable to resolve issues than putting them off or isolating the staff given management's insecurities. Similarly, making closed-door decisions and anticipating their compliance cannot lead to desired outcomes. Alienating workers and disregarding their viewpoint will only create more divides and gaps.
In essence, resolving issues without collaboration and consultation is not a holistic approach.
That is why heeding to and acknowledging employees' opinions is one of the best approaches to resolve issues with undivided acknowledgment. The collaborative approach will also strengthen mutual trust among the workforce.
3. Operate according to the schedule and priority
Since every organizational activity facilitates another activity, issues arise when things fall behind the timetable.
For instance, the manufacturing process will only begin once material procurement finalizes. Both of these processes again depend upon the required finances. And before everything else, finalization and clarity of the product plan are vital.
In essence, back-to-back delays will lead to large-scale shortfalls in terms of failing operations and projects. In the end, out-of-schedule outcomes may force an organization to a standstill. 
When this kind of situation develops, do not overthink about the mass and lost performance. Start fixing delays according to work priorities. Tackling everything at once cannot fix the problem. It will only increase workload, uncertainty, delays, and mishaps.
If manual task prioritization does not work, maybe try to utilize specialized tools and techniques. For instance, Trello software facilitates reshuffling tasks according to their priority status.
It offers several visually interactive cards and boards to categorize and manage activities. Hence, you can assign status to tasks, such as to do, doing, or completed, reserve assets, attach descriptions, and much more.
In essence, catering to schedule is crucial to governing organizational operations. Managing activities according to their urgency can readily clear out the backlog and fix management issues.
4. Reevaluate and reorganize
Sometimes, management and leadership staff only focus on making things work one way or the other. Executive's inability to ponder over the reasons why things are not working increases their reoccurrence.
In such an atmosphere, even routine issues can magnify problems and their complexity. Thus evaluation is one of the vital strategies to identify what and where is something wrong. The evaluation procedure carries out a detailed scan of various factors to improve management and fix its issues. 
For instance, matching revenues vs. losses lets organizations examine the exact gap and severity of an issue. 
Similarly, performance vs. capabilities will inspect if the existing workforce is sufficient and adept at carrying out required activities timely and effectively. Outcome vs. expenditure enables the organization to evaluate if lack of funding is the main reason behind shortfalls and delays in achievements.
In essence, once the process identifies issues and possible remedies, it is time to reorganize the flow and structure of existing activities accordingly. Reorganization can be on a massive level, involving reshuffling in the workforce and the scope of their authority. 
Thus organizations should be resilient to absorb and adapt to such change without much resistance.
Conclusion
Undeniably, management is vital to enable organizations to achieve their day-to-day objectives and long-term policy goals. Thus ignoring even trivial issues can have a widespread and damaging impact on the functions of the organization. 
Hence, scrutinizing issues and resolving them early on is crucial to prevent further mishaps.
You may also like: 5 Best Practices in Business Management
Image source: Shutterstock.com