Click here to get this post in PDF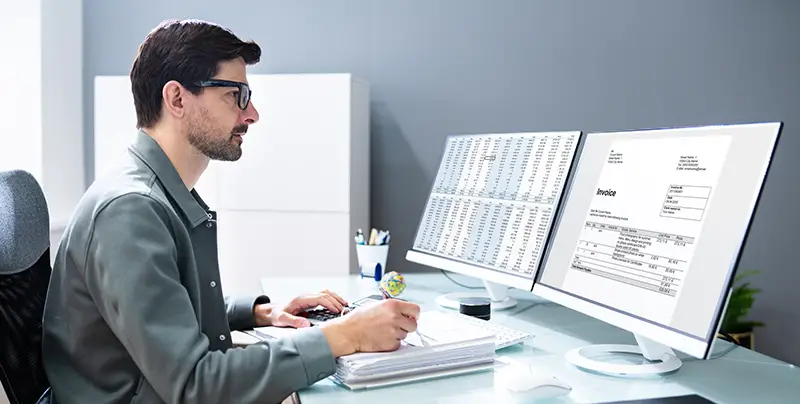 The primary purpose of revenue recycle management (RCM) software is to streamline the process of managing insurance claims, denials, collections, invoicing, etc. It can help automate different billing-related operations to allow healthcare providers to focus on what they can do best, offer services.
However, it should be noted that there are other purposes for RCM software. For example, it can help you save time by automating repetitive tasks and increasing transparency via KPIs and reporting. In addition, an RCM helps automate claim submission to get faster approval rates from your insurance carriers.
The Problem With Traditional Invoicing Practice
While this method is simple, it has several drawbacks. First, patients may not be able to pay immediately upon discharge. In fact, they might not be able to pay at all. The time between receiving an invoice and paying it can range from weeks to months, sometimes years.
Second, many patients cannot afford the total amount they owe on their medical bills. Depending on your business model, this could affect your bottom line significantly. If someone doesn't pay the total amount on their bill within 30 days after receiving an invoice from you, then that money becomes uncollectible debt for your practice. This means lost revenue for both parties involved in providing care services.
Besides debt collection, claim denial is also a challenge in the traditional invoicing practice. According to data from The Change Healthcare 2020 Revenue Cycle Denials Index, claims denials in US hospitals reached 23% in 2020, and RCM may solve such issues. 
While revenue cycle management tools might not be able to reduce the number of denials directly, they can help streamline the process for easy and quick approvals.
How RCM Software Helps Businesses Save Time and Money
RCM software can help you save time and money by reducing the manual tasks you need to complete.
Reduce the time spent on manual invoicing: With RCM software, you'll be able to send out professional-looking invoices in minutes instead of hours or days. This will allow your business to focus on other important things like growing sales and increasing profit margins.
Reduce the time spent on data entry: If your business relies heavily on manual data entry for accounting purposes, RCM software will save money and frustration by automating this process entirely. And if anything goes wrong with the process later down the line, there's no need for human intervention because everything has already been automated.
Hence, even if something goes wrong later down the line with an invoice or payment due date change etc., there won't be any need for manual intervention. Everything will stay updated automatically according to rules set up beforehand within these settings sections, which may include automatic reminders sent out via email/text message when certain conditions have been met.
Most RCM software is automated, and the ones that are not will soon be. According to a recent survey by an automation company, the need and demand for automation in the healthcare revenue cycle operation increased from 66% to 78% within a year.
Features of RCM Software
RCM software is a comprehensive solution that offers you access to all the features you need to manage your claims effectively. The following are some of the critical features of RCM software:
Availability Via Cloud
Cloud-based solutions are the most common type of RCM software. Cloud computing allows users to access their data anywhere in the world without additional hardware or software. This makes it easy for employees to work remotely and keep track of business processes even when they're out of the office.
The most significant benefit of using cloud-based solutions is that they're more secure than other options because customers control access rights and can change passwords whenever necessary. This ensures that data remains protected, even if someone leaves your team without warning or loses their job with you.
Automate Claim Submission
One of the most crucial aspects of RCM is claim submission. Automating this process as much as possible is essential to ensure that you submit claims promptly.
Automated submission of claims: You can set up an automated system for submitting claims by email or fax so that all information is sent directly from your software and into the hands of your provider networks. This ensures that no mistakes are made when entering information about each patient's treatment plan, which will help prevent delays in payment from insurance companies or government programs such as Medicare and Medicaid.
Electronic signatures: Many RCM solutions allow vendors to electronically sign documents with just one click before sending them back through email or fax. This speeds up communication between providers and payers while reducing errors due to handwritten signatures on paper documents being illegible due to poor handwriting skills among staff members.
Claims management is one of the most significant advantages of RCM software. According to the market analysis by Precedence Research, claims management held the largest revenue share in the RCM market at 50.50% in 2021.
Claim Tracking and Correction
Claims tracking and correction. RCM software enables you to track and correct claims, which is especially helpful in identifying the root cause of a claim, understanding its impact on your business, and reducing the number of future claims.
Besides, RCM software also helps with preventative maintenance programs. In addition to helping you manage current work orders more effectively, RCM software also helps with preventive maintenance programs so that you can keep equipment running smoothly without costly downtime or repairs.
KPIs and Reporting
KPIs are crucial to measuring the success of your business. They're used to track, analyze and improve performance across the organization. KPIs help you see what's working, what isn't, and where you need to focus your efforts to meet your goals.
There are many different types of KPIs, but they all have one thing in common, they provide an apples-to-apples comparison between two or more variables so that you can easily identify areas where improvement is needed.
For example, if one sales rep has twice as many leads as another rep but only closes half as many deals per month, this would indicate a problem with closing skills, which could be addressed through training or coaching on closing techniques.
Conclusion
The RCM software market has grown exponentially in recent years. As of 2023, the global revenue cycle management software market is worth $51.03 billion and growing. 
With the increased demand for such tools, we expect them to continue growing. The ability of RCM software to automate many processes within your organization can save you time and money, allowing you to focus on what matters, serving your customers better than ever.
You may also like: 6 Invoice Management Tips For Small Business Owners
Image source: Depositphotos.com