Click here to get this post in PDF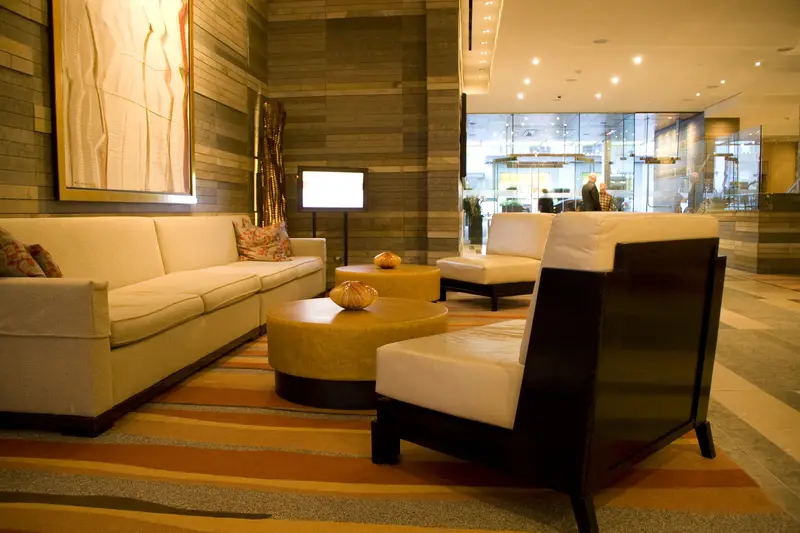 With innovative solutions, modern hotels have cleverly responded to rapid social trends. Modern hospitality is shaped by the most stunning interior design trends. Hoteliers transform lodging units into the features of any getaway by rethinking guestroom arrangements and providing highly individualized experiences. 
Here are some of the unique twists in the market, whether you operate a hotel or planning your upcoming business trip overseas.
Lobbies are being reimagined as multi-functional, dynamic places.
Front lobbies are becoming increasingly important as social interactions become increasingly reliant on this specific hotel area. Also, with the new business travel phenomenon, hotel lobbies provide a multi-use environment for relaxing and formal discussions while working on a laptop with multiple gadgets plugged in. This means that a standard sofa-coffee-table setup will not suffice.
Creative space division is required to provide both intimate and communal zones and furniture that provides comfort and utility. Wide green walls and indoor waterfalls are among the more expensive gateway features within today's developing hotel market. Chandeliers plus multimedia stations abound.
Change the way you think about guestrooms
The classic bed-table-locker combination is no longer sufficient to make a hotel room feel welcoming. Guests expected surprises in today's society, and where better to get them than away from home. 
This is most likely why each décor in the trendy hospitality sector is so unique. Some of the main "ingredients" for a modern hotel room are creative workspaces for business travelers, fascinating-looking TV panels, and an extra sofa or french mirrors beside the king-sized bed. Color explosions and diverse decor mixtures have also been noticed, which can surely appeal to customers looking for a wonderful experience.
Apart from environmental elements, which all impact how people sleep, there is one thing hoteliers could do to assure their guests fall asleep like babies as quickly as their heads hit the pillows of Oxford Homeware. And that includes making sure they select the most excellent available hotel bedding from Imperial Rooms and Oxford Homeware to ensure that visits who come by the door will visit again and again.
It's the moment to get up and taste the coffee because sleep is a huge business. With so many hoteliers spending effort and time assuring their visitors have a good night's sleep with the imperial Room's bedding and other accessories.  
Bathroom with a Spa feel
Bathrooms were no longer seen as additional rooms to be eliminated to make up for more living space. In their travels, the modern tourists want more than they get at home. A luxury bathroom featuring spa-like products is an open invitation to unwind and a sure-fire way to entice guests with the promise of transitory opulence. 
En-suite guestrooms, waterfall showers, excessively bathtubs, his-and-hers basins, ample towels, beauty products with plenty of space are just a few of the amenities available.
It's more than a cuisine; a destination by itself.
Only a few luxury hotels still appeal solely based on "practicability." Cooking is an art, and the "display space" should be as attractive.  
Through decor, we've seen an increasing number of hotel restaurants transformed into memorable venues. Themes are strongly suggested, as they encourage creativity and transform each event into an attraction in and of itself.
Features that are environment friendly
For hotel operators, sustainability is a tricky topic, as they strive to reduce short-term expenditures. However, staying ahead of the game is critical, as it might lead to novel ideas. 
Oversized windows providing natural lighting, ecological building materials, living spaces, green roofs, tourist recycling bins, electronic water fountains, locally produced food for cooking, and sewage recycling are just several green hotel innovations.
More colours, texture& minimal pattern
When you're on vacation, you generally have more time to experiment with your sense. This is presumably why hotel rooms are quickly abandoning visually jarring patterns in favour of texture. 
Offering guests something to feel and perhaps lose themselves in can create a memorable experience that they will like to repeat. A calming, cheerful environment is generated by adding a few bright colours to lively rooms.
It's Like Having a Home far From Home.
Hotel rooms must, above all, provide comfort and a sense of home far from home. This can be seen when compared to residential house designs Brisbane. Peacefulness is a significant thing to consider, regardless of how beautiful, technology-friendly, or bizarrely themed the bedroom is. 
Wood accents, unique décor, carpets, drapes, a fireplace, a television, and the ability to play your guests' preferred music all contribute to a pleasant stay.
From where to buy?
All the essential products help in modifying your hotels and business places. These products include bedding to rugs, doormats, bath sets, towels, scented candles & kitchen items like crockery, chopping boards, plus other decor items. 
All of these are available at imperial rooms and Oxford Homeware at a wide range & affordable prices.
You may also like: Improve Your Interior Space with Biophilic Design
Image source: Dreamstime.com