Click here to get this post in PDF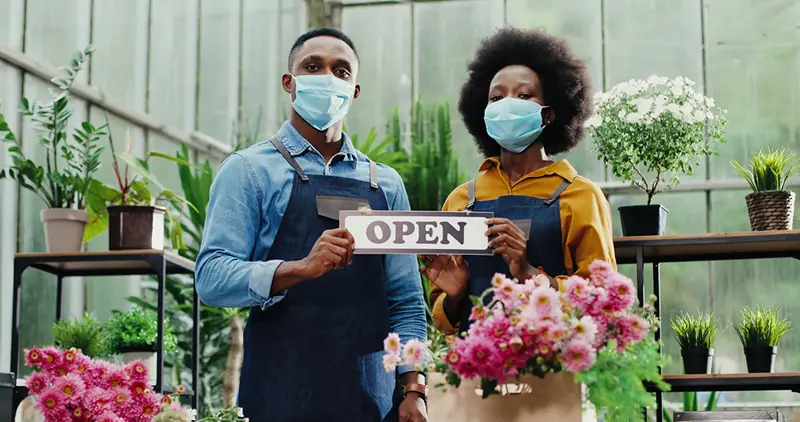 Now that three vaccines have been approved for COVID-19, we can all see the light at the end of the tunnel. But there are still lots of questions that remain about what life will be like once we can freely socialize and get back to our normal routines. 
Business owners, especially minority business owners, have had an extremely turbulent year. So what's in store for them in 2021 and beyond? How will they fare as we move into this new phase? Will they be able to quickly pick up the pieces or continue to struggle? 
Minority Businesses Have Felt a Larger Impact from COVID-19
Data indicates that although small businesses have been affected across the board by COVID-19, minority businesses have experienced more disruption since the beginning of the pandemic. They've been hit hard, and many are struggling for their very survival. 
One poll found that 66% of minority small businesses were worried about having to shut down for good, with only 57% of non-minority businesses feeling the same. Many minority-owned businesses struggle to secure loans and other funding, often cater to communities that have been disproportionately affected by the pandemic, and have experienced issues due to racism. These issues have made it extremely difficult for minority-owned businesses to stay afloat in the past year. 
It Has Been an Uphill Battle
Most people have noticed changes in their mental health over the past year, due to isolation, financial stress, and other issues. But for many minority communities, pandemic stress has simply added on to the mental health tolls of racism, xenophobia, and other daily stressors that affect the safety and well-being of these communities. 
Small business owners have had a lot of pressure on their shoulders to serve their communities while trying to stay in business during the pandemic. "Small businesses are under pressure to provide products in the best of times." Says Dr. M. Khurrum S. Bhutta, Professor in the Online Master of Science in Management at Ohio University. "Credit and resource constraints are more significant for these firms." It has been an uphill battle that has taken its toll and reduced any sense of stability and security for minority businesses. 
But They Can Thrive Post-Pandemic 
Even though minority-owned businesses have been hard-hit during the COVID-19 pandemic, there is still hope. In 2020, anti-racism movements and demands for social change have raised awareness for the incredible minority-owned businesses that serve communities across the United States. Options for entrepreneurship are expanding all the time and more support exists than ever before. 
Social media promotion and other online marketing channels will be key for small, minority-owned businesses to thrive as the country begins to reopen its doors. According to Carl Brown, executive director of the Small Business Development Center at Howard University, "Small minority businesses will be using technology to sell their products and services on the internet. Whether they are selling through their website, Facebook or Instagram they will have to be tech savvy and E-commerce ready to survive." There are also programs designed specifically to help minority-owned businesses and provide support, such as the MBE (minority business enterprise) certification. Nicole Antoinette Smith, associate professor within the Analytics and Information Systems department of Ohio University's online MBA program, advises minority-owned businesses to "Take advantage of free resources available for People of Color business owners, such as MAgentaEdge, BlackBiz HelloAlice, and SCORE for Black Entrepreneurs."
Despite this long and hard year, many small business owners aren't wasting time looking back. They're looking ahead and seeing new opportunities in a post-pandemic world. And that's definitely something to celebrate. 
You may also like: Corporate Governance Changes Under COVID
Image source: Shutterstock.com