Click here to get this post in PDF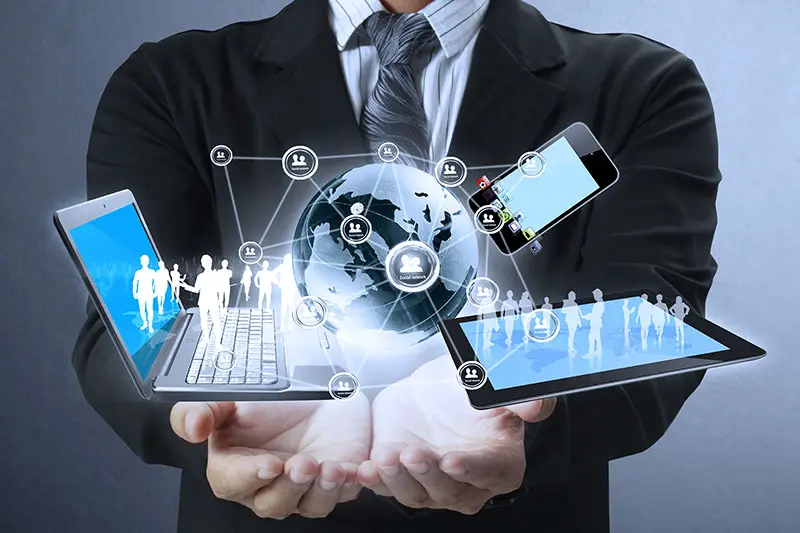 Technology has had a significant impact on the 21st-century lifestyle. It's used in nearly every aspect, from transportation and safety to access to food or healthcare to productivity itself.
Moreover, if you look at today's world, everything we are using was once a concept. The progress has been gradual and very decisive for several decades. Earlier, people used to struggle for days to travel to places. Now, they catch the plane and travel from one edge of the world to another within hours.
Furthermore, the power of the internet enables global communities worldwide with shared ideas that are easier than ever before due to its interactive capabilities.
This article will provide a piece of brief information about the things that have changed our private and work lives. 
Changed Way of Communication
Remember salespersons walking around door to door, offering their products? Now, promotional content does arrive at your doorstep. However, companies communicate with their potential clients online, typically via ads. There are other intentions that businesses exploit. For instance, QR codes are a great way for businesses to get to know their clients better. 
Thus, the impact of technology on the way we communicate nowadays is terrific. There was a time when you wanted to speak or hear from someone, and you had to visit them and do it in person. But today, we can reach out to people sitting anywhere in the world by just sending an email or text message.
Moreover, social media platforms like Facebook and Twitter have enabled people to stay connected with anyone. Even bigger companies who could never imagine collaborating before due to the physical distance between them can now work together, bringing innovation at unprecedented levels.
Transformed Workstations
When somebody thinks about an office, their first image is desks filled with employees working with PCs or laptops and phones ringing around them here and there. People used to spend days sitting in front of their computers working on something.
Whereas in today's workplace, at least half of the furniture pieces in an office may be replaced by standing desks and treadmill desks to give people more movement while they work. 
Moreover, phone calls are being replaced by chats, emails, and video chats. And the future workplace would perhaps be bots answering calls without needing to transfer them to employees. 
Additionally, many employees are working remotely at present. Remote work has become the new normal, and many companies have started special recruitments for interested candidates.
Made Shopping Easier
If you think about it, the online shopping experience reached its peak very quickly. At one point, you had only several stores offering their services online. Now, it is difficult to find companies that would operate only via their physical stores. 
We have apps coming up with all the features that you require to shop from anywhere in the world. We can also say that the arrival of e-commerce has simplified our lives a lot. Even companies like Amazon are trying to make shopping more accessible by making drone deliveries possible, too, although not highly successful.
Way of Exploring
There was a time when we had to go out of our homes and visit the place we wanted to know more about. But today, information is at your fingertips due to technology. You can simply google it or use maps online to find the quickest route from one location to another no matter where you are in the world.
Furthermore, augmented reality is making this process easier by allowing you to view things through your phone screen, which would feel like they are there in front of you. Moreover, sites like Wikipedia have provided free knowledge that humanity has gathered over the years in just a few taps on our screens. It also removes all barriers for people who previously could not access required information due to lack of education or money.
Accessible Education
The way we get an education has changed due to technology, especially in some disciplines where technology has taken over completely. For example, education is now more about students learning through online videos than teachers teaching them live.
Additionally, more and more universities are creating virtual classrooms for students who can't make it on campus due to time differences or distance issues. This ensures that they get a good grasp of what's being taught without being physically present there. It gives them more flexibility with their time and place of study.
So yes, technology has indeed changed access to education by making it easier for those seeking knowledge from any corner of the world.
Decreased Privacy
Yes, privacy has decreased due to technology. The way we utilize the internet has changed because of it. We share much more about ourselves than ever before on social media, making advertisers analyze our behavior and click habits. They are doing this to show us the products that are most likely to appeal to our sensibilities.
Therefore, they can track what you usually search online, buy, or even donate for a cause through your phone without you knowing it. Even if you randomly scroll over some e-commerce websites, the sites will notice your actions and provide you targeted advisements about them within seconds. Therefore, users can explore the benefits offered by tools like Atlas and download a VPN. It protects you from IP-based tracking and is essential at keeping work-related chit-chats private. After all, it encrypts internet traffic, meaning no one can read your communications. It is a must both for your personal and corporate life!
Conclusion
So, technology has indeed changed the way we live. It has made things easier for us at some point and more complex at another end (due to loss of privacy mostly). But most importantly, it is only going to improve in the future because no one can stop progress. After all, human life revolves around it.
You may also like: How Digital Technology Innovations Affect Today's Society
Image source: Shutterstock.com