Click here to get this post in PDF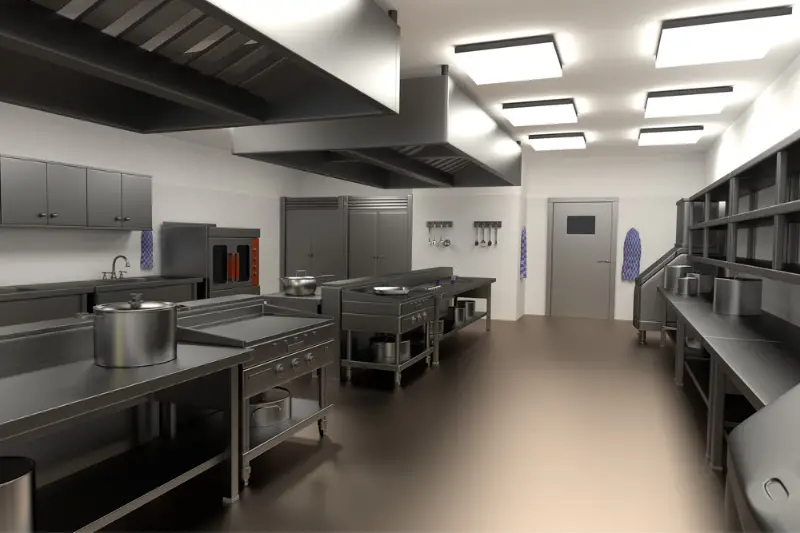 Introduction:
Starting a business requires careful planning, a solid idea, and a clear understanding of the market. If you're considering starting a commercial kitchen rental business, there are several key steps you need to take to ensure your success. In this article, we will provide a detailed guide on how to start a commercial kitchen rental business, combining insights from the previous thread about commercial kitchens and additional information on starting a business.
Refining Your Idea:
To begin, refine your business idea by conducting thorough research. Explore the existing commercial kitchen rental companies in your chosen market. Identify their strengths and weaknesses and determine how you can differentiate yourself. Look for opportunities to offer additional value or provide a better customer experience. Refining your idea is crucial to ensure you have a competitive advantage and a unique selling proposition.
Define Your "Why?":
Before launching your commercial kitchen rental business, it's essential to define your "why." Ask yourself why you are entering the market and what purpose your business will serve. Is your motivation driven by a personal need or a marketplace need? By understanding your underlying motivations, you can shape the vision and mission of your business. Additionally, focusing on meeting a need in the marketplace will enable your business to have broader appeal and potential for growth.
Consider Franchising:
One option to enter the commercial kitchen rental industry is by opening a franchise of an established company. Franchising provides the advantage of leveraging an existing brand, proven business model, and ongoing support. Research various franchise opportunities in the commercial kitchen rental sector. Evaluate their track record, franchisee satisfaction, and the level of support they offer. Choose a reputable franchise that aligns with your goals and values.
Brainstorm Your Business Name:
When brainstorming a business name for your commercial kitchen rental venture, consider your target market, industry trends, and the uniqueness of your offering. Your business name should reflect your brand identity and resonate with potential customers. Start by creating a list of potential names and evaluate them based on availability, memorability, and relevance to your business. Ensure the chosen name is not already trademarked or in use by another company.
Clarify Your Target Customers:
Before launching your commercial kitchen rental business, spend time clarifying your target customers and understanding their needs and preferences. Identify the specific industries, entrepreneurs, or food-related businesses that would benefit from your services. Determine how you can provide value to these customers, whether it's through convenience, cost savings, specialized equipment, or additional support services. Tailor your marketing strategies to effectively communicate the benefits of your rental services to your target customers.
Write a Business Plan:
A well-written business plan is crucial for the success of your commercial kitchen rental business. Start by clearly defining the purpose of your business, your target market, and your goals. Conduct thorough market research to identify the demand for commercial kitchen rentals in your chosen location. Evaluate the competition, analyze their strengths and weaknesses, and identify opportunities for growth. Develop a marketing plan that outlines your strategies for attracting and retaining customers.
Assess Your Finances:
Starting a commercial kitchen rental business requires careful financial planning. Determine how you will cover the startup costs and ongoing expenses. Assess your personal finances and explore options for funding, such as business loans, grants, or partnerships. Perform a break-even analysis to understand the minimum performance your business needs to achieve to cover expenses and start generating profits. Keep a close eye on your expenses and prioritize essential purchases to ensure financial sustainability.
Build Your Team:
As your commercial kitchen rental business grows, consider building a team to support your operations. Hire employees with relevant skills and experience in the hospitality or foodservice industry. Invest in training and provide a supportive work environment to foster employee satisfaction and retention. Additionally, consider forming partnerships with local food businesses, caterers and event planners who can benefit from your commercial kitchen rental services. Collaborating with these professionals can lead to mutually beneficial relationships and a steady stream of clients.
Secure a Suitable Location:
Finding the right location for your commercial kitchen rental business is crucial. Look for a facility that meets the specific needs of your target customers. Consider factors such as size, layout, equipment requirements, and proximity to your target market. Ensure the location is zoned for commercial kitchen use and complies with local health and safety regulations. Negotiate lease terms that are favorable to your business and allow for future expansion if needed.
Equip Your Kitchen:
Investing in high-quality kitchen equipment is essential to provide a reliable and efficient rental service. Take inventory of the equipment you'll need based on the types of customers you plan to serve. This may include commercial-grade ovens, stovetops, refrigeration units, storage shelves, and specialized equipment for specific food preparation needs. Consider both new and used equipment options to optimize your budget. Prioritize equipment that is durable, easy to maintain, and meets industry standards.
Obtain Necessary Permits and Licenses:
Before launching your commercial kitchen rental business, ensure you comply with all legal requirements. Research and obtain the necessary permits and licenses to operate a commercial kitchen in your area. These may include health permits, fire safety certificates, food handling certifications, and business licenses. Partner with local health departments and regulatory agencies to understand and meet all the necessary regulations and inspections.
Develop Clear Rental Policies:
Establish clear rental policies that outline the terms and conditions for renting your commercial kitchen space. Consider factors such as rental rates, minimum rental periods, cancellation policies, security deposits, and any additional services you may offer. Clearly communicate these policies to your customers through contracts and rental agreements. Having well-defined policies will minimize misunderstandings and ensure a smooth rental process.
Market Your Services:
Develop a comprehensive marketing strategy to promote your commercial kitchen rental business. Leverage both online and offline channels to reach your target customers. Create a professional website that showcases your facilities, equipment, and services. Optimize your website for search engines to increase your online visibility. Utilize social media platforms to engage with your audience and share relevant content. Network with local businesses, attend industry events, and consider offering promotional incentives to attract your first clients.
Provide Excellent Customer Service:
Customer satisfaction is key to the success of your commercial kitchen rental business. Focus on providing exceptional customer service at every touchpoint. Be responsive to inquiries, provide clear communication, and ensure your facilities are well-maintained and clean. Consider offering additional support services such as storage options, equipment maintenance, or access to preferred vendors. Building strong relationships with your clients will lead to repeat business and positive word-of-mouth referrals.
Continuously Evolve and Adapt:
The commercial kitchen rental industry is dynamic, and it's important to continuously evolve and adapt to market trends and customer needs. Stay updated on the latest advancements in kitchen equipment and technology. Seek feedback from your customers to identify areas for improvement and potential new services to offer. Regularly evaluate your business strategies and make adjustments as necessary to stay competitive in the market.
Conclusion:
Starting a commercial kitchen rental business requires careful planning, attention to detail, and a strong understanding of the industry and your target market. By refining your business idea, conducting thorough research, and implementing effective marketing strategies, you can position your business for success. With a focus on exceptional customer service, a well-equipped kitchen facility, and a dedicated team, you can establish a reputable and profitable commercial kitchen rental business. Stay adaptable and responsive to the evolving needs of your customers to ensure long-term growth and sustainability.
You may also like: How to Design a Well-Functioning Commercial Kitchen
Image source: Depositphotos.com