Click here to get this post in PDF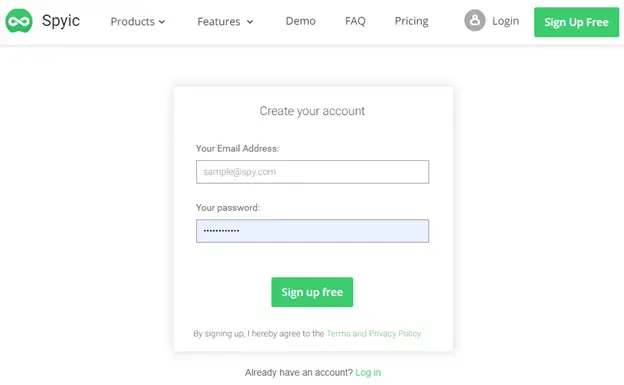 You've recently discovered your teenage daughter is constantly texting someone. Upon asking, you find out that it's a "friend" from school, and they are talking about "homework." And that's all good. But since you were a teenager once and rarely spent that much time talking about school work, you've started getting a little suspicious. And that's where Spyic comes in. 
Spyic gives you full access to a target's messages on Android and iOS without them knowing. You only need a few minutes with the target device for initial setup, a process that creates a backdoor to the target's messages, call logs and more. This article dives deep into how you can spy on someone's text messages remotely with Spyic, but we'll start with introductions.
What is Spyic?
Spyic is a definitive remote monitoring app for mobile. It works on Android and iOS devices, giving parents access to their children's messages from anywhere in the world. The service works for millions of users in over 190 countries, with most of them leaving shiny reviews. It has also featured in top publications such as The Tech Times, Bloomberg, and Android Central.
Up until now, Spyic has not experienced any data breach. That means no one has been able to crack the encryption used to protect data while moving it from the target device to your dashboard. That is a huge plus on the Spyic side.
Why is Spyic the Best Text Monitoring Tool
A simple Google search will bring you to millions of text monitoring tools, all promising to be the ultimate spy tool. Most of them don't live up to these expectations as they will usually fall short in the security or feature department.
Spyic is a comprehensive spy tool that offers a perfect balance of reliability, user-friendliness, and value. The app is only 2MBs which means it can live in the target's phone without them knowing. It takes 5 minutes to set up, and you get an installation wizard that holds your hand through the entire process. 
Overall, you get a good deal with every Spyic subscription. We recommend getting an annual plan to get the most out of this spy tool. There's also a one-month package that is ideal for testing the service.
How to Spy on Android Text Messages with Spyic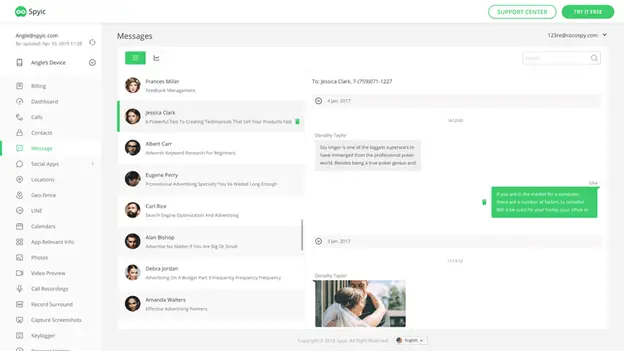 Getting started with Spyic is simple. You sign up for a free account on spyic.com, and the site will redirect you to the subscriptions page. This is where you choose between the premium, basic, and family packages based on how many devices you want to monitor. Each option comes with a one, three, or twelve-month subscription.
Pay using Bitcoin, wire transfer, Visa, or MasterCard to access the download page that has the APK you'll need to install on the target device. You can download this APK on your phone, then send it to the target device or download it directly on the phone you want to track. The process you choose depends on how much time you want to spend on the target phone.
However, the Android operating system is not kind to third-party applications. You will run into problems while installing the Spyic app, but the solution is nothing too complicated.
For starters, go to Settings > Screen and Security > enable "Unknown Sources," then tap OK. That will allow you to fire up the installation wizard on Spyic. However, you might run into additional problems depending on the Android version you're running.
In the unfortunate event of more issues, go to Settings  > Security > Google Play Protect > then disable "Scan for security threats" and "Improve harmful app detection." That should allow the wizard to start.
Give the app all the access it will need. It might seem much at first, but it is a small price to pay for remote access to the target phone. Besides, we can confirm this app will not harm your device as it has worked for us and millions of other users with little to no problems.
After that, you can log in to your online dashboard to view all the text messages, call logs, and other juicy information on the target.
How To Spy on iOS with Spyic
The setup for iOS devices is totally different from that of Android devices. You don't need an app, which translates to a short and painless setup process. 
To get started, you will need an account with Spyic. Use a memorable username and a strong password. You can also enable two-factor authentication to make the entire thing more secure. Remember, this is the only thing standing between your sensitive data and prying eyes, so you should take it seriously. 
Once that's done, enter the iCloud details of the target device on Spyic to give it access to the device. That is how the spyware will capture every message sent to and from the device and put the details in the online dashboard. It also means you cannot spy on an iOS device without iCloud credentials.
After that, log in to your Spyic dashboard account to access the target device. You can view deleted text messages, social media activity, set up a geofence, and more.
Does Spyic Go Beyond Text Message Monitoring?
The short answer is yes. Spyic can collect more data than just text messages on the target phone. Here are some of the most valuable features we discovered.
Call monitoring: Know your child's favorite contact by monitoring their incoming and outgoing calls. This data comes complete with time stamps and contact info.
Social Media Tracking: Monitor what your child does on Facebook, Whatsapp, Viber, and Snapchat. This report includes media files and contact information of the person on the other end.
GPRS Tracking: Get real-time location data on the target when you log into your dashboard. You can also set up a geofence alert that notifies you when the subject enters or leaves the predetermined zones, making it easy to keep tabs on children. This feature uses military-grade technology to ensure accuracy.
You may also like: Can You Spy On Your Employees?