Click here to get this post in PDF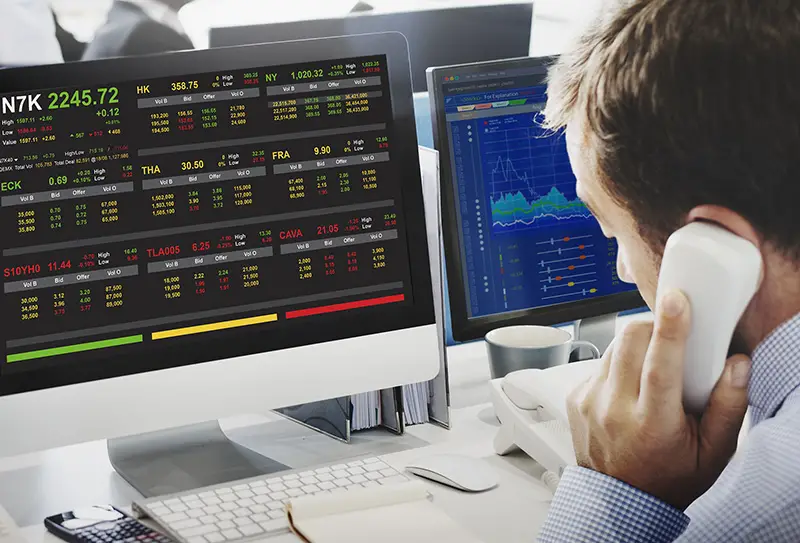 Ethereum is a decentralized blockchain network that allows users to verify and record transactions without third-party interference. These transactions are known as smart contracts, and they take place on Ethereum's network and utilize its token, ether, for payment.
This cryptocurrency has blossomed exceedingly since its creation in 2015, and it now has the second-largest value after Bitcoin. That's why many traditional and institutional investors have shown interest in it. And this has led to major volatility.
It's such a wonderful time to make money if you have an Ethereum wallet. Although there are several ways to earn money with Ethereum, trading its token, ether, is the commonest and most rewarding. It has to do with purchasing the Ethereum token at a lower price and waiting for it to increase in value over time before selling.
In this piece, we'll be exploring the means to profiting from Ethereum trading. For more crypto trading tips, check out CoinList. 
Why Trade Ethereum?
Ethereum trading offers the following benefits over traditional investments.
Low Transaction Fees
There's a specific fee attached to your transaction each time you buy Ethereum Canada. You need to pay this fee to speed up the transaction. Since Ethereum can handle 30 transactions per second, you can expect to pay as little as 0.10% – 0.25% depending on the exchange you use.
High Volatility
Like all cryptocurrencies, ether can show exceptional volatility. And its volatility is what makes it excellent for profitable trading. Ether's market value pumped by 435% between January to May this year, and there are good reasons to expect a continuation of this trend as its application widens. But even small, short-term price movements throughout the month or day can help traders to reap considerable financial rewards.
6 Ways To Profit From Ethereum Trading
When you choose to trade Ethereum for profit, you should be aware of the different trading strategies. Below you'll learn about these types of trading strategies. They include day trading, range trading, swing trading, position trading, leverage trading, and arbitrage trading.
Day Trading
Day trading is a great place to start if you don't have large funds to invest. It involves buying and selling ether over a single day, capitalizing on small, short-term price fluctuations. If you choose to take a short-term approach to trade, you should consider the transaction fees and commissions, which can cut your profits.
Range Trading
Sometimes ether's price will neither be in an uptrend or downtrend but continuously bounce up and down within two prices. Such market behavior is where the opportunity comes for range trading. The idea is to buy at the bottom of the range and sell at the peak.
Swing Trading
Swing trading typically takes days or weeks. Traders who use this strategy often make more significant returns than day traders. The aim here is to capture the best swing in the market and ride it to a specific target or when the overall market momentum begins to reverse.
Position Trading
This strategy is also known as trend trading. It involves holding your digital assets over a long period regardless of the minor downward corrections along the trend. Position traders can hold on to their assets for months or even years before selling them off.
 Arbitrage Trading
Arbitrage trading is all about taking advantage of the varying prices of ether on different platforms. To start arbitrage trading, you need to open accounts on exchanges with significantly different prices for ether. Then you buy cheaper on platform A and sell at a higher price on platform B.
Leverage Trading
Some trading platforms will offer you the opportunity to make larger trades compared to deposited amounts. This kind of trade is known as leveraged trading. It allows traders to make profits from upward and downward movement.
How does it work? The exchange where you buy Ethereum will borrow you these funds to open a bigger Ethereum position. Hence you stand to make more substantial gains if the trade succeeds. However, if the trade goes south, the losses will be magnified too.
3 Steps to Successful Ethereum Trading
Learn The Necessary Analytical and Technical Skills
Ethereum trading goes beyond holding the asset until its value rises. To become a successful trader, you need to build the proper analytical and technical skills. You must not possess an in-depth technical knowledge of how Ethereum works. What you'll need to learn is how to analyze market charts to predict future price performances. Each trading platform will offer a set of unique analysis and charting tools.
Create Your Trading Account & Fund It
To get started, you need to sign up on an exchange that supports the buying and selling of Ethereum. Most exchanges will require a verification process before you can begin trading. After creating and verifying your account, you can proceed to fund your account with fiat currency.
Buy And Sell Ethereum
Depending on your technical analysis, you can decide the best market prices to buy and sell ether. This process is simply converting your fiat currency into Ether and Ether back to your fiat currency.
Final Thoughts
It's essential to bear in mind that while Ethereum trading is good for making money through price movements, you can also lose your money since its future is unpredictable.
You may also like: Ethereum Trading guide for the beginner
Image source: Rawpixel.com