Click here to get this post in PDF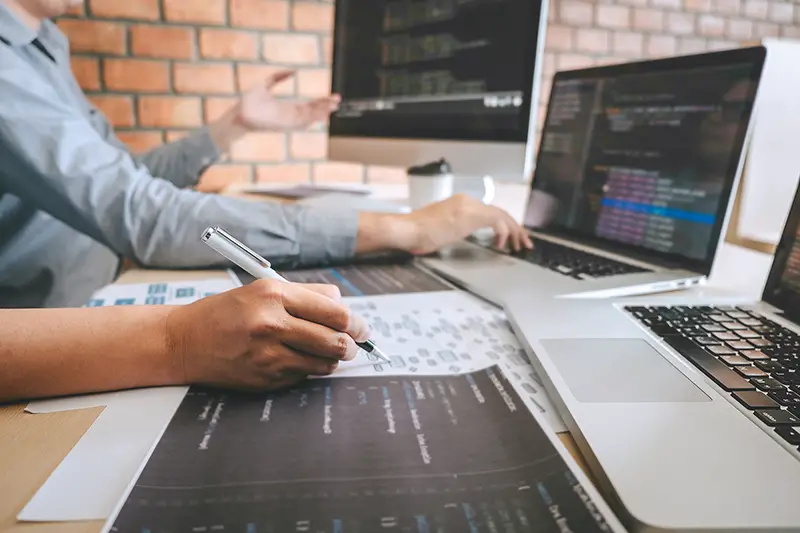 Businesses frequently outsource IT projects in order to allocate and manage their workload efficiently. Outsourcing gives the impression that a person may run a company without ever having to sign a contract. You might be thinking of doing something similar.
However, managing an outsourced project comes with many obligations, and if you don't have a management structure or don't know how to do outsourcing properly, it can be confusing. There are very few IT companies like CBNITS, that always keep everything clear with their clients. But if you have already had a call with them and want to go with some other IT service provider for some reason, you might need to know different factors that you should consider before choosing one. 
We're here to help you start outsourcing and go for the best IT support and services for your business. So let's get started!
Create a Detailed Plan
Prepare a detailed project plan on paper because it allows you to explain your requirements more appropriately to the external developers. It also lays out clear expectations and your vision and reduces errors by offering detailed guidance throughout the process, which can help you save time. This will also help you answer any predicted questions from your hired specialists. Here are some things to think about or questions to ask yourself while framing your plan:
What should be included in your product?
What is your budget?
What is the deadline? Is there room for an extension?
What skills are you looking for in the developer?
What kind of consumer market is your project meant for?
How is your product providing its services or making things easier for the customers?
What are you trying to fulfill with this product?
Do your Research
The next stage is to look into countries with a strong outsourcing culture. South Korea, China, India, Ukraine, and Hungary are all viable options. Take note of how much software developers charge per hour in various countries. Take note of the time difference between your organization and the agency or developer's location to ensure smoother communication and coordination.
Make sure you thoroughly research several of the top software development companies in the country of your choice. Then, list the few companies you believe can satisfy your requirements. Then do extensive research on each company, reviewing their prior projects and consumer feedback. Obtaining feedback from prior clients is also a good idea.
Contact the Companies that made it to your List
After you have made a list, you need to start the process of picking the company that will be the best company to outsource your project. For that, you need to contact each company and make inquiries regarding the company, their skills, and what they can do. Make sure that you get your ideas and requirements across clearly to avoid confusion and miscommunication and that they are willing and able to fulfill your requirements.
You might want to ask them the following questions:
What technologies is your team specialized in?
How much do you charge per hour, and what are your other pricing methods? What all will it include?
Is your team good with concrete deadlines?
Have you ever worked on a project like this one? Were you able to finish the project successfully? 
How long do you think it will take for you to finish this project?
What if I am dissatisfied with your service?
Remember that you get what you pay for
When several organizations can complete your project, it may be tempting to limit yourself to cheaper options, but this is certainly not something you should cheap out on. Outsourcing your IT department saves your company money and decreases the risk of costly mistakes. Although a reasonably low-cost choice may appear appealing, you'll almost certainly receive a low-quality product. In addition, cheaper IT outsourcing services may have a lower level of competence, experience, or some other thing, affecting the project's outcome.
Selecting a Company that Fulfills your Requirements
This part will probably be the most difficult since you have to choose just one out of all the top companies on your list. When it comes to choosing the right company for the job, you need to consider all the factors like if they meet your standards, are using the latest technology, have good reviews, and are able to understand your vision and what you need from them. 
Unfortunately, most companies make the mistake of focusing just on the pricing of the company and how much time they estimate to finish the project. Here's how you can make this task easier. 
Firstly, remove all the companies from your list that failed to meet your requirements, or have very high prices. Then consider each company's experience and how many projects they have worked on. After all this, you might have a clear sense of which company is best for you and your project.
Conclusion
You can't start a project and expect it to succeed unless you know what you want to achieve from the start. It's critical to be clear about this and convey these objectives first internally, within your own organization, and then outside, with the outsourcing software development company you select.
You may also like: The Benefits Of Outsourcing IT Support
Image source: Shutterstock.com