Click here to get this post in PDF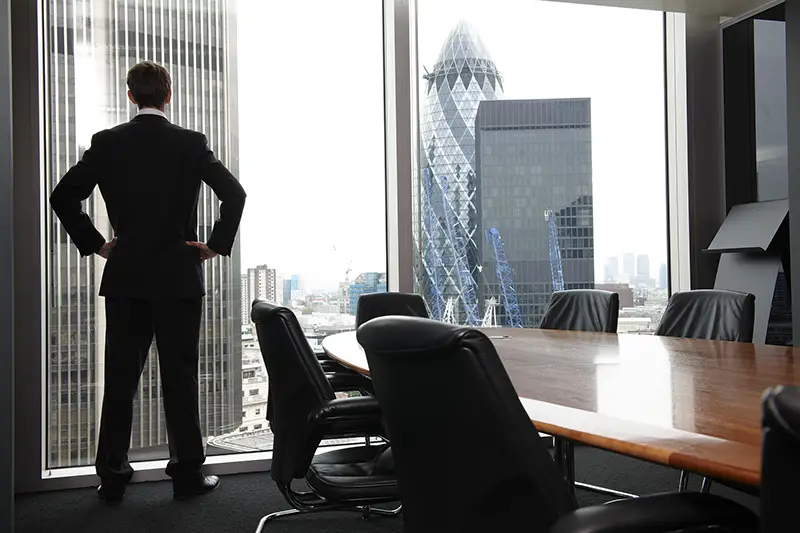 Since the outsourcing boom in Britain in the mid-1990s, London has acquired a well-earned reputation for being one of the key global cities for business, finance, and entertainment. As a result, its popularity with businesses has never been higher. The cost of office space in London defers and depends on many factors. For example, an office costs £100 /month on the outskirts of London but cost upwards of £400 per week in the heart of London.
However, gone are the days of the large open plan offices. Now more popular are cohoused-style offices where small teams of colleagues can choose to share an office with their mates making London offices more accessible and affordable.
1. Location
Businesses usually choose their office location based on accessibility to primary transport links, proximity to business centers, ease of hiring staff, and availability of facilities. Geographic location has the most significant impact on the rent of London offices. Businesses tend to cluster in central London or local areas around it.
The price of office space in London depends on the location of the office. Office space in Westminster costs more than offices in Docklands, Canary Wharf, or Elephant & Castle. The average annual rental value in Central London is sitting at around £37 per square foot. Follow to find more information about the cost of office space in London.
However, with even more creativity, it is not easy to define the rental cost of office space. For example, some will rent space inclusive of desks, phones, photocopiers, and free Wi-Fi and offer prices ranging from £25 per person per week to an upward of £100. The more desirable an area is, the higher the cost of office space; A prime spot in Mayfair will invariably command a premium over an identikit unit opposite a multi-story car park in Shepherd's Bush.
2. Vacancy Rate
The vacancy rate is the percentage measure of the number of available units for office space and is one of the most critical factors influencing the cost of office rental space in London. The lower the vacancy rate, the higher the cost of office space. However, the current office space availability in London is down due to competition between commercial landlords.
The demand for high-end value properties in London, such as in Prime Central London, far outweighs supply, as many businesses relocate to the capital with very few high-end commercial properties. For example, the average price per square foot for Grade A office properties in London is £40/SF, nearly twice the amount found elsewhere in the country. This trend follows overall vacancy rates by region since the vacancy rate for Grade A office space is 1.8% in London compared to 7.8% elsewhere.
It's important to note that the vacancy rate of office space, its location, and the cost are all intertwined. It's, therefore, crucial to involve an experienced agent to help you find an office space that suits your needs and affordability. According to statistica.com availability rate of office space in London rose to 7.8% in 2020 from 6.5% in 2019 due to the Covid-19 crisis.
3. The Floor of the Office Space
The cost of the office space in London varies according to its location and floor level. The floor level defines if it would be a lower, middle, or higher floor: the lower floors or the basements. The middle floors are the ones that are accessible from inside buildings by escalators or lifts.
The higher the floor level of the office space, the better the view and the cheaper. Lower levels have a more significant number of occupants. In contrast, upper floors have fewer occupants, making it easier for companies locating on upper floors to secure better terms in leasing the spaces. Companies often occupy lower levels, while individuals who cannot afford high costs occupy the upper levels.
4. Serviced Offices or Conventional Offices
Serviced offices are much more affordable to rent than conventional office space options. Serviced Offices are shared offices with flexible terms that include shared facilities such as telephone, fax, photocopying, secretarial services; utility charges; cleaning; IT provision; access to meeting rooms; security; canteen facilities; networking opportunities, and 24-hour access.
Serviced office apartments are typically desks in open-plan working environments; typically, reduced costs result from shared space.
Conclusion
The cost of office space in London is one of the world's highest. In London, companies can expect to pay a premium for a location close to their clients. The most affordable options tend to be outside of London's bustling city center. Standardized renting prices for this service in London are dependent on the type and number of the leased premises, which is also location-dependent. Prices greatly vary from area to area and also depend on availability rate. However, you may need an expert to help you find a suitable space that meets your needs.
You may also like: How To Maximise Your Office Space As A Small Business Owner
Image source: Shutterstock.com