Click here to get this post in PDF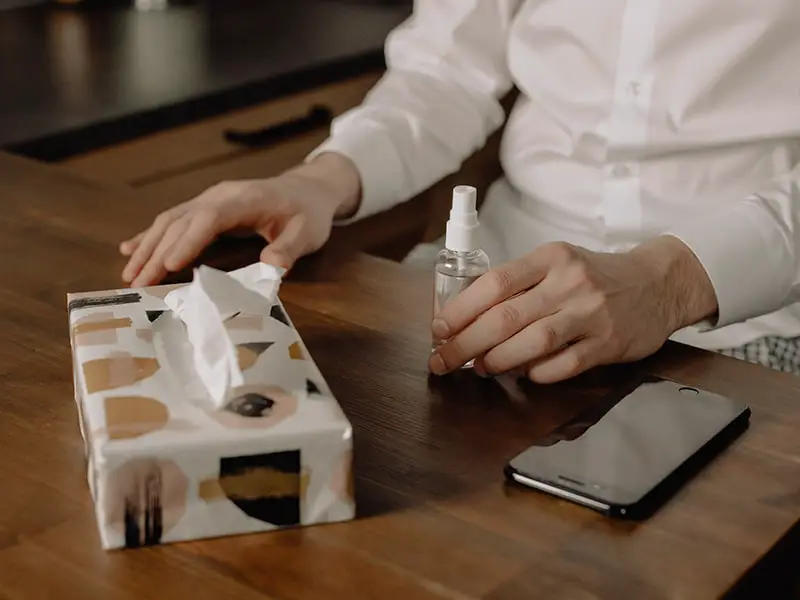 This pandemic has taught all of us one key lesson: the importance of maintaining good hygiene at all times. If we weren't already, we are now all cleaning our home regularly and washing our hands properly. But are we as concerned when it comes to the hygiene of our workplace?
Every year, billions of dollars are lost due to employees falling sick or being absent from work. In the context of a global pandemic, we are more aware than ever of the importance of preventing the spread of infections to protect both employees and the wider community. As employees return to work, proper hygiene in the office is essential: and a big part of this is how we handle office furniture and equipment.
Let's take a look at the best practices for hygienically maintaining office furniture and equipment.
Set strict rules
It is important to have strict rules in place for cleanliness and hygiene, ensure that staff members follow them. Employees often sneeze without using a tissue or leave their coffee cups unwashed. Habits like these invite germs and bacteria which can cause diseases.
It is important that employees follow proper hygiene protocols, such as regularly washing their hands, sanitizing common equipment after use, and washing their coffee cups or other kitchen items immediately after use. They should also clean up their workspace before going home. This means arranging the papers and books properly, sanitizing the desk and chair, doorknob, keyboard, computer screen, telephone, and other equipment on the desk.
Maintain each part of the office properly
Here are some specific tips for certain types of equipment and office areas:
Computer screens should be cleaned with a wet microfiber cloth. It is better not to use any chemical. For cleaning keyboards you can use disinfectant wipes. Never spray any liquid directly on the equipment as the liquid may seep inside and damage the equipment.
For cleaning office chairs and desks, check the manufacturer's cleaning instructions. If using water is not a problem, then you should wipe the chair and desk with a wet microfiber cloth. If the chair is labeled 'dry-clean' only, then you should use a liquid-free cleaning product and vacuum the chair to remove residue. 
The kitchen should also be kept meticulously clean. Unwanted food needs to be thrown away and if anything spills on the fridge, it should be cleaned up immediately. You should encourage employees to clean the microwave after use. A kitchen roster can be made so that employees clean the kitchen in turns. 
Close attention must be given to cleaning equipment that is shared among employees. Germs can spread from one person to another easily by touching that equipment. Employees should sanitize their hands before and after using the equipment to prevent germs from spreading, and all equipment should be well maintained to avoid the accumulation of germs and fungus.
Stock up on supplies
It is important for offices to have a sufficient stock of cleaning supplies, including sanitizers, hand wash, tissue boxes, dishwashing liquid, anti-bacterial wipes, and other necessary items. Employees should never complain that they couldn't sanitize their desk as there was no sanitizer in the office. These items should be placed throughout the space so that employees can access them easily. Stocks should be regularly checked and re-ordered as necessary. 
Organise regular deep clean
Offices should periodically hire cleaning professionals for a deep clean of the space. These companies clean everything from carpets, curtains, and furniture to printers and other equipment. Carpets can harbour dust and germ, so they must cleaned extensively. Professional cleaners have special equipment that can deeply clean the carpet and other office equipment to remove dust and dirt and eliminate bacteria. Furthermore, these companies know what type of product to use for each kind of furniture and equipment.
Avoid eating food on the desk
It is common for office workers to eat snacks or even meals at their desk. This is a nightmare for hygiene, as spills and food particles can build up while going undetected. Crumbs can get stuck inside your keyboard, for example, and you may not be able to take it out. Not only can this ruin office equipment, but it provides a breeding ground for bacteria and other microbes.
Have a special cleaning day
Another great idea is to set up a special cleaning day, say twice a year, involving every employee. This "Spring clean" will allow unnecessary clutter to be tidied away, and other areas to be cleaned, therefore promoting a cleaner, safe and more pleasant workspace. By involving all team members, this sends a clear message that cleanliness and hygiene is everyone's responsibility.
Cleaning professionals are important in maintaining cleanliness and hygiene in the office, but everyone has to do their part. Employees should be encouraged to keep their workstations clean all the time and to follow essential hygiene practices, and the importance of good hygiene at the workplace must be regularly discussed. This will benefit your business, your employees, and the community in general.
You may also like: How To Stay Healthy When Returning To Work Following Covid-19
Image Source: Pexel.com