Click here to get this post in PDF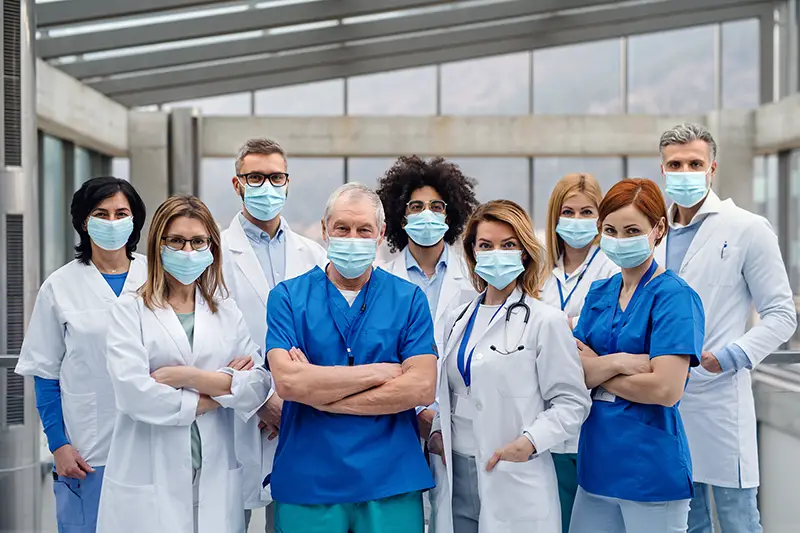 Health officials advise that after a single-use, surgical masks should be disposed of, but environmental issues are causing some experts to challenge this suggestion.
As the coronavirus begins to propagate, masks on public transit, in stores, and at work have been obligatory in many areas. But the result has provided a challenge, as too many discarded plastic masks end up in the oceans and rivers.
Reusable fabric masks are one option, but many individuals choose surgical mask for single use because it is lighter and cheaper individually.
Similarly, the World Health Organization (W.H.O.) advises the public that medical masks are single-use only, and they should immediately discharge the mask, preferably into a closed bin.
However, there was a higher demand for these masks than the supply, especially during the pandemic's first wave. At that time, the W.H.O. authorized exceptional procedures to disinfect these masks for reuse. 
In emergency cases, the U.S. Food and Drug Administration (F.D.A.) advise essential workers, especially health practitioners, to decontaminate their masks using hydrogen peroxide vapor.
Besides, the organization has provided other approaches to help in times of crisis, such as exposing the masks to ultraviolet rays or high temperatures.
Seven-Day Method
According to scientists, leaving the masks for some time would help the public use surgical masks, especially in times of shortages. Specifically, scientists recommend leaving used surgical masks in an enclosed envelope marked to show the day of storage and waiting for at least seven days. The scientific idea behind this methodology seems to suggest that after seven days, all viruses on these masks, if any, should be dead. 
This argument also correlates with research released by The Lancet showing that after one week, there was only a 0.1 percent probability of the virus' presence on the exterior surface of the mask.
However, this approach would not be the best to suggest to healthcare staff subject to heavy viral loads.
Nevertheless, scientists such as Peter Tsai, who invented the N95, agree with the seven-day methodology. But he recommends leaving discarded masks out in the open, for a week before reuse, a cycle he claims can be repeated five to 10 times.
It is also possible to put disposable masks in the oven, preferably at a temperature between 70 and 75 degrees Celsius, not too warm to prevent plastic from being burnt, but adequately hot to destroy the virus.
However, cleaning masks in a washing machine isn't a smart idea. Washing without detergent cannot make the virus wash away. Detergent washing can remove the electrostatic charges that decrease its efficacy.
Guidelines to Reusing a Surgical Mask
With the rise in infection cases, especially among asymptomatic patients, the recommendations for masks have changed. Also, C.D.C. is now encouraging other types of masks and cotton face coverings while going out in public places. 
The practice would help reduce infection rates and the spread of the novel virus, especially from asymptomatic carriers. The identification and curbing of the novel coronavirus is a big obstacle for these symptom-free coronavirus carriers.
Although complying with this advice is voluntary, the C.D.C. advises that those who do not have or do not feel ill with any signs of the virus should still wear a cloth covering while going out. Scarves or bandanas should also be used to get groceries or necessary medical equipment in a public environment.
It is worth noting that the C.D.C. does not recommend the use of N-95 respirators and medical-grade masks for low –risk areas. These masks are essential equipment reserved for front-line workers such as medical rescue teams and personnel.
Note that the fabric face coverings should not be classified as N-95 respirators or surgical masks. These fabric masks do not necessarily undergo complex processing and can be made at home.
However, having a substantial face cover is a vital step in avoiding the Covid-19 spread. Similarly, it would be best to consider the masks' life cycle and whether it is advisable and safe to reuse them.
Can I Reuse My Mask?
N95s can be adjusted between uses and should be discarded when they become moist. However, the drastic reduction of surgical masks and respiratory masks during the pandemic's first wave prompted the C.D.C. to provide these detailed recommendations on reusing and expanding N-95 respirators, especially for health care staff.
In between applications, ensure that the respirator is stored in a safe area.
 It is important to keep the respirators apart so that they do not interact, and the respirator user should be easily marked.
 Checking the manufacturer's instructions on whether the mask is to be reused.
If the vendor gives no instructions, some reports and analyses recommend no more than five uses of the same product.
Immediately discard the respirator if it gets dirty, clearly broken, or you are unable to breathe into it adequately.
As it can contaminate it, it should not touch the respirator's interior, rendering it unsafe for use.
Extended Usage of N-95 Respirator
Only decide to reuse a reusable respirator if it maintains its form and operates correctly.
One needs to avoid unwanted interaction with the surface of the respirator.
It would be better if you prolonged the mask than reuse it to reduce excessive touching.
Several reports show that you can prolong the use of N-95 respirators for hours. 
Immediately discard dirty and destroyed breathing masks.
Surgical Masks
Remember that only the same person can reuse a mask or respirator. Exchanging masks with others will increase the chances of infection. 
Also, note that these instructions only apply to hospital settings.
Using cloth masks made at home is highly recommended for general purposes, especially when you are not visiting high-risk areas. However, the W.H.O. advises against the reuse of surgical masks, and in ordinary circumstances, operational masks should be discarded after a single-use.
You maay also like: 5 Easy Covid-Responsive Workplace Changes
Image source: Shutterstock.com