Click here to get this post in PDF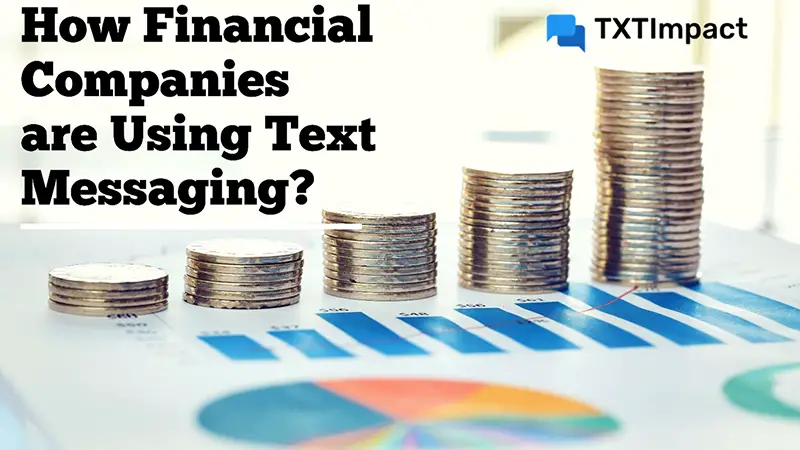 Financial companies are organizations that work in the finance sector. This includes insurance companies, insurance agents, financial advisors, banks, etc. All these companies need to constantly engage with their clients. This will help them get new customers and sell more of their products and services. This is the best way for them to earn more revenue. While there are different strategies that marketers can do, a simple and effective strategy is to use text messaging.
Why use text messaging?
Text messaging involves sending messages to customers. This is sent as an SMS that the recipient can read on their mobile phones. Studies show that 97% of messages are read in 3 minutes. SMS has a high response rate of 46%. More than 86% customers prefer receiving marketing messages through SMS rather than telephonic calls. All these facts explain why text messaging is so important for marketers. Messages can be sent very easily using text message software. It is less expensive as compared to other marketing methods.
Text messaging for financial companies
Financial companies can use text messaging in the following ways:
Text messages can be sent to acquire new customers. The message can be used to create brand awareness. Information about the company and its offerings can be sent using SMS.
Offers can be given to acquire new customers. This can include giving a free wealth planning session, a discount on the service offered, or waiver of the annual fee, etc. Such an offer will attract a customer to buy the product/service. This offer can be sent in the form of a message. The customer can be asked to send a reply if interested. Alternately, he can click on the link and buy online or visit the office of the company.
Apart from marketing efforts directed at new customers, it is important to reach out to existing customers. Reminders about subscription/fee payment, account status information, and other such details can be sent through SMS. They can also be sent information about new products to convince them to make a purchase.
Service to customers can be offered through SMS. Keywords can be used by a customer to send automated messages providing information a customer want. Queries and complaints can be sent through SMS and the company can take immediate action. This will help prevent customer dissatisfaction.
Feedback can be taken from customers periodically. This can be done easily by the customer replying to a question asking to rate the company. This feedback will help understand if the customers are happy.
SMS can be used to send useful information to clients eg: tax saving tips, financial market updates, etc. This will help in better customer engagement.
A financial company can hope to improve its business by using text messaging as a marketing strategy. This simple and easy to use strategy can help them engage well with customers and increase their business. If you are a marketer for a financial company, then you can start using text messaging from today to boost your business.
You may also like: Top Reasons Why Your Business Needs to Archive Text Messages – Infographic
About the Author

I am Susan Raj, Marketing Head of TXTImpact provides Text Messaging products for marketing and support customers to increase your client base. Our Enterprise Text Message Marketing Platform designed for your business, allows marketers to communicate and engage customers on the go instantly.