Click here to get this post in PDF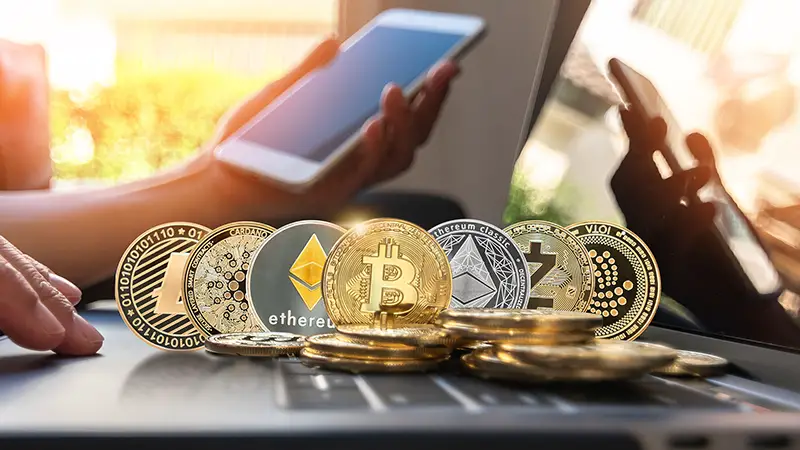 Cryptocurrency is a very volatile asset meaning it can rise and fall quickly. Depending on your strategy, it's a great way of making some long-term or short-term profit. There are many different cryptocurrencies currently on the market from the household name of Bitcoin to the smaller, more up-and-coming coins like Floki. If you're just getting started in crypto trading, read on to find out how exactly it works.
What Is Cryptocurrency Trading?
Cryptocurrency trading is the act of speculating on cryptocurrency price movements in a trading account or buying and selling coins via an exchange. When you buy cryptocurrencies with an exchange, you buy the coins themselves. You put up the full value of the asset to open a position and store the crypto token in your own wallet until you're ready to sell. Exchanges are full of learning curves and the more you use them, the more you'll get to grips with the technology involved and you'll learn how to make sense of the data. A lot of the exchanges also have limits on how much you can deposit. Some crypto trading exchange platforms support both crypto-to-crypto and fiat-to-crypto conversion and the trading fee on each transaction is different depending on the type of platform you are using. Most amateur traders prioritize the low fees, but choosing secure crypto exchange platforms should be your biggest concern 
How Do Cryptocurrency Markets Work?
Cryptocurrency markets are decentralised, meaning a central authority like the government does not back them. Instead, they run across a network of computers. Cryptocurrencies exist as a shared digital record of ownership on a blockchain. When an investor wants to send crypto to another user, they can send it to their digital wallet. The transaction isn't final until it has been verified and added to the blockchain through a process called mining – this is how tokens are usually created. 
Cryptocurrency markets move according to supply and demand; however, as they're decentralised, they remain free from many economic and political concerns that affect traditional currencies. 
How Does Cryptocurrency Trading Work? 
You can trade cryptocurrencies via a CFD (contract for difference) account that enables you to speculate on whether your cryptocurrency will rise or fall in value. Prices are quoted in traditional currencies like USD. CFDs are leverage products which means you can open a position for a small fraction of the full price. To begin trading, you must set up an account with a crypto brokerage like Coinbase or eToro as they offer a simple user interface. Get to know more details about eToro, experience their excellent tool, and hone your trading skills at your own pace. You'll need to provide personal identification just like when opening up an account with a stock brokerage.  With an eToro demo trading account, you will learn about the markets and how to trade confidently.
Next, you'll need to fund your account by connecting your bank account. Most crypto brokerages offer funding through debit cards and wire transfers. Then you can start choosing cryptocurrencies to invest in. Most who trade crypto allocate most of their capital to Bitcoin or Ethereum. However, there are smaller altcoins that you can allocate to that have higher upside potential with some rising up thousands of percent within a matter of months. 
Then you'll need to choose a strategy of how you want to trade. There are so many different trading indicators to choose from that, if you're new to investing, you may want to consider a trading course in crypto. Experienced traders may already have a strategy that they use for stocks. When you're actively trading, you'll need to store your cryptocurrency in your wallet. Crypto wallets come as software or hardware and both are extremely secure.
Disclaimer: This article is not intended to be a recommendation. The author is not responsible for any resulting actions of the company during your trading/investing experience.
You may also like: Cryptocurrency trading – top four benefits!
Image source: Shutterstock.com