Click here to get this post in PDF
Working with the proper electrician is vital to the smooth operation of your company. Here are some tips for selecting an electrician.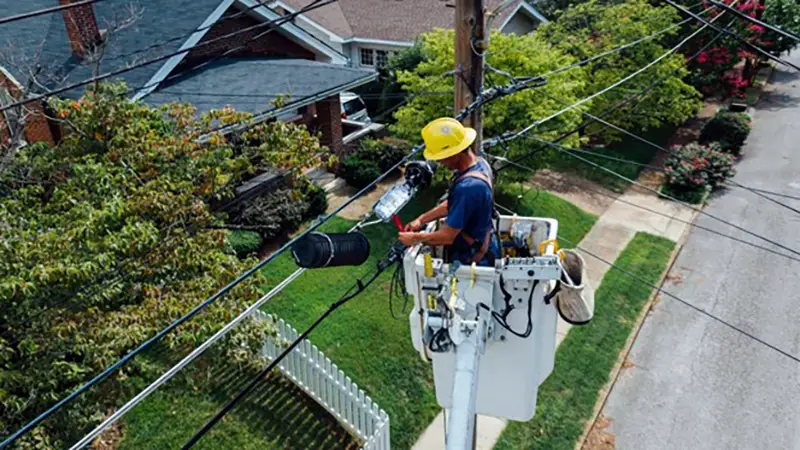 Everything we do is surrounded by electricity, especially at work. Electricity is so common in our everyday lives that employees can easily get complacent and forget how strong and possibly deadly it is. From the office to the construction site, electrical safety is absolutely paramount in the workplace. Unsafe electrical equipment raises costs and endangers workers' safety. Hiring an electrician must be done very carefully.
Choosing an electrician might be tough due to the sheer number of electricians available. To help you choose a skilled electrician, consider the following factors.
Tips for Electrical Safety
Other than employing a licensed and competent electrician, it is necessary to keep ourselves safe from the electrical incident by following these tips:
Use portable equipment near a socket so that power can be disconnected quickly in case of an emergency.
Identify and readily reach the power switches on your fixed electrical equipment so you can immediately turn them off in an emergency.
Unplug electrical equipment before cleaning them.
Replace any damaged or frayed wires on electrical devices as soon as possible.
Make sure there are enough electrical sockets, so you don't overload them with extension cords. Overloading electrical sockets can cause fires.
When possible, work with low voltage to reduce the risk of a serious incident.
Always maintain and test your electrical equipment to ensure their safety and maximum performance.
Choosing an electrician might be tough due to the sheer number of electricians available. To help you choose a skilled electrician, consider the following factors:
Factors to Consider When Choosing A Electrician
Checking on a structure on a regular basis is essential to keep it in good working condition. Such inspections can indicate that the structure needs upgrades in certain cases.
Changing the office's electrical wiring is a common part of upgrades. For electrical improvements, the most crucial step is to choose the correct person to do it. This will not only ensure quality work but will also help ensure the upgrades are long-term. You should think about the following things while looking for an electrician in Lexington KY for your office upgrading project.
1.  Certification and license
It is imperative that any electrician hired for any electrical work has the right qualifications. You can check their qualifications by verifying that they have the proper updated license for electrical work. It is necessary for ensuring safety, quality, insurance as well as effective follow-up.
A certified electrician is more likely to follow proper procedures when installing electrical lines and accessories. This ensures worker safety during installation and reduces the chances of post-installation mishaps. Working with a professional electrician ensures the job done is of high quality and safety standards. Unqualified contractors jeopardize the whole remodeling.
2.  High-quality results
For the best quality work, you will need to spend a good amount of money on hiring the right skilled professionals. Electrical improvements are no different in this regard. As long as there is a budget for it, the contractor can buy high-quality accessories and install them. They may also engage the best electricians they need to complete the job, which ensures a high level of quality control. When it comes to workplace renovations, investing in getting good quality work will always be worth the expense.
In addition to improving the aesthetics of the workplace, a well-done remodeling also increases its functionality. Because of this, the electrician chosen should be able to install equipment in locations that are both handy and simple to access. They should also be up-to-date with the latest advancements in science and technology.
3.  Ensured wall protection
When looking for an electrician, it's best to go with a company that has a crew dedicated to wall maintenance. In the workplace, pipe wiring is more common than surface wiring. In other words, the wiring is done behind the drywalls of the office to keep the electrical components out of sight. These walls must be removed during upgrades in order to get access to electrical wiring. An electrician who also maintains the walls saves the customer from having to pay a separate contractor to fix the walls after renovations.
4.  Client-focused proposal
When it comes to remodeling, an electrician should be able to customize the work needed according to the client's plan and needs. Firstly, this implies giving an estimated cost that is both reasonable and within the means of the average consumer.
Any additional expenditures that may arise throughout a project must be considered when calculating pricing. If you don't, you run the danger of running over budget due to unforeseen costs.
It is also important that the quote and proposal are in line with what the customer hopes to achieve from the remodeling project. In other words, if the goal of the office remodeling is to make it larger, the electrical improvements proposed should reflect that.
5.  Constant and fast communication
It's not uncommon for renovations to bring about unforeseen adjustments as the project progresses. A competent and reliable electrician will be in frequent contact with the customer and keeps them apprised of the progress at all times. Choosing a contractor who will be open and honest throughout the job is essential. As a result, the customer will have a voice in how the refurbishment is completed and will be kept informed every step of the process.
6.  Recommendations
One of the best electricians and the one you can trust is the one who has been recommended by someone else. If you're in the service business, you already know referrals are more reliable than any other source of information. It's important for clients to choose electricians who have had good reviews from previous clients. These electricians are more likely to do a good job than people who are less well-known.
Clients can also look at previous jobs the electrician has done to make sure they did a good job. For big businesses, referrals can be found on their websites and even on blogs. This is true even for small businesses. For small contractors, friends and family can give them referrals.
7.  Warranties and Guarantees
Guarantees and warranties from electricians indicate excellent work and genuine customer service, and confidence in their service. Top electrical contractors provide warranties. So, if anything goes wrong after the electrical work, you can rest assured that the problem will be fixed. Many top electricians additionally guarantee customer satisfaction. They do so to secure your desired outcome.
Conclusion
Unsafe electricity can cause extensive damage and personal injuries. A skilled and experienced electrician in Lexington can make the necessary electrical modifications required to remodel your office to keep it safe. Also, high-quality upgrades will last longer and need less maintenance. The electrician will be worth the money spent on their services, and the office will be better and safer than before.
You may also like: Factors To Consider When Looking For A Commercial Electrician And Electrical Company To Hire