Click here to get this post in PDF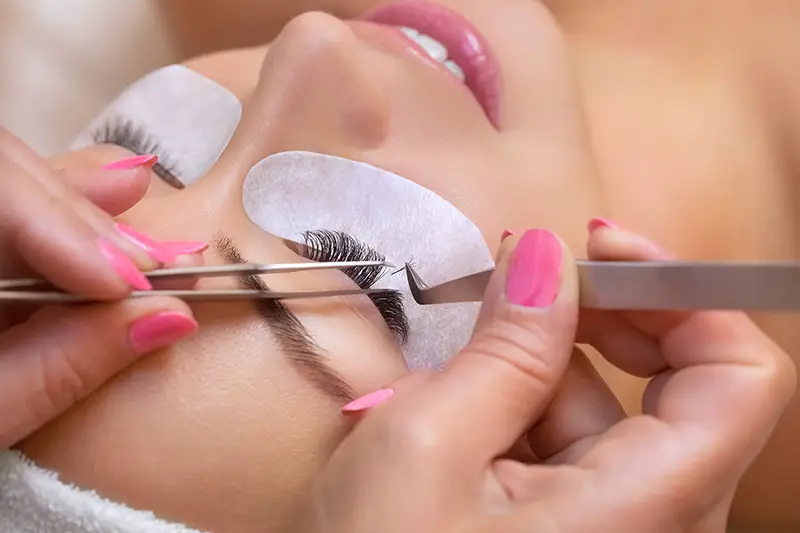 Lash extensions are the latest big trend in the beauty world and any beautician wanting to hone their skills and make the most revenue from this fashion should seriously consider professional training by taking an eyelash extension course. However, it isn't just the training that is undertaken that is important when setting up a lash extension business.
We take a look at some of the best tips to consider when venturing into a new career as an eyelash artist.
1.  Start Small, Aim Big
While it may be tempting to complete an eyelash extension course and get stuck straight in with establishing your own salon, it's best to start small and test the waters or hire a Toronto makeup artist for makeup lessons.
Consider renting a space in an established studio, this way, the investment will be much smaller, and the risk reduced. Many beauty salons allow artists to hire a chair or room to see clients in.
Not only will all the boring stuff be taken care of by someone else (utility bills, insurance, etc.), but you are likely to start getting clients immediately. Regular clients to these salons can be notified of your new services and as they already trust that salon, they will be more willing to use you. This will give you more time to focus on identifying the products you will use, such as the handcrafted eyelash extensions from Flutter Habit.
Consider leaving leaflets with clients having other treatments with promotions and opening offers to tempt them. You also have to consider going with trusted brands like Paris Lash Academy for your materials. Having the right things will ensure your reputation in this business.
Once you have an established client base and have perfected your craft, this is when you can start looking for your own space as you'll have a better understanding of your outgoings and any specific requirements.
You can even ask your clients for advice, such as how far they would be willing to travel for your treatments, this can help you determine location.
2.  Invest In Quality
You may want to keep expenses as small as possible after the completion of your eyelash training course, after all, you want to be able to make your money back as quickly as possible and get a good ROI.
However, be careful when it comes to cutting corners, there are some things you simply cannot compromise on.
When it comes to your lashes and glue, quality is key. You can be the most skilled artist in the world but without adequate lashes and glue, your hard work can seem poor to your clients. You need to work with high-quality materials, which will look like your natural lashes. Also, they not only help in avoiding the mascara but also help in providing confidence and glamour to the beauty of the women.  For example, you can use extensions from Lilac St, Bella Lash or NovaLash for having a really good result.  Eyelash training courses can provide great advice on what supplies to buy but do your own research as well.
Investing in extras, such as curing supplies and serums can let you give your clients that added extra that will lead to them returning over and over again.
3.  First Impressions Count
Whether you are providing services in a salon or from your own home, it needs to look professional and clean.
Especially if you are operating your business from home, you need to make sure it is still presentable. Spare rooms are commonly used as a lash studio, and it should look like one.
Keep it clean and clutter-free, wall art should be consistent with your brand and invest in some quality net curtains or blinds to give your clients a feeling of privacy. Flowers, candles and calming music can really add those nice touches that clients appreciate.
If you have pets or small children, make sure they are kept out of this space.
Many artists use their living rooms as a waiting room, this needs to look just as presentable. If you are offering free tea, coffee or any other refreshments, consider getting mugs and plates that are specifically for clients, no one wants to be drinking out of an old, chipped family mug.
4.  Use Social Media
Advertising can be costly but spreading awareness on social media is free! Platforms such as Facebook, Instagram and Twitter are a great way to let your clients know what you provide, while also reaching out to those who were unaware of your brand.
Look at competitors and see what hashtags they are using and use the same. Be as active as possible on these platforms, before and after shots are always a great marketing tool, but always ask your clients' permission before posting.
If you want to spend a little cash to boost your profile, Instagram ads offer various packages for all budgets too and can target those who will have a genuine interest in your brand.
5.  Get Reviews
Your clients may tell you they love your services, which is great feedback, but this needs to be made public. Getting reviews on Google and Facebook pages are integral to the success of any lash business.
Reviews can make or break the decision of a new client as to whether they choose you or not. Don't be afraid to ask your client to leave you a review, you can even sweeten the deal by offering them money off their next treatment if they do.
Starting a new business is both exciting and daunting and all elements should be carefully thought through. Don't be discouraged if success isn't immediate, building a client base can take time, but considering the aspects mentioned above is a great way to get started with your new business venture.
Also read: Beauty Industry Secrets to Dominating Ecommerce
Image source: Shutterstock.com