Click here to get this post in PDF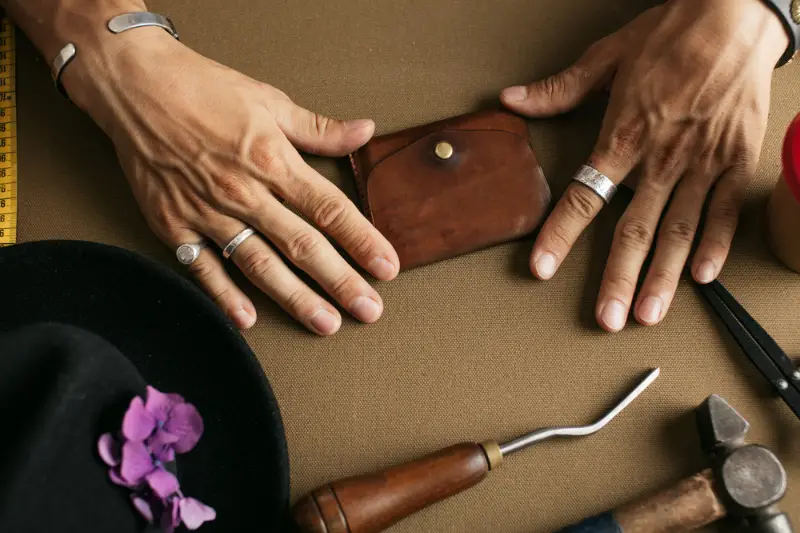 A custom wallet is an accessory that virtually every person on earth possesses and uses every day. Looking back at its history, the wallet as we know it today went through an extensive evolution, transforming from a bag for coins to an organized, sophisticated element of the daily wardrobe. Before we learn how custom wallets are made, we need to understand their history and true origins.
From Antiquity Through the Renaissance to Present
Like most inventions, the wallet has its origins in antiquity, specifically in ancient Greece. However, back then, it resembled a bag or a small purse in which the underprivileged, or rather poor, carried their scanty possessions, including food.
Around the 7th century BCE, when coins first appeared in Greece, a few wise fellows invented a container specifically designed for money that they called a satchel. It came in various shapes, sizes, and materials, just like the wallets we are so familiar with today. From ancient Greece, the pouches started their journey around the world, changing overtime to take the form of a modern wallet.
In a form similar to what we know it today, the immediate ancestor of the wallet first appeared around the 17th century in the Renaissance, right after the introduction of paper currency. The new form of money required creating an object in the appropriate form and shape since the pouches ceased to fulfill their function and were not suitable for storing banknotes. The first wallets were made of cowhide or horse leather to best protect the money held in them, which were initially not made of durable materials.
Typically, wallets at that time contained only one compartment and an additional pocket in which the owner could put a card so that it was known to whom it belonged in case of loss. That approach can be thought of as the first personalization of a wallet.
Closer to the present day:
In fact, back in the 19th century, wallets weren't merely used to store money. Often, especially when traveling, they served as a way to stash away other essentials, such as dried meat. The earliest wallets were not worn in pockets, but on the outside, attached to a belt. Over time, wallets, in addition to a compartment for paper money, also gained a pocket for storing coins.
With the introduction of payment cards and electronic commerce, wallets had to change their form a bit to adjust to the current standards. In the 1950s, after the first credit cards materialized, wallets began to be divided into more and more compartments, and they themselves became smaller so that they could fit in a pocket of pants or a jacket.
If you peek inside our online store, you will find how diverse modern custom leather wallets are.
Modern Day Custom Leather Wallet Production:
Nearly four centuries later, today's wallets serve a very similar function, with comparable assembly and application. Even the use of similar wallet production materials has not changed much, such as leather, except the fine adjustments in a manufacturing process. Our custom leather wallets are tuned for sustainability, efficiency, and endurance.
The first step to any wallet creation is selecting the right material. The origin of the leather chosen for wallet production will determine its structure.
Employing modern-day manufacturing machines that are able to cut, process, and produce with the highest precision makes the production procedure much faster than ever before. But we do not cut corners, implementing the handcrafted technique to ensure the sturdiness of your wallet. The combination of customized metal inserts with a top-grain Argentinian leather is a meticulously designed composition for your minimalist lifestyle. A similar approach is applied to the customization of your future leather wallet, where a precise engravement will cherish for years to come.
Personalized, engraved, and monogrammed leather wallets and money clips will be an excellent addition to your unique and gentlemanly style. For many years, leather goods have been one of the most exciting gift ideas, perfect for any occasion. Companies also use custom leather wallets for their clients as a way of thanking them for cooperation. To act as a corporate gadget, the wallet should display a company logo. What are the options for marking leather wallets?
Embossing is the art of creating patterns on the surface of animal skin. Regardless of whether they are leather handbags or men's leather wallets, embossing will always look elegant and stylish. A metal matrix is heated and then pressed against the skin surface, in the place where we want to obtain the embossed mark. The disadvantage of this method is that it is not always possible to fully reproduce the smallest details of the logo, such as very thin lines.
Engraving, on the other hand, uses metal inserts that often have the shape of flat gills. Their presence is not accidental. The metal plates were placed precisely so that they could be marked with laser engraving. This approach is swift, durable, and allows us to reproduce all, even the smallest details of the project. This method is often used for personalized imprinting, decorating each wallet with the name or a sentence intended for a person whom we want to gift.
Custom Leather Wallet as a Gift
Gift buying is more of an art than we might think. It all comes from the fact that in order to choose a useful gift that will genuinely appeal to the recipient, we need to know his or her tastes well. To stay on the safe side of the equation, a wallet will always be a practical and satisfying present. If a man in your family has an impending celebration and you are wondering what gift will make him happy, consider a men's custom leather wallet. A high-quality leather wallet is an excellent opportunity to make a few changes to his image and enhance his style.
If you are still questioning whether a custom leather wallet is a good idea, don't be afraid to take a look inside our collection and see for yourself what the gift can offer.
You may also like: Small Leather Goods Wholesale Process