Click here to get this post in PDF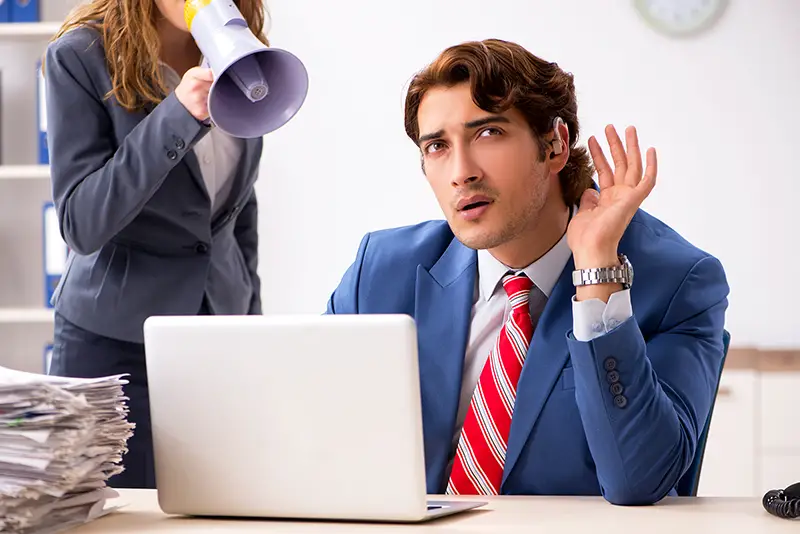 Loss of hearing in the workplace is a common issue, especially as the world becomes noisier.
Noise-induced hearing loss affects persons who work in industries such as mining, agriculture, carpentry, construction, and oil/gas extraction. Also, several military employments also have noise problems.
In this article, you'll learn important things to know about hearing loss in the workplace.
1. Compensation Benefits For Hearing Loss
Workers' compensation coverage varies widely among countries, both in terms of how much coverage businesses must buy and what it covers. 
Employers and employees can use hearing providers to file a claim for workers' compensation for hearing loss. This includes hearing aids, servicing, batteries, etc.
See sections on OSHA about hearing loss and workers' compensation hearing loss benefits if you think you've lost your hearing at work since one of the most common situations where people are exposed to dangerous noise levels is at work.  OSHA protects workers from injuries, including hearing loss. For more information, look for recommended reading resources on this topic. 
2. Manage Your Hearing Loss In Your Workplace
Speech in background noise and at a distance is often difficult to understand for those with hearing loss since hearing aids don't discriminate against what's amplified. This might be difficult in noisy environments, especially open-plan offices.
Here are some workplace hearing tips:
Accept your hearing loss to better prepare for workplace communication problems. 
Remember to deliver your abilities and experience to work. Your hearing problem doesn't define you or hinder your performance.
Be prepared for meetings by requesting an agenda ahead of time. Come in early to secure a center seat facing the window. Furthermore, written communication is utterly beneficial to deaf persons. If necessary, ask for critical messages to be communicated visually, rather than verbally, via written directions or emails.
3. Tell Your Coworkers About Your Hearing Loss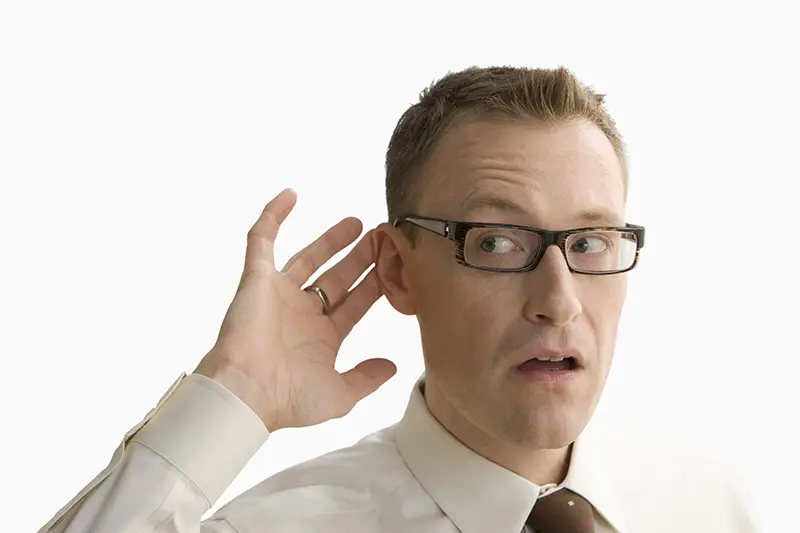 Your coworkers may be unaware of your hearing loss. They need precise details to successfully communicate with you.
Avoid saying, "I'm deaf." Rather, explain about your hearing issues, like, "I have problems hearing voices if there's a loud noise." 
Tell your coworkers how to reach you.
Tell them to speak slower.
Ask them to keep a safe distance from you and to make sure you get what they say.
Ask them to slightly raise their voice and provide visual signals.
Ask them to paraphrase difficult words and jot down sensitive details, such as places, times, dates, times, phone numbers, amounts, and names.
4. Know These Special Equipment To Use For Hearing In The Workplace
Hearing Aid. Your employment, relationships, and mental wellbeing can all be impacted by hearing loss. Hearing aids can assist a lot, especially if you choose the proper ones. They're electrical devices that improve hearing. Fit in or behind the ear, they amp up some sounds. Both in quiet and noisy situations, they may help
Deaf Pager. It's a communication device for those who are deaf, and/or partially deaf. Because they solely use text, many people refer to more modern devices as pagers instead of phones. Unlike older pagers that could only send short messages, modern pagers can now send big blocks of text, photos, or even recordings. A pager, or other types of text-sending technology, deliver many of the same benefits as cellular phones do for the hearing.
FM Systems. These are wireless supportive hearing devices that help persons who are suffering from hearing loss and don't wear hearing aids, especially in noisy and distant surroundings. This allows you to hear the speaker's voice better by sending a signal directly to you.
5. Create A Supportive Work Environment
Employees, coworkers, and bosses can all help create an inclusive and supportive workplace environment by being aware of hearing loss. Make sure everyone with hearing loss improves general productivity, communication, satisfaction, and health by doing preventive measures.
People working in noisy environments should undergo regular hearing examinations.
Workplace noise rules must be set in place.
Workers must get frequent hearing tests to monitor hearing.
Employers must provide hearing protection.
Workers must use hearing protection correctly and attend all hearing tests.
As untreated hearing loss in the workplace poses issues for employees and employers alike, employers should help employees with hearing loss by implementing a hearing-friendly workplace policy that supports all employees.
Conclusion
Prevention outweighs therapy. As previously stated, hearing loss is preventable with the help of frequent hearing examinations. Workplaces should aim to prevent occupational hearing loss. Even so, some employees may develop occupational hearing loss.
Again, if your job is making your hearing damaged, you shouldn't be held responsible. Know your rights and seek for professional help.
You may also like: 10 Health and Safety Must-Haves to Avoid Work Accidents
Image source: AdobeStock