Click here to get this post in PDF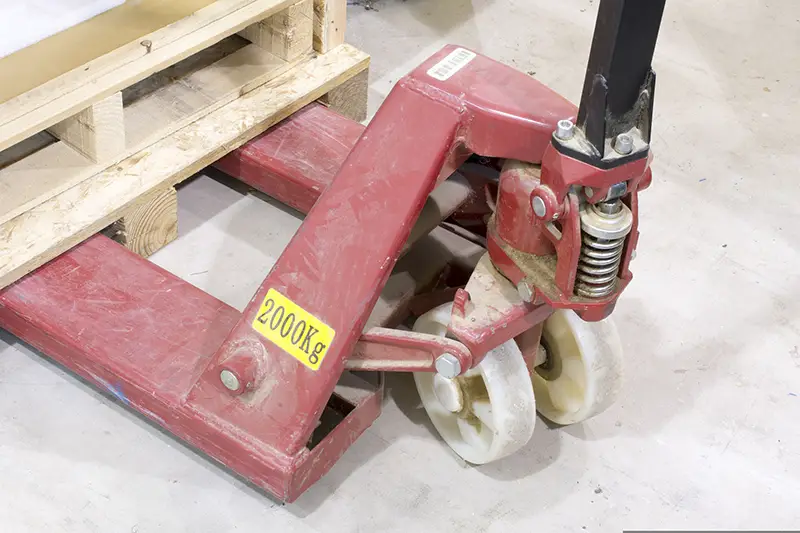 Introduction
The forklift is one of the most popular pieces of equipment in warehouses and distribution centers. A forklift can move pallets quickly and easily, but it's important to understand how to safely pick up a pallet with this type of lift. Failure to do so can result in costly injuries or damage to your company's equipment or inventory. Follow these tips for safe lifting:
Step One: Safety First
Safety First
Wear the right safety equipment. You should always wear the appropriate personal protective equipment (PPE) while operating a forklift. This includes hard hats, steel-toed shoes, and hearing protection.
Make sure the area is clear and safe. Before attempting to pick up your pallet, make sure the area around your machine is free of obstacles that could cause injury or damage to your equipment if struck by them or worse yet.
Check Your Load Capacity and your forklift tyne.
Check the load capacity of your forklift before attempting any maneuver with it. it's much easier to find out that you can't lift it now than after you've already damaged something because you tried anyway! A quick Google search will give you this information easily enough; if not then ask someone who knows what they're talking about (i.e., someone who works at a warehouse where they use this type of machinery regularly).
Step Two: Learn About Pallet Types
Before you start picking up pallets, you need to know what they're made of. There are several different kinds of pallets:
Standard – This is the most common type of pallet that you'll find in use today. Wooden pallets are made from pressed wood and can be found at most warehouses and distribution centers.
Heavy Duty – These types of pallets are also referred to as "heavy duty" or "extra heavy duty," depending on their manufacturer. They are designed for extremely heavy shipments that would damage a standard-sized unit, such as concrete blocks or large construction equipment parts (e.g., cranes).
High Density – These types of pallets were commonly used in the past when shipping large items like televisions or refrigerators because space was limited on trucks back then; however, today, all that has changed since many manufacturers ship these products using small boxes instead because it takes less time than loading them onto big platforms like this one would require before driving away from the dock so they're no longer needed anymore except maybe something like moving furniture around inside your house where weight isn't an issue anymore but instead size matters more than anything else."
Step Three: Forklift Positioning and Pallet Placement
Forklift Positioning and Pallet Placement
Once you have determined the best fork position for lifting, you must determine how you want to move the pallet. The three most common positions are:
Underneath – This is where the forks will be underneath the pallet. To do this, place them close enough to get under with ease but not so close that they're touching yet. This is a great way to lift small loads because it's easy on your arms and allows for more precise control of your forklift when moving across rough terrain or around corners because there's no extra weight like on top or overhanging one side.
On top – This involves having the forks sit above what they're picking up, usually due to their size or weight being greater than what can be safely lifted with its current configuration. It also helps prevent tipping when transporting larger units as long as they aren't too far off balance in either direction. If possible, try getting directly above instead of slightly off-center. This will help prevent damage if something gets caught under one side while moving forward or backwards quickly since it doesn't take much pressure from another object hitting just one corner before everything goes flying out from underneath!
Step Four: Lift the Pallet with Your Forklift
Lift the pallet with your forklift.
Position the forks under the pallet's center of gravity (the heaviest part) and lift them safely by activating them slowly.
As you lift, use a load spreader if necessary to help distribute weight evenly across all four forks. If a fork becomes overloaded, stop lifting immediately and lower one or more forks to relieve pressure on them before continuing.
Check for stability before moving forward: make sure that each side remains steady while being lifted off of its supporting carts and/or supports, then proceed cautiously as you move forward with care until reaching an open area where you can set down your cargo safely without knocking over any walls or other obstacles along the way!
Before picking up a pallet with your forklift, make sure you have the right lifting equipment. If possible, use a forklift attachment specifically designed for the job.
You can use your forklift to pick up pallets, but you must have the right lifting equipment.
If possible, use a forklift attachment specifically designed for the job. This will help ensure that you use the correct tool for lifting and handling pallets. Using an attachment designed for this purpose is also important because it will help prevent damage to other parts of your forklift as you lift and carry pallets around.
Make sure that your forklift has enough weight capacity to safely lift the pallet. It's also very important that you check whether or not your particular model allows for a fork extension (or some other kind of specialization) before attempting this procedure as well! If not, consider upgrading with one that supports attachments like these, so there are no surprises when trying out this technique in real-life settings where speed matters most!
Conclusion
I hope that these tips have been helpful and that you're now ready to tackle the next pallet in your warehouse. If you have any questions or need more help, please feel free to contact us at any time.
You may also like: The Forklift Mechanic's Guide to Maintaining Safe Equipment
Image source: Pixabay.com