Click here to get this post in PDF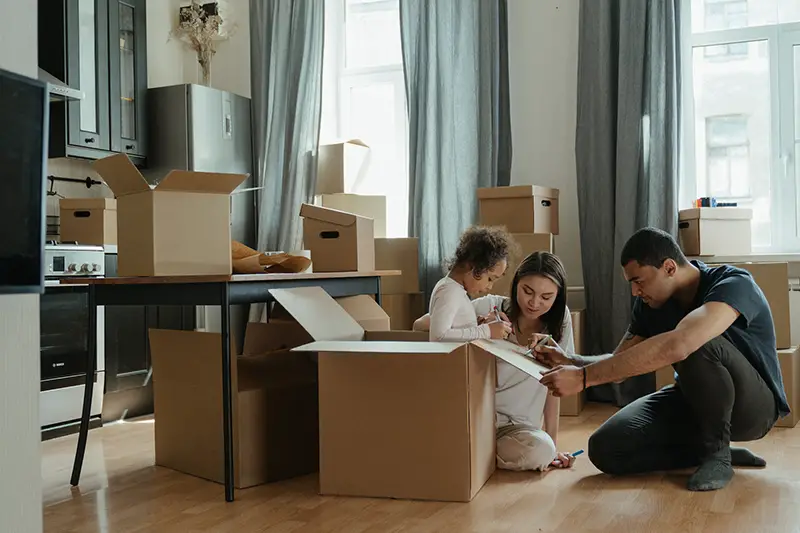 No one ever said moving was easy, but with a little bit of preparation and organisation, you can make the process smoother for your entire family. When you through into the mix your home run business, the need for organisation is utmost. Here are our top tips for making sure your move goes as smoothly as possible and stress-free!
1) Start early and take your time packing:
One of the biggest mistakes people make when planning a move is not leaving enough time to pack. Packing can take days or even weeks, so start early and give yourself plenty of time to get it all done. You'll also want to be sure you have the right boxes and packing materials on hand to ensure your items are packed securely for transit. Have your business items in containers separate from family items.
2) Create an inventory:
Create an inventory list of all the items you will be moving, including furniture, clothing, appliances and other household items. This will help you stay organised as you move and will also allow you to easily see what needs to go where in your new home. It also helps to create an inventory of the items you are taking with you and the items that will stay behind.
3) Plan ahead:
Before your move, make sure you plan out all the details in advance – from researching moving companies to setting up services at your new home. It's important to give yourself plenty of time to ensure everything is ready before the big day. Making a checklist can help keep you on track and make sure nothing gets forgotten in the process. Do make sure that your insurance is in place before moving.
4) Arrange storage facilities:
If you are downsizing or need to move a few pieces of furniture, consider renting a storage facility from a freight forwarding company. This will help keep all your items in one place and make it easy for you to access them after the move. In addition, this will also help prevent items from getting lost or damaged in transit.
5) Have a plan for kids and pets:
Moving is incredibly stressful for children and pets, so make sure you have a plan to keep them safe during the process. Kids should be kept away from the packing area as much as possible, and it's important to prepare them ahead of time by telling them what will happen on moving days. Regarding pets, if you can't have someone watch your pet during the move, it may be best to board them until after the transition has been completed.
6) Get everyone involved:
Moving can be a stressful experience for everyone, especially children. To help ease their stress when it comes time to pack up their belongings, get them involved as much as possible by allowing them to pick out boxes and packaging materials as well as adding their own touches to the packing process.
7) Take care of yourself:
Moving can be a stressful experience for all involved, so taking time for yourself during the process is important. Make sure you get enough rest, eat healthy meals and schedule some "me time" for yourself. In addition, taking a few moments each day to relax and unwind can help keep your stress levels in check throughout the move.
In conclusion, while moving can be a stressful experience, planning ahead and getting everyone involved can make the process much smoother. By following these tips, your family will be ready to go with the least amount of stress possible.
You may also like: Important Points For Choosing The Right Moving Company
Image source: Pexels.com