Click here to get this post in PDF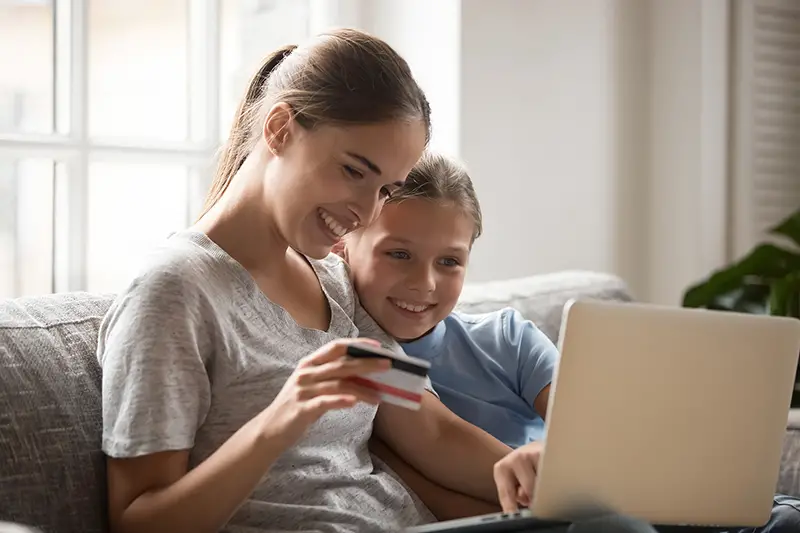 Fintech is a potential market for families. As per the National Statistics Office (ONS), the UK had more than nineteen million families in 2020, a 1.4% rise over the previous year and a 7.4% increase over 10 years from 2010 till 2020. This represents a huge victory for firms who target this population.
The Coronavirus pandemic has a significant influence on the Fintech for children market. You may wonder, "What do children's financial difficulties have in common with those of adults?" Quite a bit. Unemployment, solitude, remote work, and sudden shifts in schedules are things children see and absorb from their parents. The majority of experts say that children's financial habits are formed mainly when they are seven years old.
This implies that today's children have a better understanding of the importance of saving and planning for the future of their families. The lockdowns have also prevented many kids and adolescents from spending their money, so they've saved it up. These are the funds available for immediate use, and Fintech for family is an incredible opportunity. 
It is safe to say, given the responsibility of educating their children about money, that parents need better tools and resources to help them educate their children on good money management habits, and they can easily do this through Fintech for family. Likewise, where there is a demand, there is also a supply. 
Many financial institutions have recently started offering solutions that cater to the needs of families. They provide tools and applications to assist families in managing their finances and teach children the fundamentals of money management in a safe and secure setting. Investing in fintech businesses that provide savings platforms for children, youth, and parents have gathered $535 million over the last five years, according to Crunchbase statistics.
Fintech initiatives are a specialty of Surf. Among these is the SBI Bank-created Your Circle app. The goal of Fintech for family is to make it easier for families, including youngsters and the elderly, to manage their household budgets and better understand money management. In this post, we'll share what we've learned from building a banking app for kids and teenagers so that parents can teach good money habits to their children.
There Are Several Good Reasons to Create A Financial Education App For Children
Why do businesses need applications for children and teenagers?
It's not just kids who may benefit from kid-friendly cards and bank accounts like those offered by banks and financial institutions.
Benefits that firms may make use of: 
Banks and Fintech may target parents who require money management and control solutions for their families to attract new consumers.
If you can teach your future consumers good financial habits at an early age, you have a far better chance of retaining their business in the long run.
MONEY adolescent checking accounts from Capital One include a fee-free account for kids, tweens, and teenagers, a debit card, and an app. Young users may use their debit cards everywhere MasterCard is accepted, and the bearer has access to 40,000 Capital One ATMs around the country. There is no minimum to open or maintain an account. Parents may link a non-Capital one account for an automatic allowance, set up parental restrictions, and lock the debit card in the event of loss or theft. At the same time, kids can easily keep track of their account balance and establish particular savings objectives.
What can parents expect from affordable applications for children?
When thinking about creating banking software for children, it's not enough to know that there's a market for it. Another thing to keep in mind is the expectations of your target audience (parents). Some of the most critical for Fintech for family are as follows:
Tracking how and when kids spend money is a priority for parents, who want to keep tabs on what they buy and how much they spend.
Financial and personal information pertaining to children should be kept safely to prevent theft or unauthorized access.
Finally, parents are concerned about their children's financial literacy and how they will handle money in the future.
Through Fintech for family, the company's solution achieves all of the goals mentioned above, giving parents ultimate control while also allowing their children the flexibility to spend and save as they see fit. 
For starters, Current began out as a debit card for teens. Still, it has now grown to include features like free overdrafts, no minimum balance restrictions, speedier direct deposit, and check deposit using your phone's camera. One of the essential features of Current is that it gives parents complete control over how much money their children spend.
What kind of information can kids get when it comes to banking apps?
Aside from the parents, children and teens are the main characters in this narrative, and as previously stated, financial education may have a significant influence on their life. Using an advanced banking app can provide the following benefits for children:
For youngsters, time spent with usage is the most crucial benefit. Children may learn how to save and invest their money by using banking applications instead of wasting their money on shopping sprees or browsing the aisles of the mall.
As they learn more about personal finance and better manage their finances, children develop a broader interest in the subject and gain new skills.
Bank applications that include game mechanics might help children develop a more benefit-oriented mindset.
Greenlight Max, developed by Greenlight, is an excellent educational tool for children. As long as their parents give the go-ahead, this website allows youngsters to research their stock and make genuine investments. In addition to gaining education, they will gain practical experience to help them in their financial future.
When Building Apps For Children, What Considerations Should Be Made?
How does a debit card app for kids operate?
Parental supervision is provided by using a debit card for minors, which functions in the same way as any other debit card. Overdraft and additional fees can be connected with free debit cards or monthly or yearly costs.
As a general rule, the finest debit cards are linked to mobile applications. As with adult banking applications, a straightforward user experience and management over card funds are hallmarks of the finest apps. There is a separate online account for children under 13, which is accessible by both parents and children. Parents can keep tabs on their children's internet activity, while children have less control.
Consider the following factors while making a decision:
Various elements of parental control, such as setting spending and transaction limits, spending trackers, spending alerts, merchant blocking, locking/unlocking cards remotely, restricting spending categories, etc., may be included.
Built-in financial education, chore management and payments, budgeting options for kids, saving goals and loan monitoring for kids, and other kid-focused features.
Because they deal with the household budget and personal information, the safety of financial services for children is just as crucial as that of mobile banking apps in general. A variety of options are available, including PINs or biometric access as an additional layer of security, the ability to lock or unlock cards remotely, and a combination of both.
Fintech For Family: How to Create A Banking App Child-Friendly?
Recently, Surf has created an idea of a banking app for kids that provides a world where youngsters learn to be financially responsible and plan their financial destiny. According to their experience, the demands of kids and grown-ups are relatively similar, banking apps for adults and children should appear and feel distinct. And it is not simply about altering the look and inserting some hilarious photos.
An excellent child-friendly banking app:
has to be instructive, entertaining, and thrilling. Kids are interested and hungry for information. That's why kids may utilize an app that can easily show them what money is, how to spend it wisely, or how to save up for a dream or put — how to manage their finances;
features a diverse design, where every theme has its interface components and conversations so that the app is never dull as it varies with every new level.
features gamification components, Gamification in Fintech is effectively utilized to enhance the customer experience and provide a greater retention rate. And more so, if we speak about Fintech for kids. During the game, students can, for example, function as an entrepreneur and understand what way their actions might affect the financial outcomes. Such games may be made for different ages: for instance, at the age of 6, youngsters want to own a lemonade kiosk, at the age of 9 — to manage production and at 13 — to start their own firm.
should include virtual assistants and chatbots, children are fond of tales and their characters. At the age of six, youngsters favor fairy tales, and at 13 — real-life stories. The mascot figure and chatbot that come to help children navigate through the UI and comprehend financial jargon is undoubtedly a number one feature for a children's banking app.
Conclusion
To sum things up, it's reasonable to conclude that Fintech for family and kids is a burgeoning business with excellent potential. The financial services for families comprising youngsters, teenagers, and elderly folks are in necessity and advantageous for all parties concerned. Fintech for families is the perfect option. 
As for applications for kids, they demand no less responsible and thorough approach than the apps for adults in terms of UI/UX, technological stack, security, and compliance. Surf has vast expertise with finance and banking applications for adults, and they know the difference to take into consideration for kids' apps.
You may also like: The Rise of Fintech: How Fintech Thrives in Providing the Modern Needs of Tech-Savvy Customers
Image source: Shutterstock.com