Click here to get this post in PDF

Every day we can see new electronic solutions for businesses appearing on the market. Thanks to information technology, the majority of business processes can be automatized and digitalized. Even all the official documents stored in a company can be transformed into a digital format for easier management. However, to make the most out of digital documents, it is essential to be able to place an electronic signature. Without the ability to carry out such a simple task, the performance of your business will not improve but decrease instead. Is digitalizing all the paperwork worth it? The experience of many international corporations demonstrates that such a decision is extremely beneficial only if executed correctly.
Luckily, there is high-quality software developed specifically for working with electronic documentation. SignNow is perfect for making digital signatures, editing documents, distributing official papers, collecting attachments, and more. Grab these templates to save time with preparing your documents.
The Advantages of Using SignNow Software
There are numerous electronic signature programs available on the market nowadays. However, the majority of them are either not sufficient for keeping up with all the documents or only support making digital signatures. To boost the efficiency of your workers, it is recommended to have a versatile program for managing documents, and SignNow is perfectly suitable for this purpose.
There are hundreds of positive reviews by SignNow users that express their satisfaction with the accessibility and convenience of the program. Here are some of the key benefits of the software:
Wide accessibility for all users – the developers of SignNow created a program that is accessible and easy to grasp for any user, from company worker to the client of this business. Working with SignNow does not require special training and explanations to use it effectively;
User-friendly design – the interface of the software is intuitive and easy to grasp for any computer user, whether a beginner or an advanced user. It is easy for anybody to pick up the program and start completing tasks right away even without any prior knowledge of the app;
Availability on multiple devices – the key advantage of having documents in digital format is their availability online. That is why SignNow was designed to be supported on various devices. Everyone should be able to access the necessary files anytime and anywhere. You can use SignNow from your computer, laptop, or mobile devices such as smartphones or tablets. The majority of mobile devices run either on iOS or Android operating system, and both of them are suitable for SignNow;
Powerful security – the official documentation of a company requires enhanced protection at all times. Unprotected files on the Internet can become an easy target for hackers. To prevent hacking and stealing data, SignNow uses the latest methods of encryption and safe cloud storage for all your files. You can be sure that all your documents will remain safe and protected at all times.
The List of Key Features Available on SignNow
There are numerous essential processes connected to documentation management such as editing papers, signing them, sending for review or approval, collecting documents, and so on. Often, programs focus on a single task or a few ones, which is not enough to cover everything. SignNow handles all these tasks perfectly and in one place, which saves plenty of time and turns out to be extremely useful. Here are some of the main features of the program:
Different ways of making a signature – the core objective of such software is to facilitate making electronic signatures, which is why SignNow offers a few different ways of doing it. You can upload a scan of a signature written on paper and use it digitally, type in your full name and initials, or simply draw your signature with the help of the mouse. All signatures can be saved in the storage for quick access in the future, although it is not obligatory.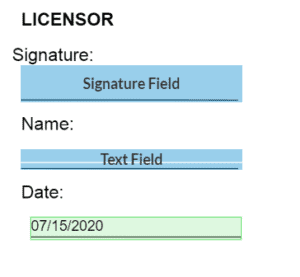 Enclosing files – together with the sent copy of a document, you can request not only signature or other additions to the paper but also a specific file enclosed. This feature saves time as you will not have to message a person separately asking for additional documents;
Special customizable boxes – depending on the information you want to receive, you can include certain special boxes in the document. There are designated fields for general text, times and dates, signatures, checkmarks, and more. In case you need to receive a signature on the paper, making a signature box the only editable option will ensure that nothing except for the signature will be added to the paper. A time and date box can be optimized to request the date in a specific format, which can be selected accordingly to the one preferred in your county or company;

Regular notifications – there are settings that allow receiving notifications each time someone signs a copy of a document. This option helps with keeping track of the constant documentation flow.
Choose SignNow for Increased Productivity of Your Business
With incorporating SignNow into the operation of your company, you receive a convenient and legal way of signing and managing all the documents. This software is the kind of modern program that helps you remain relevant and competitive, while other companies still use inefficient management methods. In the reviews, SignNow users often mention the simplicity of this program in use for anybody and also its versatility for various tasks in the company.
Businesses of any scale, from small companies to international corporations, can benefit from incorporating SignNow as it improves documentation management and enhances overall productivity. Try SignNow and see all its advantages for yourself!
You may also like: The Advantages of Custom Software Development