Click here to get this post in PDF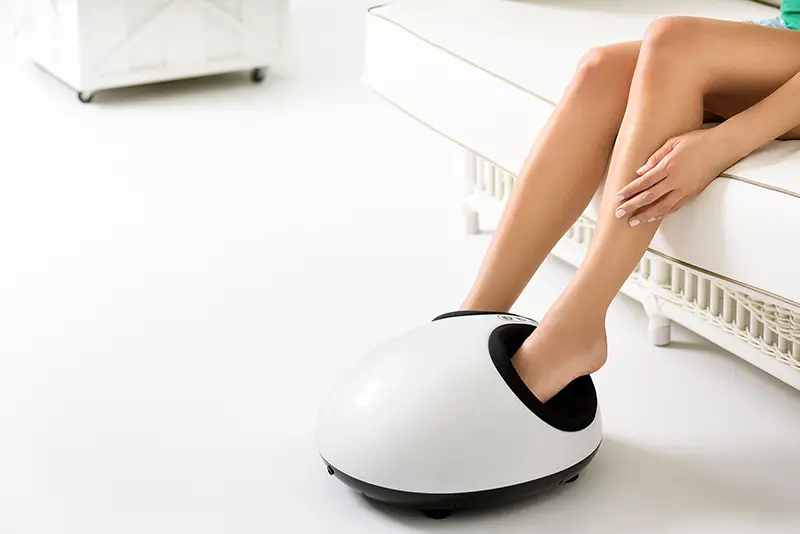 Your feet work with you all day long, whether you are walking, running, or just sitting around. They are even working while you are reading this! Yes, even when you are sitting on your chair in different positions, you are putting weight on your foot, either on heels or resting on the outer edge of the feet, sitting with your legs stretched out and your ankles crossed or resting toes of your feet.
We tend to focus much on our neck, back, and shoulders and ignore the care of our feet that start working as soon as we get to take our first step out of bed in the morning. They work with us in the office, shopping, visiting family and friends and every time.
Foot massagers can help your feet get the breaks they really deserve. Can foot massagers be an alternative to a professional massage therapist, and will they improve circulation is what we will be discussing further. But let us first see why to do bad blood circulation occurs in our foot in the first place.
Causes of bad blood circulation in your feet
Blood circulation plays an important part in the physical health of the body. It is because the blood is the source of transmitting oxygen and nutrients to all the parts of our body. If any part of the body gets a poor supply of blood it won't be able to function properly as it should be. Your feet may not be getting enough blood supply due to the following reasons:
Diabetes: dysfunction of the nerves and arteries due to diabetes can cause poor circulation of blood in the feet that cause numbness and muscle weakness in the feet.
Sedentary lifestyle: long static hours and no stretching between breaks can cause impaired circulation.
Obesity: your heart continuously tends to work overtime if you are obese and that exerts extra pressure on your feet and circulation issue.
Foot massage and blood circulation
Foot massagers are simple to operate. There are various types of foot massagers to choose from for leg. Shiatsu massage, Swedish massage, and deep tissue massage. However, all of them provide the same purpose of improved blood circulation. It all depends on where they tend to put pressure points on feet to relieve pain in the soft tissues on the foot.
A professional therapist's massage can cost much and you have to take out time extra time for the session. Whereas a foot massager will similarly imitate reflexology while saving you much of your time and money!
A foot massage will provide an ultimate soothing and relaxing time after a long hectic day. The advantages of using a foot massager are just beyond providing simple relaxation. Foot massagers greatly help in relieving pain in your feet and lower legs.
Massage will help to trigger the nervous system. This results in the formation of hormones and chemicals that make your mood better and ease your stress levels. Moreover, these massage techniques apply pressure in the feet which causes blood to flow through the constricted areas of your feet. When this applied pressure is released it causes new blood to flow in and eventually invigorates your feet.
The squeezing and kneading techniques of a foot massager also help to get rid of the lactic acid that is accumulated in the muscles due to overexertion. This process enhances lymph circulation resulting in lowering blood pressure and better body functioning. It also improves blood circulation in your feet. You can also reap more benefits when massages are combined with a healthy diet and regular exercise routine. So if you are interested in foot massager, you can visit peakmassager.com
You may also like: How massage chair helps in improving your health?
Image source: Shutterstock.com