Click here to get this post in PDF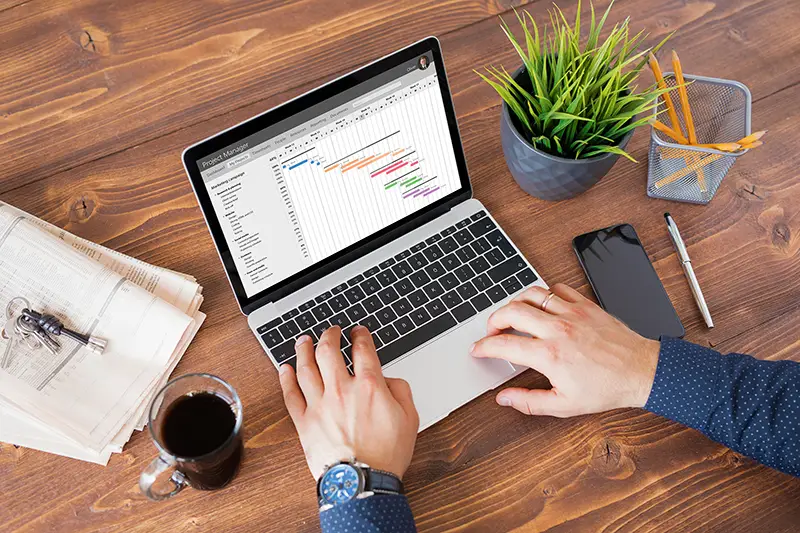 Risk managers have several responsibilities at any given time. These responsibilities revolve around identifying, planning, executing, and monitoring projects. These steps in project management are important in their own right, but the planning phase significantly impacts the project's success or failure.
This is why project managers have to create multiple plans for their projects. Project plans contain various subsidiary plans, but the risk management plan is more important as it forces the manager to account for potential disruptions or opportunities that may occur. It's difficult to predict risk but having a risk register helps. Here's how to create a risk register.
What Is a Risk Register?
A risk register or a risk log is a document or book that you can use to document and track possible hazards that may affect your project's performance and success. A risk register is crucial in every project planning phase. It allows project managers to be proactive about the future and plan for unexpected scenarios to ensure teams remain successful while preventing liability. Building and maintaining a risk log is an ongoing process. It can help you identify, assess, prioritize and minimize risks before they become real obstacles.
The Benefits of a Risk Register
Risk registers have several benefits, but their biggest advantage is that it helps you strategically manage risks. It also helps you focus your company's resources on areas with the highest risk or invest more in preventative measures for future risks.
Other benefits of risk registers include:
Identifying Patterns
As you continue gathering and documenting every risk for your project, you'll eventually have plenty of data about threats and system issues that have hurt your company in the past. This aids you in better predicting risks that may harm your business in the future. A risk log will also help you see how well you've been responding to said risks and whether you need to make some changes for more preparedness.
Provides Tangible Data
For a risk register to be successful, you will require input from industry experts, and everyone will have to agree on a common scale for measuring risks. Deciding on a common scale, qualitative or quantitative results in information across the board. This also ensures stakeholders have more tangible data to prioritize risk response measures.
Informed Decisions
Risk logs enable you to plan for effective risk responses informed by the context of the risks involved. Relying on data from a risk register gives you the confidence to make informed decisions that better your business in the long run.
Accountability
Since risk logs assign risks to owners, your team members will become accountable as they will need to verify whether they are mitigating their risks according to plan or not.
What to Include in a Risk Register?
The components of risk registers may vary depending on the business and project. However, many risk registers share these elements:
Risk Identification: This is a number or name you use to identify the risk when quickly scanning it. You can also add a date or a subtitle to help future readers understand the timeline of the risk and the progress made in responding to the risks.
Risk Description: This section explains the nature of the risk and why it's an issue. Always keep the description short but ensure it provides a high-level overview.
Risk Category: Assign every risk to a category to make it easy to identify where the risk is coming from. For example, budgetary, external, security, compliance, etc. This way, you not only know where the risk is coming from but who is better equipped to handle it.
Risk Probability: Probability refers to the likelihood of a risk occurring. You can use a scale of 1 to 10, with 1 being the lowest while 10 is the highest. Alternatively, you can use measurements such as 'likely,' 'not likely,' and 'very likely' or percentages.
Risk Impact: Gauge the severity or the impact the risk will have on your business using quantitative measurements such as a scale of 1 to 10 or percentages. The most common qualitative measuring scale is the 'very low' to 'very high' scale.
Risk Mitigation: Risk mitigation or a risk response plan must have a step-by-step solution for reducing or eliminating risk. This can be transferring risk to insurers or avoiding it altogether.
Risk Priority: Highlight each risk's importance by multiplying the probability and analysis. A high-risk intensity score expresses the importance of prioritizing risk management strategies.
Risk Owner: Assign every team member with their own risk to ensure the risks are mitigated accordingly. The risk owner specializes in the risk topic and pays extra attention to it while overseeing operations to mitigate their risk according to plan.
Risk Status: The risk status lets everyone on your team know if a risk has been mitigated or not. You can use progress markers such as 'open,' 'in progress,' or 'closed' for this.
You may also like: 5 Do's And 3 Don'ts Of Effective Document And Record Management
Image source: Shutterstock.com