Click here to get this post in PDF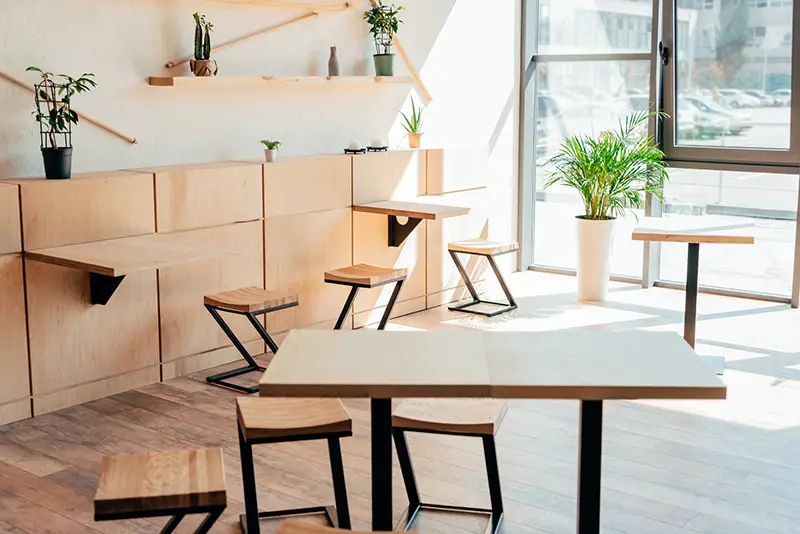 Choosing the right cafe tables for your business can be a daunting task, as there are many factors to consider, including design, functionality, and durability. However, by taking the time to evaluate your options carefully, you can choose tables that perfectly match the needs and aesthetic of your cafe.
The first step in choosing the right cafe tables is to consider the size and layout of your space. Consider the available space and consider how many tables you need to accommodate your customers. It's important to consider the traffic flow in your cafe and ensure that your tables don't impede it. You should also think about whether you want your tables to be fixed or movable. Fixed tables take up less space but can't be reconfigured to accommodate a larger party or an event, while movable tables give you more flexibility to adjust the layout.
Another important factor to consider when choosing cafe tables is design. Your table design can greatly impact your cafe's overall aesthetic. Choose tables that match the style and theme of your cafe. Consider the colours and finishes of your tables and ensure they complement the rest of your decor. You should also think about the shape of your tables, as this can greatly impact their functionality. For example, round tables are great for encouraging conversation, while rectangular tables are more suitable for solo diners or those working on laptops.
When it comes to the materials of your tables, it's important to consider durability, maintenance and ease of cleaning. The most common materials are wood, metal and glass. For example, a wooden table can be a great option if you're looking for a rustic or traditional look, but it will require more maintenance than a metal table. Metal tables are more durable and require less maintenance, but they can be cold to the touch. Glass tables can be elegant and easy to clean, but they are not ideal if you want a more casual or rustic look.
Another important aspect to consider is the table size, shape and height. Be aware that the table height can affect the customer's experience. If it's too high, it can make it uncomfortable for shorter customers; if it's too low, it may cause discomfort for taller customers. Table shape and size are also important, as it needs to be appropriate for the average party size of the cafe. A small cafe will have different needs than a large one.
Additionally, you should also think about the functionality of your tables. For example, consider whether you want tables that have built-in charging ports or tables that can be easily reconfigured to accommodate different party sizes. You may also want to consider tables with built-in storage, such as shelves or drawers, which can be great for storing extra napkins, utensils, or even books.
Lastly, consider the budget, and make sure that the tables you choose fit within your budget and meet your needs. When it comes to purchasing tables, it's important to remember that you get what you pay for. Cheaper tables may save you money in the short term, but they may not be as durable or functional as more expensive options. Therefore, it is a good idea to invest a little more in tables that will last for a longer time and provide an excellent dining experience for your customers.
In conclusion, choosing the right cafe tables is an important decision that can greatly impact your customers' overall experience. When selecting, consider factors such as size, layout, design, materials, functionality and budget. By taking the time to carefully evaluate your options, you can choose standing tables that are the perfect match for your cafe, which will help create a great dining experience for your customers.
You may also like: The Best Buying Guide for Folding Chairs
Image source: Depositphotos.com