Click here to get this post in PDF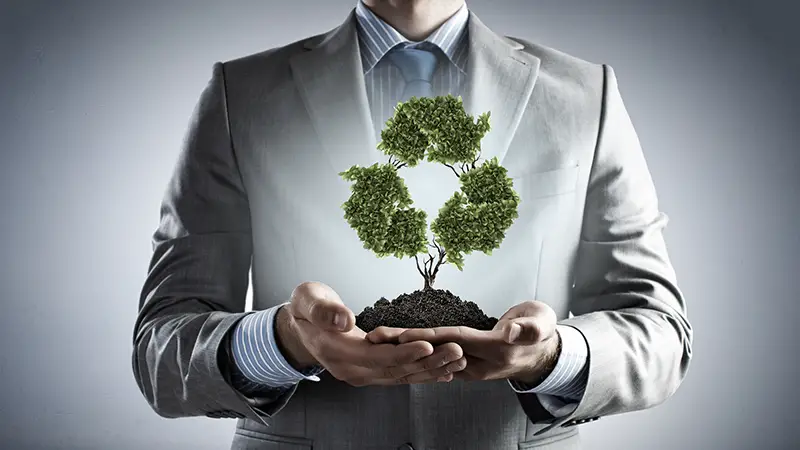 As businesses become more aware of their impact on the environment, there has been a growing trend towards sustainability and eco-friendliness. Starting an eco-friendly business from the very beginning can help reduce your environmental impact and contribute to a better future for our planet. 
Why is it important for businesses to be eco-friendly right now?
With increasing concerns about climate change, consumers are becoming more conscious about the environmental impact of the products and services they use. As a result, businesses that prioritise sustainability and eco-friendliness are becoming more attractive to customers. Many employees are also looking toward employers who are more sustainable with their company too. Being eco-friendly also has economic benefits, such as reducing costs associated with waste and energy usage, and helping to maintain a positive brand image.
Eco-friendly businesses can help to reduce waste
One of the most significant benefits of starting an eco-friendly business is the potential to reduce waste in various areas, including energy, transportation, and resource usage. For example, using renewable energy sources like solar panels can reduce energy consumption and costs. Implementing remote work policies can help reduce transportation emissions and save on office space costs. Discover more about how companies can reduce their waste from the very start:
1. Incorporating remote working into your company
In recent years, remote working has increased in popularity dramatically across the globe and is actually an eco-friendly way of working for many. Startups should consider incorporating remote working from the very beginning because it reduces transportation emissions and saves on office space and energy costs.
When looking into remote working, employers should consider the benefits that working remotely can have on the environment; on energy, transport, waste, and technology footprints. For example, reducing commuting to work from home of course has the environmental benefits of less commuting, while increasing digital use at home will increase our energy use.
Remote working can help save on premises costs by eliminating the need for a physical office and the associated expenses of rent, utilities, and maintenance. No commute in remote working can also help reduce air pollution by eliminating the need for employees to travel to and from work. 
2. Plan to be more mindful with your company vehicles
For start-up businesses that use company vehicles, it's important to be mindful of vehicle usage to help reduce your carbon footprint. Business can be more sustainable in regards to company vehicles by switching to electric, using eco-driving techniques, and keeping up to date with vehicle maintenance. Regular vehicle checks can help owners assess vehicle performance and ensure that they are not wasting both time and money, and also increasing their emissions.
With the rise of electric vehicles right now, start-ups might also want to consider having electric company vehicles to help protect the environment too. If switching to electric just isn't an option for your start-up business, then switching to green fuel or biofuel could be an option too. 
Hydrotreated Vegetable Oil fuel (HVO) actually reduces greenhouse emissions by 90% and is therefore an efficient fuel alternative for a sustainable fleet of company vehicles. With company vehicles it is also important to only make necessary journeys with them in order to help reduce fuel consumption and emissions. 
3. Consider which sustainable work processes you can adopt
When starting a business, there are actually many traditional work processes that you can just choose not to use from the very beginning. Where companies used to be mainly paper-focused and still printed off invoices and letters, many companies have now instead adopted a paperless workplace. Instead, companies are now utilising technology more to do tasks virtually.  
If your company involves using a lot of packaging, then using eco-friendly packaging from the very beginning can help reduce waste and minimise environmental footprints. This can include using biodegradable, compostable, or recyclable materials for packaging and shipping products. Many customers now think highly of companies who value sustainability and may even seek out companies who use sustainable packaging for their products.
As well as this, encouraging on-site recycling can help start-ups reduce waste and contribute to a more sustainable operation. Having multiple recycling bins and recycling posters around the site can encourage both employees and visitors to recycle their items. Employers could also encourage the use of reusable coffee cups and water bottles to help their staff reduce waste.
You may also like: How to Make Your Business More Eco-Friendly
Image source: Depositphotos.com