Click here to get this post in PDF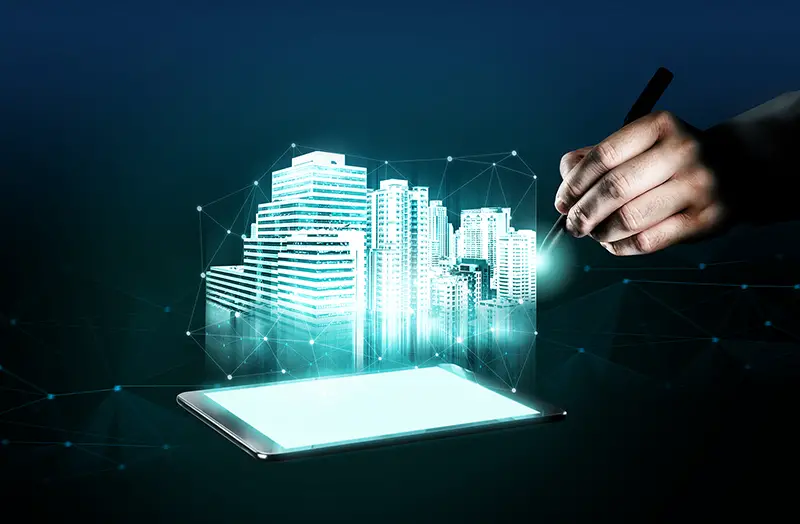 The world has witnessed some great marvels in the Architecture, Engineering, and Construction industries (AEC). The process of this technical and creative field operability has been there for a long while. However, it is unimaginable to assess the tedious pace and complexity involved. From hand-drafting to physical models, interdisciplinary coordination to site execution, and the most critical aspect of risk assessment. The variation of a minor error or loss of singular data could cost millions of dollars. Besides, visualization of AEC projects was largely handled in two-dimensional drawings, the comprehension of which wasn't the most convenient communication form for numerous clients.
It's here that Building Information Modeling (BIM) laid the foundation for a digital transformation in AEC, helping realize efficient workflows and highly effective outcomes. With BIM, a holistic process of information creation and management could be maintained and enabled by an intelligent cloud platform. The BIM 3D coordination helped integrate multi-disciplinary data to create a digital representation that hosted building data from its planning and design to its forecasted construction and operations.
In the initial stage, the cost of operability around BIM and fear of complex use did create a slow-paced acceptance, but with the kind of energy-efficient, parametric and futuristic building practices being demanded by the world today, BIM usage is skyrocketing. To elaborately understand its benefits and use, continue to read the article.
Who is Using BIM?
Five professionals majorly use BIM: Architects, structural engineers, Mechanical-Electrical-Plumbing (MEP) consultants, civil engineers, contractors, and facility owners or managers. While each of these professionals carries a segregated skill, often, a project demands their coordination in more than a single way. Therefore, BIM 3D coordination allows them a collaborative platform for improved digital workflows and decision-making. This data exchange within project teams is usually catered to through a common data environment feature. Relatively BIM NYC, Germany, France, and the UK are the most promising growth centers for this digital industry.
Amongst the lot, Architects have been the earliest adopters of this digital trend and continue to maintain the pace. Also, as suggested by the Dodge Data & Analytics report, the greatest mark of BIM's acceptance is indicated by the pace at which smaller offices and organizations have started to relay it into their projects.
BIM Services and Software
Apart from the previously mentioned BIM 3D coordination, one can weigh the services of BIM through its facilitation towards designing, structural, plumbing, mechanical, electrical, Heating-Ventilation & Air Conditioning (HVAC), curtain walling, flooring, exterior curtain wall systems, and interior as well as exterior finishes. This also entails fire alarm and sprinkler modeling. Another exciting feature of this technology is that of augmented reality or 3D scans.
 The BIM design software will enable users to generate a 3D model into which subsequent information can be computed and compared to ensure flawless execution. Commonly, Autodesk is the biggest player in the BIM software industry. Popularly, Revit, 3DS Max, Tekla, Rhino, Grasshopper, and STAAD Pro are some software widely being used, of course bearing the specific software-professional alliance. A large number of ed-techs have started to curate digital courses for the same software at nominal prices. Besides, the grasp of these has started to be an essential tool right from the academic stage only.
Benefits of BIM
BIM proposes a wide variety of benefits for an allied project. While the specific benefit could be different as per profession, its efficiency in recognizing errors and fixing them before construction is executed is the biggest deal maker. This benefit is retrieved through the clash detection test and could save investors a great deal of money. Besides, it also aids in maximizing area usage along with facilitating real-time construction schedules.
Beyond that, BIM facilitates risk analysis, aids cost estimation, constructability evaluation, and various analyses like energy, lighting, and sustainability calculations. This assists professionals with higher performance, reduced emissions, and the ability to develop environmentally responsive projects.
When BIM met the Great New York Projects
New York City is known for its great skyscrapers and promising architecture. Time is witness to how rapidly this city has adapted to technological trends and stood exemplary for others to follow. Some of its great projects have henceforth retrieved the benefits of Building Information Modeling. Some distinctive examples of BIM NYC include:
World Trade Center
One of the biggest and most talked-about renovation projects has been that of the World Trade Center. The replacement of the iconic towers that fell victim to the September attacks is now flaunted by Oculus transportation hub and Freedom tower primarily. Their BIM project, handled by Agon coordination, helped complete the coordination effort of Oculus retail spaces. Not only was their contribution to the project highly appreciated, but it also set an example of technological benefits a high-scale project could benefit from.
Laguardia Airport
Hosting footfall of nearly 22 million passengers annually across its terminals, this airport is determined to become the most technologically advanced airport globally. In this quest, BIM has helped design its power distribution and lighting. The project was also undertaken by Agon Coordination, who used the BIM tools to facilitate and ensure smooth, phase-wise construction work of the airport without any operational hindrance.
Future of BIM
BIM NYC isn't a singular success story. This technological trend is a global affair. BIM 3D Coordination and other features aren't just an automated clash detection process but an ensemble of great opportunities for unique and inspiring design. The initial acceptance of BIM software might have been jerky, but now that the offices have truly evaluated its value and potential, turning away from BIM is a no-case scenario.
You may also like: 6 Ways Virtual Construction Technology Can Reshape The Construction Industry
Image source: Shutterstock.com