Click here to get this post in PDF
One can become a UI/UX designer by completing an online course or self-educating using online videos, courses, and guidelines. But what about old-school book reading? Well, if you are anything like me, you love a nice book. It helps dig deeper into the topic and has a profound educational effect. Want to become a UI/UX designer? Maybe you learned that your dream company is hiring UI and UX designers and want to upgrade your skills before applying? Books are an excellent source of detailed, comprehensive, and theoretical knowledge on the topic. Be sure to check out the following best UX design books for you!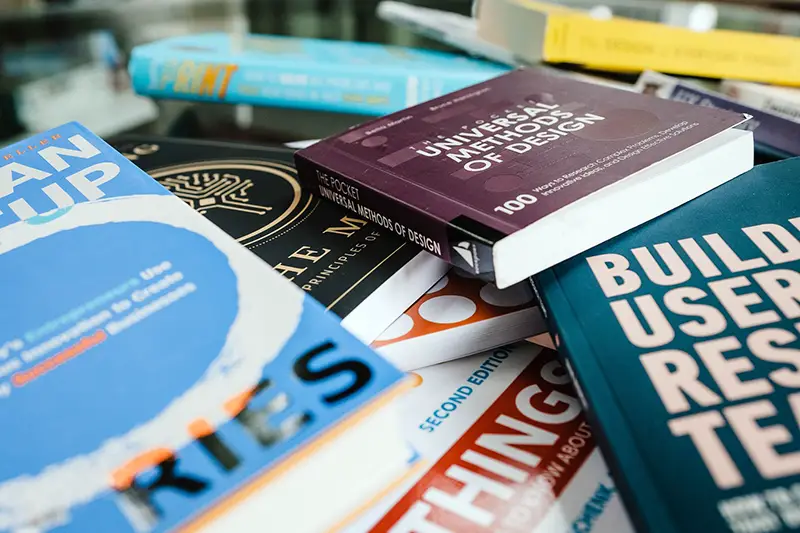 The User Experience Team of One: A Research and Design Survival Guide by Leah Buley
If you are at the beginning of your UX journey, this classic book is the perfect choice for you. The author presents practical tips and practices to help UX designers master their profession and succeed in their roles. The best thing about this book is that it provides valuable recommendations on prioritizing learning and career efforts to develop your creativity as a designer. So, if maximizing your educational journey is important for you, you should definitely check this one out!
100 Things Every Designer Needs to Know About People by Susan Weinschenk
If you want to create IT products that stick around, you need to possess deep knowledge of human psychology. This book reminds readers that design is all about people who use it. It dwells on psychological processes and phenomena explaining online behaviors. For example, you will learn how a human brain processes visual cues or how website typography may affect user behavior. Trust me; this book will open new horizons for you as a UX designer, as it explains the science behind excellent UI/UX design.
Universal Principles of Design by William Lidwell, Jill Butler, and Kristina Holden
If you're up to some easy but useful reading, this book is all you need. This cross-disciplinary reference book covers laws, guidelines, and considerations crucial for high-quality design. Here, you can find information about Ockham's Razor, golden ratio, scaling fallacy, and many other concepts you can use in UX design. If you find theoretical books boring, you will definitely like this one, as it contains hundreds of excellent illustrations. After reading this book, I promise that you will want to learn even more.
The Design of Everyday Things by Don Norman
Cognitive scientist Don Norman was the first to use the term "user experience." This book, translated into many languages, is a must-read for every UX designer. You will learn how to use simple yet usable design to draw the customers and how to create things to satisfy even the most demanding users. Norman examines design from the business perspective, so you'll get many practical tips to use in your work. Although this book is about design in general and can even be helpful for a book designer, UX designers can find it valuable as it encourages design thinking.
Don't Make Me Think, Revisited: A Common Sense Approach to Web Usability by Steve Krug
This book has been among the top picks for designers for the past three decades, but it hasn't lost its relevance. It is a real gem if you want to know more about information design, intuitive navigation, and other UX design-related topics. It can inspire and guide you when you build user interfaces. Who knows, maybe it can even become your desk companion for years to come!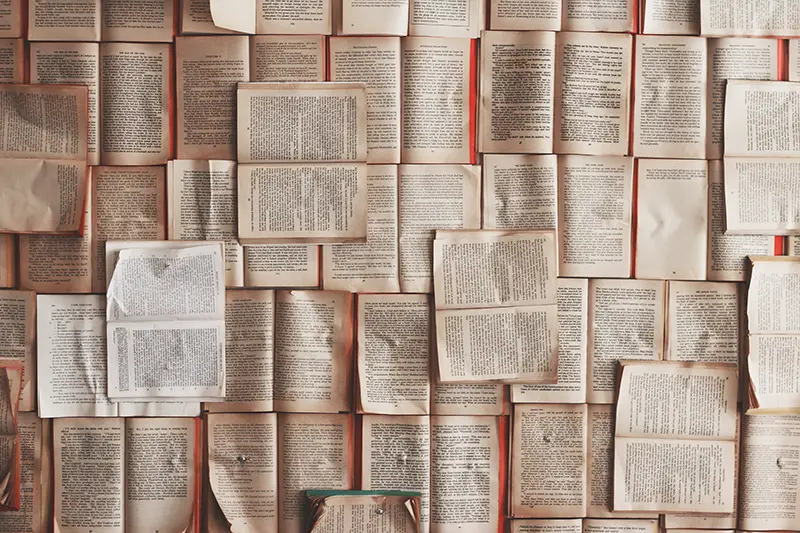 Smashing UX Design by Jesmond J. Allen and James J. Chudley
Looking for more practice-oriented reading? This book provides the most popular UX design tools and techniques to complete your projects. When you face practical challenges, you can dip into it or use it as a starting point for a more in-depth exploration of UX design practices. Either way, this book will earn a place on your bookshelf.
Lean UX by Jeff Golthelf and Josh Seiden
This book explains how UX designers can create products that work well for businesses and customers. The authors dwell on the importance of close collaboration between UX designers and other team members. It also offers some precious recommendations on communicating with clients, creating minimum viable products, understanding business requirements, etc. The fact that the authors have extensive practical experience in the field ensures that you learn relevant and up-to-date information.
The Laws of Simplicity by John Maeda
Minimalism is one of the lasting UX design trends that will keep shaping IT products in 2022. Maeda's book explains why minimalism is a winning solution and how simplicity should be incorporated into the design. After reading this book, you will be closer to answering the pressing question: How to create a simple and easy-to-use product that will perform multiple complex tasks?
Grid Systems in Graphic Design by Josef Müller-Brockmann
Mastering the grid systems at the moment? You may find this classic book very useful. The author provides a perfect combination of theory and practical tips, so you won't feel overwhelmed with new information. By the way, for those of you relying on visual memory more, this book provides many pictures and diagrams.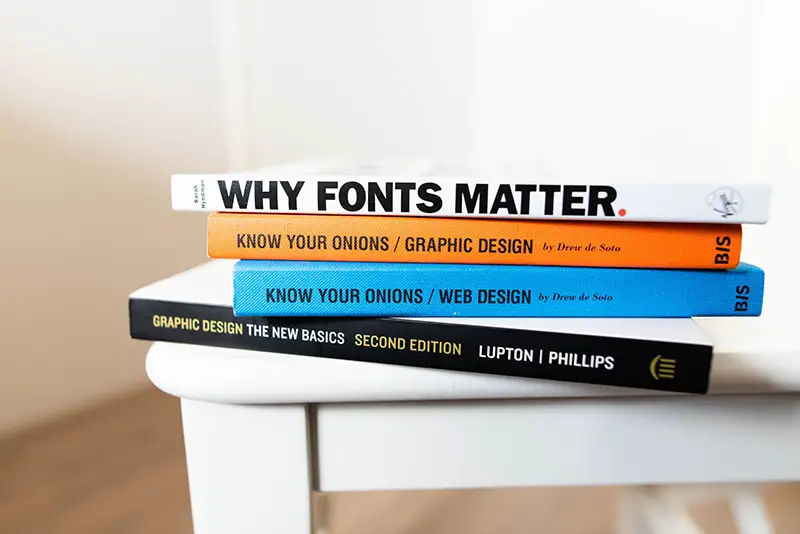 How to Make Reading Work
We encourage you to make reading one book in a month your 2022 resolution. In this way, you will be motivated to read regularly and develop a useful habit. However, you will only benefit from reading the listed books if you really enjoy the process. If you struggle with concentrating or finding time to read every day, try to schedule your encounters with books. Allocate some time every day and switch your devices off to avoid distractions. Take notes and use highlights to remember the most important information. Finally, try to implement the recommendations in your work (e.g., use the design or cognitive theories).
Final Remarks
The listed design books are not the only printed sources out there. You can find many other books on UX theory and practice. Fresh ones are released every month, so keep up with the newly released materials. Make sure you read the trusted sources written by design experts. If you don't know what to choose or question the credibility of authors, look through the reviews.
About the Author – Catherine Burkovich
I'm a writer, blogger with considerable experience in the world of corporate communications. I have 5 years of experience working with clients to create compelling content for websites, social media, email newsletters, and other digital marketing channels. I also teach digital communication skills to university students. Also, I'm a hands-on designer with a strong passion for user interfaces and user experience.
You may also like: Must-Read Business Books for New Business Owners
Image source: Unsplash.com