Click here to get this post in PDF
Copy trading – also known as social trading, mirror trading, or auto trading 
Bitcoin copy trading has become increasingly popular in 2021. It involves copying trading strategies from profitable traders. This allows professional traders to earn some money by sharing their expertise. Crypto investors get the opportunity to copy trades and become successful, just like their experts. Crypto exchange platforms have devised smart quantitative strategies and robots to help traders execute trades in real-time. Gate.io is one of the leading crypto exchanges for copy trading.
Who is Gate.io
Gate.io has been operating since 2013 and has placed its focus on the growing international market. It has managed to achieve a lot of milestones. This platform is known for its leading IEO, margin trading, diverse cryptocurrencies, and Defi. Gate.io currently supports more than 790+ currencies in close to 1700+ markets.
Gate.io Quantitative Robot
A quantitative trading bot refers to using mathematical models and technologies to execute your trades. This prevents an investor from making irrational decisions such as emotional buying or panic selling. It helps users to get above-average, sustainable, and stable returns.
Gate.io offers a powerful, extremely safe, and easy-to-use quantitative robot. You can set a stop-loss limit to protect your investment using this strategy bot. The minimum amount of quantitative trading is $100 on Gate.io. Besides, it features various features such as backtesting and copy-trading for users to maximize their revenues.
Main Product of Smart Quantitative Strategies
Smart quantitative strategies feature copy trading, which allows investors to copy successful strategies from experts. The best thing about copy trading is that you can view important metrics such as rate of return, Trading winning rate, and amount of earnings in USDT. This data is important for every investor to consider before copying a strategy.
If you are an experienced trader, you can become a signaler and earn some passive income. 
Copy-trading (signaler trading on the new quantitative platform). A signaler can create a system recommended or custom strategy.
How to share profits on Gate.io
If you create a strategy bot on gate.io, you will enjoy a 5% share of users' profits. A strategy provider, also known as a signaler, can enjoy using the built-in features to create profitable strategies. Users will be charged 5% on the profits after using the trading bots. You can set your position to take profit or stop loss using this platform.  The profits are paid in GateToken. This is the Gate.io token that can be used for exclusive activities participation, trading fees, and VIP tier escalation. On August 20th, 2021, the price of GT was $4.54, an increase of 897% in the past half-year.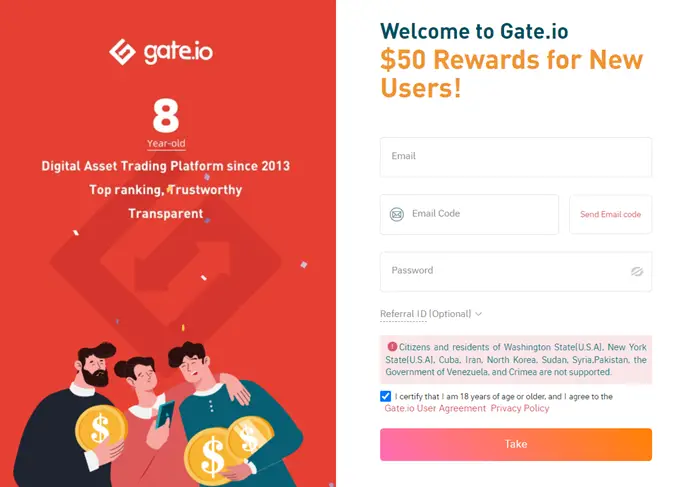 Conclusion
If you are looking for free trading bots, then Gate.io is the place to be. Gate.io copy trading is a great way for beginners to reach the crypto market with minimal effort to make a profit. It offers a platform where investors can create strategies or copy existing successful strategies. In addition, another advantage of Gate.io is the richness of currencies, which provides users with more choices and diversified investment portfolios. Gate.io also offers Leveraged copy trading. 10 times leveraged copy trading allows users to increase profit potential with low investment. 
The best thing about this platform is that it is extremely easy to use. You can copy a trade with just a few clicks of a button. In addition, it offers various features that help you analyze and choose the most successful strategy bots. You can view the top ten trending strategies, their trading markets, ROI, and the number of people currently copying the strategy. Copy trading is easy and fun. All you need to do is create an account on Gate.io, deposit funds and copy the strategies of top investors now.
You may also like: What is Copy Trading? – A New Way of Trading Currencies Online