Click here to get this post in PDF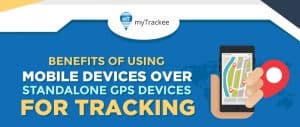 Undoubtedly, real-time tracking has become an integral part of our personal lives, as well as for companies with a fleet of vehicles. For instance, parents who have tough job keeping their kids safe and protected often rely on tracking devices to locate their child efficiently and accurately. From a business perspective, transportation companies such as school buses leverage real-time tracking to provide their clients with peace of mind and ensure that their children arrive at school and home safely every day.
However, when it comes to choosing the right tracking platform, many people often find themselves confused with the number of options available in the market. However, in fact, the options in the market can be simply divided into two categories:  Tracking software embedded on mobile devices/smartphones; and standalone GPS devices which have "dedicated" GPS chips in them.
While many drivers are still in favor of using standalone GPS devices that they can just leave in their vehicles, many others – including non-drivers – are finding mobile devices as good, if not a better option for tracking.
Read on as we discuss in this infographic the top benefits of using mobile devices over dedicated GPS devices for tracking.

Infographic by myTrackee