Click here to get this post in PDF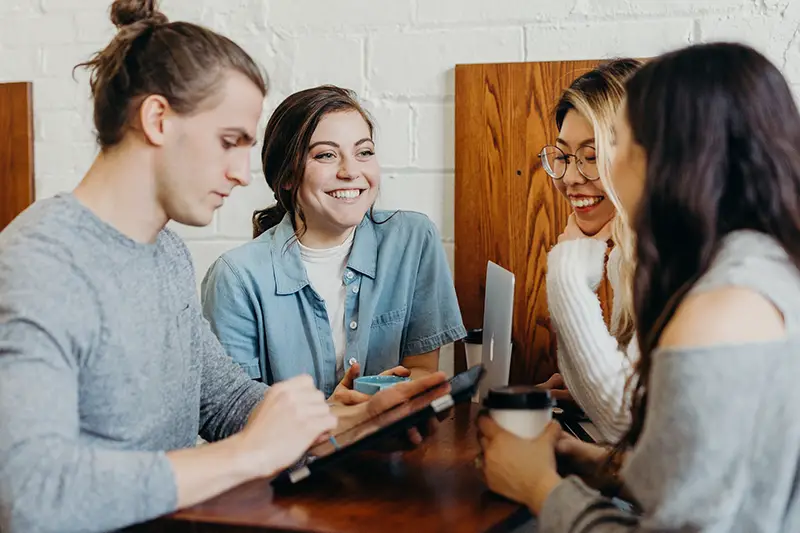 There are many beautiful languages spoken around the world, but few hold as much importance as English. The primary language of business, communication, technology, and science, it's a language that is spoken by roughly 1 in every 5 people worldwide, and it's also one of the most learned languages globally too.
There are many non-native English speakers out there who work hard to improve their skills, learning new phrases, and expanding their own personal vocabulary. Still, even native speakers can benefit from fine-tuning their English, especially in the world of business.
Business English is essentially its own subset of the English language, with many key terms and phrases that are only really heard in business environments, and if you don't have a good grasp of business language, you might find that your small business struggles to keep up with the competition, or that you fail to get ahead in the world of work in general. Here are some key benefits to keep in mind.
Keeping Up with the Competition
One of the first reasons to consider taking an online business English course and improving your business English skills is simply to keep up with other companies and entrepreneurs in your industry. Because, no matter what industry you're operating in, competition is always out there, and you should take any opportunity you can get to stay ahead of the game.
You can be sure that the leaders in your industry all have a sound grasp of business English and work hard to improve and enhance their skills whenever they get the chance. If you want to be a leader too, you need to do the same. Knowing key phrases, terms, and being able to use business English effectively will help your company get ahead.
Being Able to Negotiate
Another of the best benefits and key uses of business English versus general English is for negotiation, and this can be so important when trying to start a successful business or get your existing company on the right track. Negotiation is what helps businesses get the best deals, the lowest prices, the top talent, and the most beneficial contracts.
You have to have good language skills in order to be able to negotiate effectively. If you don't have a good grasp of the basics, the person or party you're negotiating with will be able to notice this and could see it as a sign of weakness. They may even be able to exploit it, using their own language skills to put you and your company in a weaker position.
Feedback for Colleagues and Employees
Another key use of business English is when you're giving feedback to colleagues or employees. This can often be quite a challenge, especially if you don't have the language skills necessary to deliver feedback in a constructive way that won't be taken badly. 
If you deliver feedback incorrectly, it might lead to employees becoming upset or angry, but when delivered correctly, it can help to raise their productivity levels and make them more motivated than before. Business English competence can be really important here, as it helps to explain to your employees what you need from them, where they might be going wrong, and how they can improve.
Communication with Customers and Suppliers
The vast majority of businesses will need to have regular communications with customers, suppliers, and other contacts throughout their network. Once again, business English skills are absolutely vital here, as having a good level of English understanding is what will help you write effective emails, handle over-the-phone conversations, and give the very best presentations.
If you can't get to grips with the basics of business English, you may find that you struggle to get your message across to customers in your marketing campaigns, for example, or you may fail to deal with complaints adequately. You might also cause confusion when speaking with suppliers, and this can all cause negative consequences for your company.
Etiquette and Politeness
It's important to remember the significance of etiquette in the world of business. Even if some companies are cut-throat in their pursuit of profits, the vast majority of leading businesses out there and successful start-ups always demonstrate good standards of politeness and respectability in their communications, and your company needs to do the same.
There are certain levels to uphold when it comes to communicating with people, both in your own company and from other companies too. These levels have to be met in order to build strong business relationships, as people don't like being talked down to or treated rudely, especially in the world of work.
Understanding Jargon and Unfamiliar Phrases
When you first start out in the business world, you may hear terms or phrases that sound almost like a completely foreign language. When talking about marketing, for example, you might hear experts throwing around phrases like lead generation and nurturing, or repeating certain acronyms like ROI, SEO, PPC, and CTA.
It can all be very confusing at first, and if you don't start getting familiar with these kinds of terms and phrases, you'll be left utterly bamboozled by business English in future dealings. This can really impair your ability to be successful, as well as making you feel lost, confused, and anxious about your chances of success. Having a good grasp of business English will help you figure out the jargon and demystify some of those seemingly complex terms.
Speaking with Non-Natives
It's also worth noting that in today's globalized world, a lot of business is done internationally. You might run a retail company and eventually have plans to expand overseas, for example, if you might have suppliers or customers in other countries that come to you for goods and services.
Having a good level of business English will help you communicate with these people, as many non-native learners of English study business terms regularly and are quite comfortable communicating in these kinds of terms. This can ease interactions with those from other countries and help your brand build an international network too.
Final Word
It's clear to see that business English has a lot to offer, so make sure it's a priority for you and your employees if you want to give your company the greatest chances of future success.
You may also like: Ten Tips To Enhance Business Communication
Image source: Unsplash.com