Click here to get this post in PDF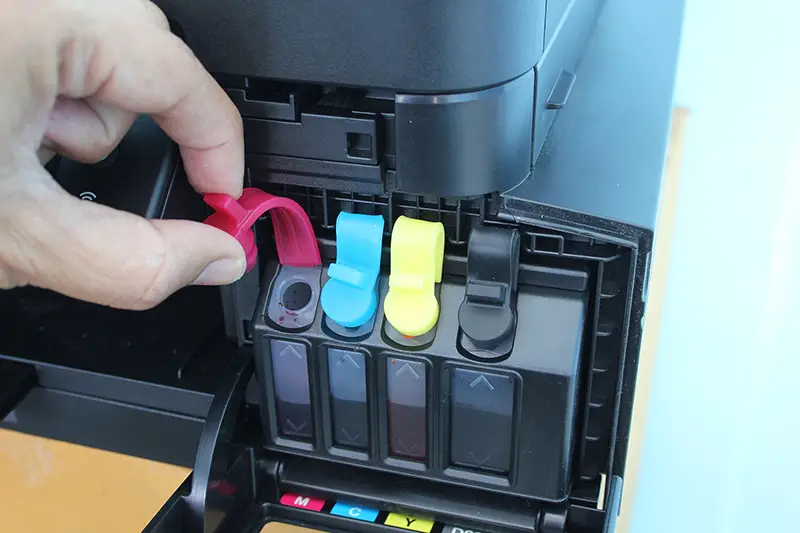 Knowing the difference between printer inks can help you out in the long run. Believe it or not, not all printers use the same ink.  Laser printers and inkjet printers differ because one uses powder (toner) and one uses liquid (ink). Furthermore, inkjet printers differ from printer to printer and are not all the same: some inkjet printers use pigment-based ink, and some use dye-based ink. It's a good idea to know the pros and cons of each type – knowing this will help you make a decision about which printer is best for you in the long run.
But how to know where to start? Let's look at the different types of printers and inks available:
Inkjet Printers (that use Ink)
Inkjet printers are the most popular home office option – they're smaller and more cost-effective for starters. Not to mention that they work best for printing photographs as liquid ink provides a higher resolution than toner. The two main types of inkjet ink are:
1. Dye-based ink, which is created from colour that is suspended in a fluid, usually either water or glycol. This improves the dye flow from the printer head to the page (and helps it dry quicker, too!). Most regular inkjet printers use dye-based ink as this is the most affordable kind – they are ultra-sharp for text and produce vivid, bright colours when used to print photographs. The main downside is that they are not waterproof and have a tendency to fade in 5-25 years. Office Corporate is one of the oldest office suppliers in Australia, after 22 years of experience in stationery and school supplies, ink and toners, they know how to take care of their customers.
2. Pigmented ink, which is created to produce "long-lasting photo-quality colour for professionals." Pigment ink sets regularly come in a larger range of hues than traditional dye-based ink sets, partially because they are dedicated to using a different type of paper. This provides more flexibility to professional photographers to enhance colour intensity, clarity, and hue by using different ink and paper blends—though lots of companies that manufacture both ink and paper will create their products with an intended combination to keep in mind. The very best professional photo printers will generally include both a matte black and a glossy black.
Laser Printers (that use toner)
Laser printers are more popular for use in the office due to their overall cost-effectiveness and speed. However, their popularity in the home has soared over the last decade. They are particularly useful when printing bulk quantities of black and white text documents; they will print a black and white text page at twice the speed and for half the cost of an inkjet printer. Laser & inkjet printers have different prices online.
Instead of using liquid ink, laser printers use a fine powder called toner that is melted by a drum unit to the paper using heat. Laser printers generally get cleaner results when using them with standard office paper; as the toner isn't fluid like liquid ink, there's less chance of smudging or for the ink to run. Toner also prints noticeably sharper for small fonts as you can find many of them here. Colour laser printers are ideal for graphs and some photographs, but an inkjet printer with pigmented ink is recommended for high-quality, high-resolution images.   
When it comes down to it, the ink you decide to go with will hinge entirely on your objectives, yield, and quality needs—but there's definitely something for everyone on the market. Once you choose the printer and ink that suits you and your workplace, deciding on the paper that will get the most out of that choice is key to getting the most out of your printing.
You may also like: Is It Cheaper to Buy a New Printer Than Ink?
Image source: Shutterstock.com