Click here to get this post in PDF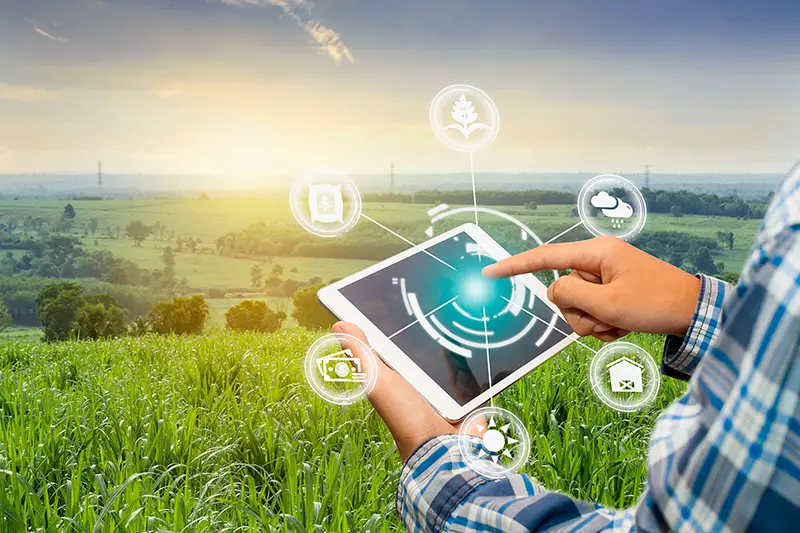 It's hard to believe, but we're already a quarter of the way through 2022! As we head into the second half of the year, it's important to stay up-to-date on the latest trends in agribusiness. In this blog post, we'll discuss some of the most important trends to watch in the coming months. From tractor library to artificial intelligence, there are plenty of exciting developments on the horizon for those in agriculture!
Artificial Intelligence – a new round in the development of agribusiness
The application of artificial intelligence (AI) in agriculture is not a new concept. In fact, agribusiness was one of the first industries to experiment with AI as early as the 1950s. However, it wasn't until recently that AI began to gain serious traction in agriculture. Thanks to advances in technology, AI is now being used for tasks such as crop monitoring, yield prediction, and irrigation management.
One of the most promising applications of AI in agribusiness is precision farming. Precision farming is an approach to agriculture that uses data and technology to improve yields and minimize inputs. By using sensors and drones, farmers can collect vast amounts of data about their crops. This data can then be analyzed by algorithms to help farmers make better decisions about irrigation, fertilizer application, and pest management.
AI is also being used to develop new varieties of crops that are more resilient to pests and diseases. Using machine learning, agronomists can analyze large datasets to identify genes that confer resistance to specific threats. This information can then be used to develop new crop varieties that are better able to withstand pests and diseases.
The use of AI in agriculture is still in its early stages, but it has the potential to revolutionize the industry. Farmers who embrace these new technologies will be well-positioned to succeed in the years ahead.
Food Safety Concerns
The COVID-19 pandemic has brought food safety concerns to the forefront of public consciousness. For many people, the idea of eating fresh produce that has been handled by dozens of people is now a source of anxiety. As a result, there has been a shift in consumer behavior towards buying locally sourced food.
This trend is likely to continue in the months and years ahead. As consumers become more aware of food safety issues, they will increasingly seek out products that have been grown and processed with care. This could lead to an increase in demand for organic and certified humane products.
It's also important to note that food safety concerns are not limited to fresh produce. The meat industry has also come under scrutiny in recent months. Consumers are now more aware of the potential risks associated with eating meat that has been processed in large-scale facilities. This has led to a growing demand for locally sourced, grass-fed meat.
As food safety concerns continue to mount, it's likely that we'll see more consumers seeking out products that have been grown and raised with care. Farmers who can provide these products will be well-positioned to succeed in the coming years.
The Rise of Vertical Farming
Vertical farming is a type of agriculture where crops are grown in vertically stacked layers in a controlled environment. This approach allows farmers to produce food year-round, regardless of weather conditions. It also reduces the need for pesticides and herbicides, as crops are grown in a controlled environment.
Vertical farming is an exciting new development in agriculture. However, it's important to note that this technology is still in its early stages. There are a number of challenges that need to be overcome before vertical farming can become a viable option for large-scale food production. Nevertheless, vertical farming is an area to watch in the coming years.
The Bottom Line
These are just a few of the trends that we're watching in agribusiness. As the industry continues to evolve, there will be plenty of opportunities for those who are willing to embrace new technologies and approaches. Farmers who are able to adapt and innovate will be well-positioned to succeed in the years ahead.
You may also like: How to make benefits of agriculture drone software
Image source: Shutterstock.com