Click here to get this post in PDF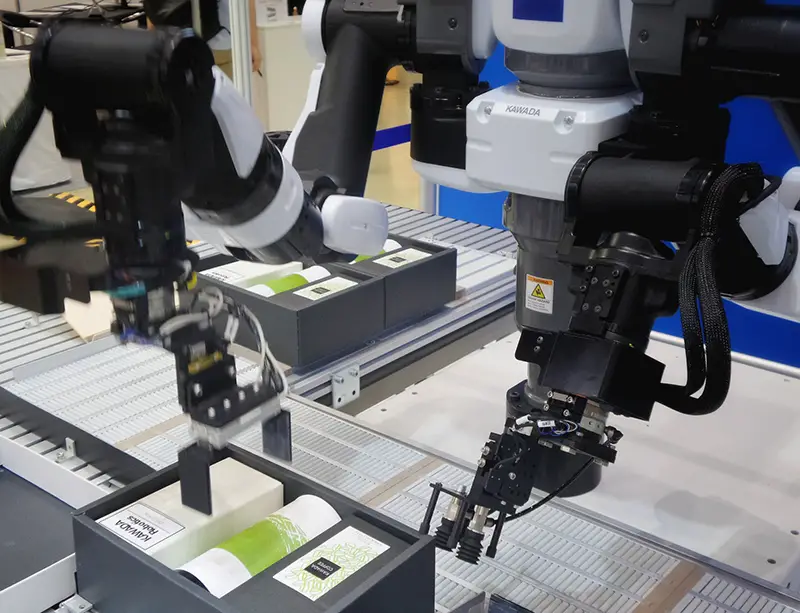 Many warehousing and manufacturing facilities are switching from a manual to an automated material handling system, as the advantages of automation greatly outweigh the disadvantages.
Why Warehouse and Manufacturing Companies Are Switching to an Automated Material Handling System
The number of automated material handling systems advantages significantly exceeds the number of disadvantages. Automated handling will greatly improve your supply-chain procedures by boosting your overall productivity and accuracy, meaning it's a wise investment for your warehouse or manufacturing facility.
The Role of Material Handling in Warehousing and Manufacturing
Material handling is arguably one of the most critical factors in your warehouse's productivity. Warehouses and manufacturing facilities consist of various moving parts, and material handling is defined as the movement, storage, protection, and control of these parts. Therefore, a facility with an inefficient material handling system will have many mistakes and delays during their fulfillment processes.
It is critical to monitor and improve your material handling system to uphold:
The integrity of your products
Your warehouse or manufacturing plant's productivity and efficiency
Employee safety
Successful material handling isn't just about organizing your supply into unit loads. It impacts every step of the order fulfillment process. For example, an efficient material handling system will ensure that the supply quickly gets from the dock to its assigned rack when you receive a shipment. Additionally, an effective system will give you ample control of materials. With it, you can diminish damage, theft, losses, and spoilage that occur from an inorganized handling system. 
Why Manual Material Handling is Becoming Outdated
Manual material handling is quickly losing ground as successful companies discover the efficiency of an automated material handling system. Manual material handling requires workers to transport objects in a warehouse or to a vehicle manually. The cons of a manual system are that it puts your employees at an increased risk for injury and limits your operational productivity. On the other hand, an automated material handling system will limit manual movements in the fulfillment process, which means that an automated system will boost your production flow and increase employee safety.
Automated Material Handling System Advantages
More and more successful warehousing and manufacturing companies are taking advantage of the benefits of using an automated material handling system. A multitude of machines compose an automated handling system such as tilt tables, scissor lift tables, loading dock equipment, pallet positioners, and conveyor belts. All of these automated machines work to make your operation more efficient and cost-effective. 
Here are some of the benefits of implementing an automated material handling system:
Maximize warehouse space
An automated material handling system will improve your warehouse's material and product organization. For example, items can be stacked higher and easier to access, thus opening up the work area in the warehouse or factory and increasing storage space. 
Reduce employee hazards
Employee safety should be one of your top concerns as an employer. If you want to reduce onsite injuries, you must look at what processes are most likely to cause accidents. Unsurprisingly, manual systems are to blame for many workplace incidents. However, automated systems minimize facility hazards due to their advanced tracking systems and enhanced safety features, meaning implementing automation is one of the best things you can do for your team.
Improve supply chain efficiency
It's no secret that automation is a top contributor to improved supply chain efficiency. An automated material handling machine allows your company to move more products than ever before. Additionally, automation is an obvious solution if you are worried about beating your competitors to the market. With automation, your warehouse or manufacturing plant can release new and updated products to the world faster than other companies.
More effective quality control
Compared to manual quality inspections, automation is much more accurate. Automated quality inspections use technology to catch errors which cuts product waste and rework. Manual inspections are susceptible to human error because the employee is not paying close attention or a faulty product slipped through the cracks. 
Enhanced customer satisfaction
Customers want their orders as soon as possible, which is often strenuous on manual practices. By implementing, you will be able to get customers their products faster than before, with fewer errors. When you improve the speed and quality of orders, your customers are more likely to use your company as their supplier because they know that you're reliable and efficient. 
Save money
All of the above advantages and more will save your company from many expenses. In other words, Automated handling systems boost your productivity levels, meaning that material is moved faster and with fewer workers compared to manual practices. Therefore, you won't need to hire as many employees making automation a smart investment. 
Contact The Slate River Systems to learn more about the advantages of an automated material handling system.
Automated Material Handling System Disadvantages
As with any system, there are some disadvantages to automated handling that should be considered before making the switch. However, these disadvantages are a minimal price to pay for the various advantages of automation. 
Here are a few disadvantages of an automated handling system:
High initial and maintenance costs
The initial investment in automated handling is the barrier that prevents many companies from purchasing this machinery. Additionally, automated machines require routine maintenance to keep them in working condition. However, your company will quickly earn back the initial investment and continue to increase profits after that due to improved productivity.
Increased chance of downtime due to repairs
 There is always a chance of breakdowns or malfunctioning with machinery, which causes downtime while they are being repaired. If the issue is substantial and no one onsite can fix it, you may even have to call a technician, which means it'll take longer to get it up and running. However, you can easily avoid many issues if you keep up with the routine maintenance of your automated systems. 
The Importance of a Balanced Inventory Management System
Final Thoughts on Automated Material Handling
When comparing the advantages and disadvantages of an automated handling system, it's easy to see that the benefits greatly outweigh the drawbacks. Automated systems are an excellent option for companies looking to make their processes easier and faster. Therefore, if you want to take your operation to the next level, switching from a manual to an automated handling system is a surefire way to do so.
You may also like: Process automation in the company: What to know
Image source: Unsplash.com