Click here to get this post in PDF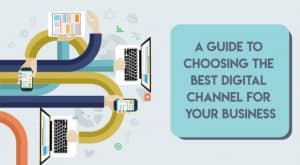 The availability of digital channels is now more widespread than ever. From one standpoint, this phenomenon can make marketing services easier for marketers. It's not only faster to deliver your message through digital marketing channels, but it's also a convenient way to measure the results of your marketing campaigns through data analytics.
 On the other hand, having too many digital channels may also present challenges to your marketing team. It could get confusing and overwhelming to develop an integrated digital marketing plan, where you're able to leverage every piece of digital marketing technology out there. Some companies, however, end up spreading themselves too thin in their earnest desire to establish a strong presence in the online marketing space.
While it's important for your marketing strategy to include the use of digital channels, it's equally crucial for you to identify where to focus your efforts and resources. Take note that digital marketing channels may use varied tools and systems on their platform. Therefore, you'll need to have a thorough understanding of how each one works vis-à-vis the goals, budget, and desired results of your team to help you match the right platform for your business.
Use the accompanying infographic as your starting point.

You may also like: 10 Reasons Why Digital Marketing Can Help You Grow Your Business
Infographic by Connext Digital