Click here to get this post in PDF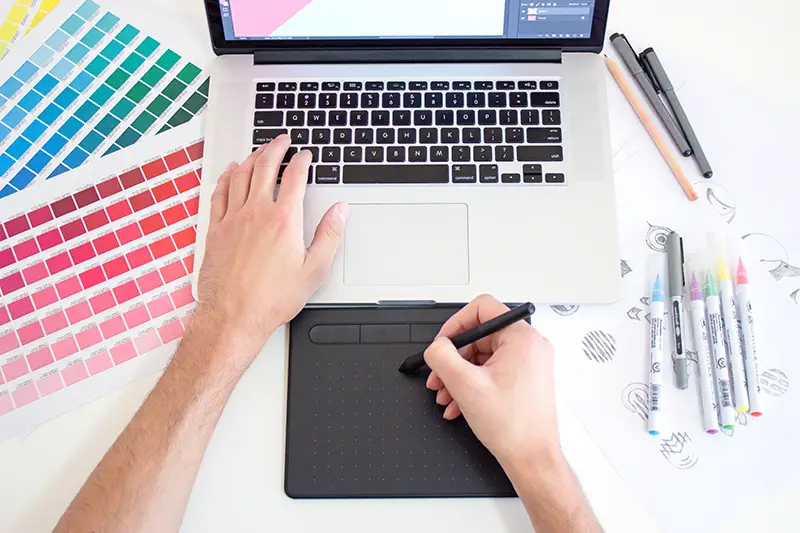 Imagine 2022. What will the world look like? What will the design industry look like? How will it be different? Will there be more or fewer designers?
We asked some of our designers for their thoughts. Here's what they envisioned…
1. More Sustainable Design Practice
Sustainable design is still an emerging field, but it's gaining traction within the design industry. Designers are taking their cue from ecologically conscious companies like Patagonia, Ben & Jerry's, and Method (among others) to create products that reflect a social agenda, too. Sustainability is the new black.
Given that design is something that touches everything we touch, feel, and see, expect to see more ways for designers to work seamlessly into the sustainable sector.
2. Voice-driven design
We will see an increasing role in voice-driven design in the next five years. This might sound like a much more futuristic vision than 2022, but voice-driven interfaces are already here, and we're facing a time when people will speak much more than typing when using their devices. And that's just the beginning — we'll see the internet of things and artificial intelligence playing a much more significant role in our daily lives in the years to come. So it's not just about voice and computer interaction — we're talking about a huge paradigm shift, and people will spend less time on devices and screens and more time in VR and AR. Voice will be a great catalyst for all of these trends.
3. Increased focus on negative space
This is the concept of creating the results by removing unnecessary elements from a design instead of focusing on adding more to it. It's often achieved by the use of negative space — open areas that create separate elements, such as white space or blank paper, that lead to easier legibility and greater coherence in the overall design. This concept is extremely strong in minimalist and abstract designs and is likely to be hugely popular in five years time. You can learn more by taking these Graphic design courses here!
4. Homes will be "smarter" than ever
We're already seeing the beginnings of this with smart thermostats and smart fridges. In 2022, houses will be equipped with smart locks, lights and home systems, and self-driving cars will all be used to move around in them. The house itself will become a sort of personal assistant… if you will.
New and improved technology in our homes can be linked to our health and well-being
Google and Apple already make apps to help us track our sleep patterns, eating habits, and workout routines… but in 2022, these apps will do more than just inform us about how well we're doing; they'll connect with our homes to ensure we're doing well (and maybe even tell us when we're not).
5. Backyards will be the new living room
With green walls, solar panels, indoor grass fields, vertical gardens, smart gardening apps, cozy fire pits, tiny urban farms—the list goes on—backyards are going to be more beautiful than ever before. These backyard spaces are also going to help curb energy consumption.
New color combinations are predicted for kitchen cabinets. Not only will kitchens of 2022 have built-in refrigerators, stoves, microwaves, sinks and more… They'll also feature accessories like tiny computer screens above the countertops where chefs can watch cooking tutorials at their convenience.
6. Accessible
Content, design and advertising will continue to be more accessible for everyone. High-quality product design combined with strategic marketing will take digital assets from "pretty" to being seen. We will see fewer "spray and pray" techniques in the design world and more focus on quality. Consumers are savvy enough to be able to determine what is quality and what is not.
7. Mobile-first
Mobile-first design defines any kind of digital assets that can be viewed via a mobile device or tablet. There are tons of ways to design a mobile-first website in a way that works well in desktop browsers, but there are several big changes in store for graphic designers when it comes to mobile-first design.
8. Nostalgia in the Midst of Accelerated Change
Products in 2022 will still be made with the familiar blue and white Amazon boxes. We'll still see ads on TV, and Amazon will still be mailing items, but the fast-paced changes of recent years will have brought higher quality, faster delivery, more variety, and further integration into our daily lives. Amazon's own digital assistant Alexa will greet us when we get home, alerting us to any problems or requests Amazon has already taken care of. Amazon's Dash Buttons will have become ubiquitous in kitchens across the country, so much so that Amazon may no longer send customers orders through the mail at all. Amazon Prime members may not even receive ads anymore—they may not need them. They'll be able to shop virtually whenever they want, skipping the line at the store.
Prime members are already familiar with this experience through Amazon Video where they can watch any movie or TV show they want on any device they choose at no extra cost. This high level of convenience is likely to trickle down to other consumer goods in 2022, giving consumers ultimate choice over the time, place, and even format in which they consume products.
You may also like: DesignCap, a Free Tool for Creating Quality Instant Graphic Designs
Image source: Unsplash.com