Click here to get this post in PDF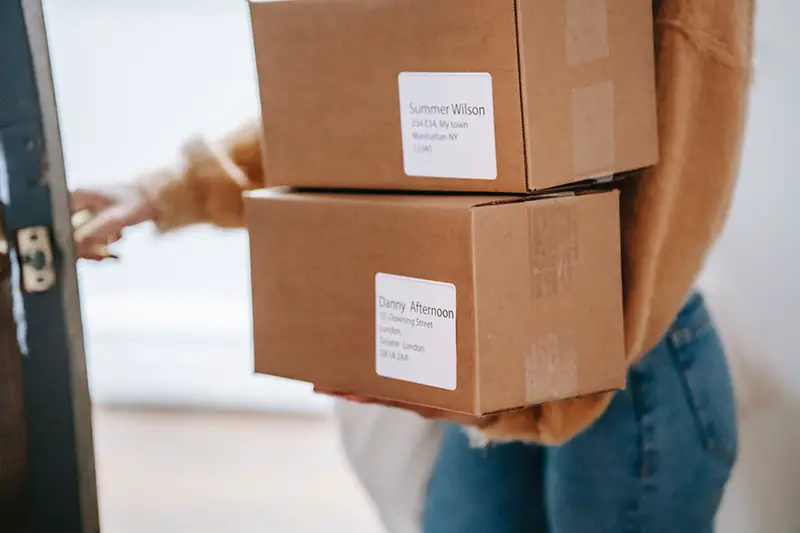 Customer service is the crux of brand loyalty, sustainability, and profitability. Consumers do not return to shop with a brand after poor customer service and delivery experiences. On-time deliveries and efficient customer service management allow e-commerce brands to establish reliability and credibility. 
Despite the robust developments in e-commerce infrastructures, consumers continue to mistrust online shopping. This mistrust stems from fraudulent brands that send faulty products, mishandle deliveries, and do not offer speedy returns. Therefore, inefficiencies and disruptions in the delivery system can cast a negative light on your brand. 
It will lead to consumer distrust and possible defamation in the online community. Modern-day consumers are vocal and do not hesitate to voice their disapproval in social media groups and communities. Consumers actively raise awareness around brands with compromised and inefficient delivery and customer service processes.
Therefore, boosting delivery efficiency is instrumental in growing a sustainable and profitable e-commerce model. Keep reading to explore practical strategies to increase delivery efficiency. 
1. Secure and Affordable Transportation Means 
Businesses must strive to ensure secure and affordable means of transportation to maintain consistency and efficiency. Most e-commerce brands struggle to secure fast delivery transportation at a reasonable cost. This unaffordability creates discrepancies and inefficiencies in their delivery models. It's essential to find delivery models that align with the brand's needs, budget, and consumer audience. 
For instance, containers present a secure, efficient, and budget-friendly delivery option, alongside allowing transparency. A vast majority of businesses rely on shipping containers to ensure speedy and efficient delivery processes. The advantages of switching to containers are immense and hard to ignore. For instance, container shipping reduces the customs legalities and formalities and offers a plethora of economic benefits. 
In recent years, containerization has emerged as a lucrative means of transport. It offers low-energy consumption, superior cargo protection, and efficient handling. Consumers often complain of receiving damaged goods and poorly handled packages. Containerization eliminates all hazards by creating physical barriers against weather disturbances, fire, theft, and temperature fluctuations. 
2. Explore the Advantages of Warehousing 
Does your brand cater to a countrywide audience of consumers? Shipping products and goods throughout the country require extensive and efficient inventory management to prevent mishaps. Businesses that do not invest in local warehouses end up reliant on third-party service providers. Naturally, these third-party partners will not scrutinize handling methods to ensure safety and efficiency. 
Therefore, brands with a nationwide audience must invest in warehousing. Local warehouses in prominent and strategic locations will reduce costs, delivery time and ensure superior efficiency. In contrast, brands without regional warehouses struggle to ensure timely deliveries and tackle enormous financial burdens. 
As a small or mid-scale enterprise or an e-commerce startup, operating local warehouses may seem overly ambitious and costly. However, operating warehouses in strategic locations will allow your brand to grow and build a loyal consumer audience. It will eliminate barriers to timely and efficient delivery protocols, allowing your brand to grow and flourish. 
3. Avoid Setting Unrealistic Delivery Timelines 
Many businesses set unrealistic delivery timelines to boost sale loads and cater to a broader audience. This strategy never works because these brands fail to fulfill their promises, garnering consumer distrust and anger. Setting realistic timelines and informing consumers in advance creates a flexible schedule. 
If consumers like a product, they can wait for a week or a more extended period for the delivery process. Brands can create comprehensive video campaigns to explain the week-long delivery process using illustrations. Such endeavors will create consumer awareness and trust, and the customer will comfortably wait for the product to arrive.  
Nonetheless, businesses should avoid overly flexible and relaxed timelines. You see, excessively relaxed timelines discourage consumers and allow competitors to benefit from your loss. It's crucial to understand the difference between flexible delivery schedules and sustainably efficient processes. The delivery schedule must take into account supply chain and inventory management efficiencies. 
4. Finding Reliable Shipping Partners
Hundreds and thousands of e-commerce businesses worldwide suffer consumer dissatisfaction due to their unreliable shipping partners. Ecommerce success lies in finding reliable, efficient, and savvy carrier partners. 
After all, timeliness, delivery handling, and package protection fall on the shipping providers. Therefore, brands need to connect and engage with carrier service providers who can fulfill their requirements. Once you find such a partner, it's essential to maintain a healthy and collaborative work relationship. How can you do that?
It's simple: processing timely payments and providing accurate customer information will help shipping providers ensure efficiency. 
5. Efficient Inventory Management 
Imagine a scenario: an e-commerce brand has displayed a spectacular dress that quickly becomes its best-selling product. It starts selling like hotcakes, and consumers are eager to purchase and receive it. After processing hundreds of deliveries, suddenly, the brand runs out of stock for that product. Consumers continue buying that product because it is displayed online, despite running low on stock. 
This scenario creates consumer dissatisfaction because the brand has failed to update its website despite running low on stock. Therefore, inventory management and product updates are essential to eliminate delivery dissatisfaction. 
This endeavor requires efficient coordination between inventory managers, website handling teams, and product managers. Brands must regularly monitor stock levels and ensure that products that are out of stock should not be on the website. Small and medium-scale businesses should consider investing in automated inventory management solutions to ensure efficient stock handling. 
6. Accurately Predicting Consumer Demand 
Does your brand predict consumer demand before production and promotional processes? Inaccurate production and demand predictions sow the seeds of consumer discontent and inefficient handling. Forecasting demand is one of the preliminary processes of rolling out a product and initiating production. 
The demand for certain popular products is higher than less popular ones. Similarly, for specific items, it is higher in some regions and low in others. Brands must account for consumer demand with accurate forecasting. 
Fortunately, modern-day brands have access to large volumes of consumer data and data processing solutions. Brands can benefit significantly from data-driven demand forecasting to prevent product shortages and delivery mishandling. 
Conclusion 
Establishing accurate, efficient, and well-coordinated delivery and customer service management processes are essential for sustainable growth. Businesses that fail to ensure delivery support as well as provide real-time information end up losing customers. That's not all. They also garner unprecedented damages from negative publicity and consumer complaints aired across social media.
In contrast, brands with efficient and courteous customer support manage to prevent unfavorable publicity despite delivery mishaps. It all boils down to ensuring efficient inventory and delivery management and working with the right partners. Customer service support is equally instrumental. 
You may also like: How Businesses Can Render Their Delivery Process
Image source: Pexels.com