Click here to get this post in PDF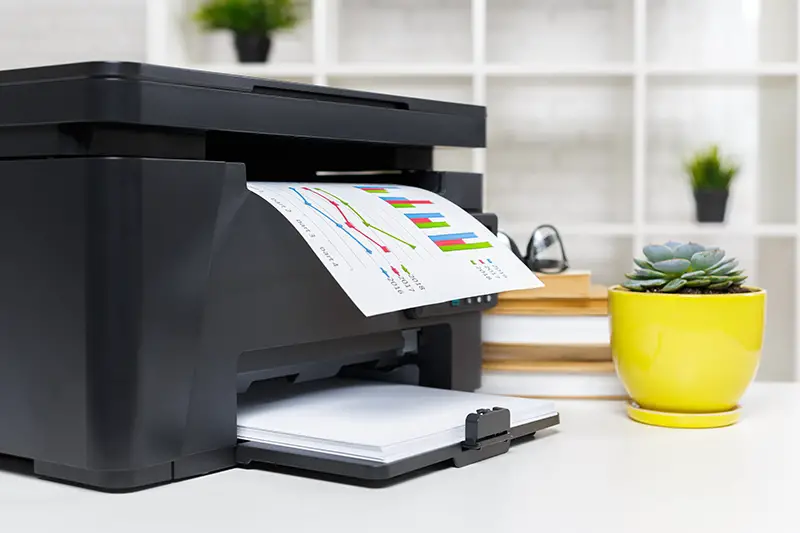 From data entry clerk to CEO, every office worker needs a reliable copying and printing facility. Today's advanced options, usually referred to as a multifunctional device (MDF) represents a significant investment, so it pays to make the right choice for your needs.
The following are 6 essential need-to-know factors before you buy or lease your next office copier…
Security must be the highest priority: No matter what the field or industry, companies have a legal responsibility to protect confidentiality. The printer is one of the most common areas where leaks occur, so it's essential to know that your MDF is wholly secure. Check for 256-bit data encryption and up to 10 times data override. You might also want to ensure leased machines include the erasing of all data at time of trade-in.
MDFs are a huge waste of time! Did you know that multiple working hours are lost as employees wait for a machine to warm up. While it might not sound a big deal, all those 20-30 seconds add up, and on a monthly basis this can represent a huge amount of hours. Choosing a model that warms up and is ready to go at the touch of a button (or even has a motion sensor so it springs into live as a user approaches) can dramatically reduce this wasted time.
Most of us are clueless: About MDFs, that is… Most people only know how to use a small amount of a machine's features. Let's face it, we all need simplicity in our working lives, so choosing an intuitive model that has a clear touchscreen in a familiar tablet-style format makes it so much easier for users to discover an MDFs advanced features.
We're all mobile savvy now: While many people would love to print from their device (phone or tablet), lots of us have no idea how to do this. Selecting an MDF that supports mobile printing technologies allows everyone to easily connect and print off anything they need, directly from their device.
Live life in full technicolour glory: There's no denying that the use of colour in print increases readers' attention. Ensure that an MDF offers high-quality colour consistency, so every page printed or copied is of an optimum standard.
Ensure easy toner purchasing: A lot of MDF models need a selection of different toner cartridges, leading to mis-ordering and a common problem of not having the right ones in stock and having to wait while a new order arrives. Choose a model that uses one type of toner cartridge for each colour.
---
The Best Printer for Your Small Business
---
Need Advice on Your Next MDF? Contact Advanced Document Solutions
Whatever the scale of your needs, it pays to get the right advice before buying or leasing your next office copier/printer (MDF). Advanced Document Solutions have been servicing the needs of WAs businesses for more than 25 years, and their friendly expert service is second-to-none.
Visit advanceddocumentsolutions.com.au to find out more or call 08 9443 5557 for a no-obligation chat.
Image Source: Shutterstock.com