Click here to get this post in PDF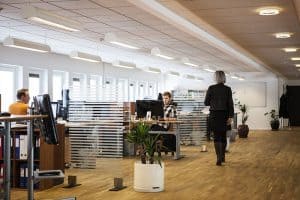 Organization is an effective tool that most businesses overlook and undervalue. Being organized goes beyond just tidying up clutter and arranging stacks of papers on desks. In fact, it's the most effective way to ensure efficiency and productivity whether your office is big or small.
Benefits of organizing office space
Increases productivity – Save time on looking for files and focus more on working on important tasks.
Reduce stress levels – It's frustrating to look for documents from ages ago. When you organize, label and store files correctly, tracking down old documents can be a piece of cake.
Meet deadlines – As projects pile up, there's a tendency to forget other important or pending tasks. By organizing, you can ensure that you meet deadlines, and don't overlook what's on your checklist.
Organization comprises procedures and systems for various aspects of your business. If you own a small company, creating order in the business process can be quite overwhelming. To help boost business efficiency, below are some tips for you to get organized.
1. Figure out your business style
Every individual has a certain preference in terms of workflow and organization. Have a meeting with your staff to discuss what processes need improvement to create the most efficient system suited to your enterprise.
Once you find the right business system, make sure it helps simplify processes. Employees come and go, but the foundations of your organization will remain. For your company to continue its efficient operations, you have to be consistent within your organizational structure. Keep your system streamlined so that it'd be easier to stick with.
2. Make use of a storage service
If you have a small office space, rather than increasing real estate, make use of a storage facility. Business storage is ideal for small companies that need warehousing and fulfillment space. Instead of paying more to get a bigger office space, business or commercial storage can be an affordable and flexible option.
Choose a storage facility that you can access easily. If you own a business that tends to accumulate a lot of documents and important records, but which are accessed very rarely, a professional storage service is worth considering.
Aside from saving on rent and office space, there are many benefits to storing your business documents in a proper storage facility. These include:
The safekeeping of important documents
Providing more security than in-house storage
Sufficient space for organizing files and finding important documents quickly
Flexibility and easy expansion options especially for start-up businesses
Climate-controlled options for sensitive documents
Reduction in the risk of fire since paper documents are in a protected facility
3. Use the right tools
There are many software and apps that you can use for your business to stay organized. Your tools will vary depending on your type of business, and the products or services that you offer.
Below are some tools most small business owners use to increase their productivity.
Meetings or Conferences – If you need to call or meet a client face-to-face, there are tools to help you stay on track and keep you organized. Google Calendar tracks all important business events so that you'll never have to miss a meeting or appointment.
Social Media Management – Without an integrated system, you'll be spending a lot of time promoting your business on social media. Tools like Buffer and Hootsuite are effective platforms for social media management.
Accounting and Bookkeeping – You can organize and streamline payments and invoices, and manage cash flow by using tools like Xero, Wave and Quickbooks Online.
Contact Management – When networking, it's important to keep valuable contact information. As a business owner, you can try using a good system like Salesforce to manage contacts.
Email management – If you're already using Gmail in your small business, make use of other Google extensions to help you easily and efficiently organize your inbox and work-related electronic files.
Organizing is an essential process, both in life and in business, that's why you need to be specific with the work you do. Take the time to get to know all of the essential processes in your business before introducing a work system.
Get feedback, reformulate if needed, and then test the new system. Once efficiency and productivity gains are established, give everyone time to ease into the new system. Then you'll see business productivity increase in no time.
The tips above are useful in getting your small office organized. But you have to remember that things can also get out of hand. Conduct a quick and easy review of your system periodically to ensure that it remains streamlined and foolproof.
About the Author
 Chris Humphrey is the General Manager of Easytruck Moving & Storage. In 2013, the company combined their expertise in professional moving services & storage to create an entirely new approach to the business – and mobile storage was born! Easytruck now operates over 30,000 sq.ft. of air-conditioned facilities in three convenient locations in Dubai and is the only Mobile Storage operator in the UAE.