Click here to get this post in PDF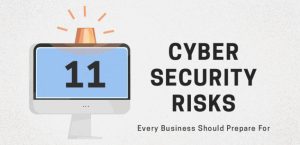 Advancement in technology also entails an increase of its security. On a daily basis, hacking happens in different parts of the world.
According to a study by TechCrunch published in ZeroFOX, around 600,000 logins are hacked, and that's on Facebook alone. These are for personal and individual accounts, so just think about its effect on businesses.
Unfortunately, small businesses are the most vulnerable if they don't invest in good IT support companies. Since they're not prioritized accounts, they are vulnerable to attacks.
By 2021, cyberhacking is expected to hit $6 trillion on a yearly basis—which is huge and obviously, not good. In line with that, there's a significant increase in data breaches since 2013.
If you're a business owner who wants to avoid this business dilemma, then you should act now. At the very least, establish a cyber incident responses plan. This will lay down the step by step process you should take if ever a cyber incident happens. A cyberattack can spread like wildfire from one compromised device to another until it takes over your system.
After solidifying this for your business, make sure to inform your employees about it. One major reason for cybersecurity risks is the subpar knowledge of employees on how to protect the system such as removable devices and online links.

Infographic by Transcosmos Information Systems Limited