Click here to get this post in PDF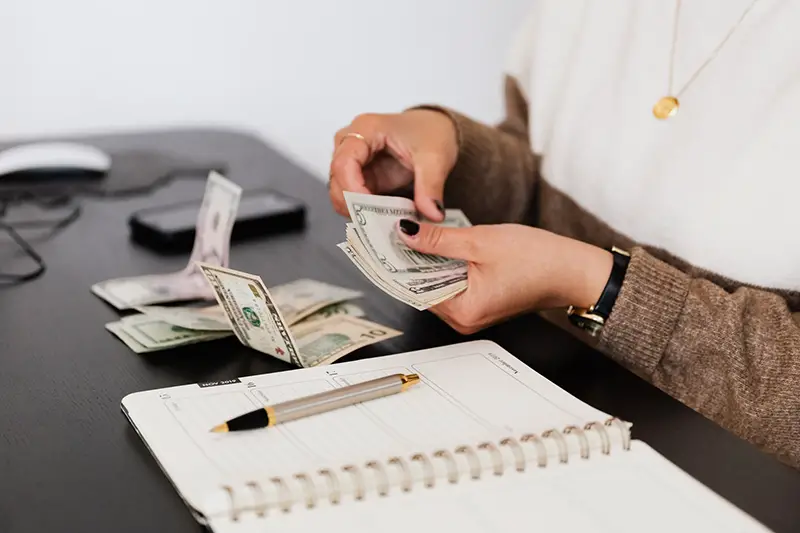 Having access to extra funds in the form of a business loan can make your entrepreneurial dreams a reality. You can use such a loan for a start-up, grow an existing business, or keep one afloat.
Whatever your reasons are for taking a business loan, it doesn't have to be a stressful and worrisome affair. There are just a few things to think about before you rush out and commit to an offer.
So here are the top seven factors to consider when taking a business loan.
Be Realistic About the Loan Amount
Before you do anything else, first establish a realistic loan amount that should be adequate for your specific needs. Also, ensure to work out that it's viable to pay the loan back in good time. And factor in unexpected financial difficulties that your company could face.
Remember, there are fees that you need to add to your calculations. Plus, if you take out a loan larger than you really need, you'll end up paying a lot more in interest payments, and your income-to-debt ratio will suffer.
Determine When You Need the Loan
As a general rule, the more urgently you require a loan, the less favorable the terms you will be. Banks and loan providers see fast loans as a way of hiking up interest rates and fees.
Yet, if you can allow enough time before you take out the loan, you can potentially improve your credit score. As well, you'll have more time to research the best deals on the market; or at least loan providers that match your needs best.
However, if you're on the lookout for business cash advances, there are loan providers out there that offer very respectable deals.
Learn Your Credit Score
As we just mentioned, you may have the opportunity to improve your credit score if you give yourself time to do so.
But before you can do that, you need to learn the health of your personal or business credit score.
After all, your credit score is a significant consideration when applying for a loan. As a result, it's important to double-check your score for any errors that need correcting. And nowadays, it's easier than ever to check your credit score online, with various reputable sources available at little cost.
Spend Time Shopping Around
If you plan well ahead before you intend to take a business loan, you'll have the chance to shop around for the best deals. 
Additionally, there are many alternatives to business loans out there to consider. 
Whatever size your business is, there are merchant cash advance possibilities open to many business owners today. Plus, there are now companies that specialize in more flexible financing options, other than traditional banks and credit unions.
So do your research before diving in!
Read the Contract Carefully
When checking a business loan contract, or one from a similar financing option, check the payment structure.
Some loan providers can sneak in a balloon payment on a particular date in the future. Essentially, this is an oversized payment thrown in at the end of contracts, such as for business loans and mortgages.
You also might stumble across early payment penalties and origination fees if you look carefully enough into a contract. But, it's also worth asking the loan provider about these sorts of things, and many will be obliged to let you know through company policy – and a sense of honesty.
Read Any Reviews Available
In this modern technological age, there are reviews on most companies and services in every industry. If you're going with a pretty well-known business loan provider, they're bound to have been reviewed.
Forums can also be a great place to find people's commentaries on experiences with business loan providers. You also might be able to see recent advice on types of loans and people comparing loan costs.
Ultimately, reviews and commentary from real customers of loan companies offer you valuable insight that just wasn't available a couple of years ago.
However, beware; not everything people say and comment on in their reviews is always accurate. It's just subjective info. For example, someone writing a bad review may have just been an overly fussy customer that wanted to vent out on that company, and many others too!
Decide on the Loan Type
Business loan companies typically provide various ways for your to finance your company. And some of these financing options don't require a particular reason as to why you want to borrow money.
For instance, there are such financing mechanisms available that are revolving lines of credit. Put simply; you can loan a set amount and pay it back to then use the money again if needed for future projects.
Revolving lines of credit are handy if you are a small business owner. They can even be used as a backup fund to ride out down periods when you're not generating the standard levels of business you're used to.
And speaking of small businesses – there are small business administration loans to make use of (SBA loans). So again, do your research, and give yourself time to choose if you can.
Take a Business Loan for the Right Reasons
As much as any business owner may want to spend time researching which loan is best for their needs, sometimes it just isn't possible.
In this case, you should go with a known to be reputable and reliable provider when taking a business loan. And remember, getting the proper funding for your business is how countless other firms have developed into highly successful enterprises.
Thanks for stopping by. Please check out our blog for more valuable tips and advice. 
You may also like: Top 5 Important Tips to Get a Small Business Loan Approval