Click here to get this post in PDF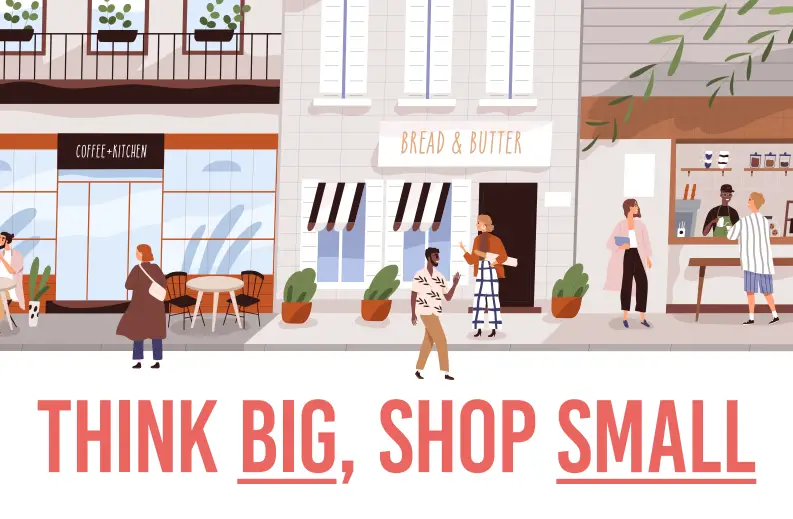 The explosion of online shopping is good news for consumers, but it's not necessarily good news for small and local businesses. Shopping small and supporting local businesses produces a number of benefits not only for the establishments you support but for your community as well. Here's a closer look at some of the reasons you should consider shopping small and how you can do so.
First, shopping small helps your local community. About half of the cost of your purchase recirculates into the local community, compared to a mere 14% when you choose to shop at a chain store. (That figure usually reflects wages spent on employees.) While shopping at chain stores can help support jobs for local residents, the fact is that more money stays within your community when you shop small.
Additionally, shopping at small businesses helps support jobs as well. You may be surprised to learn that small companies are responsible for employing more than half of the workers throughout the country. When you choose small businesses, you're helping maintain jobs and create new ones for the people in your community.
Anyone who has ever shopped at a farmer's market can testify to the quality and selection you can find there. Whether you're buying fresh produce, flowers or homemade bread, you're bound to find a tempting mélange of flavors for a fair price. Even better, you're supporting the work of local farmers and producers, too. Eating at local restaurants that use locally sourced ingredients is another way to support job-growth as well.
Shopping local can also show support for your art community. Local artists are more likely to offer their wares at small businesses, farmer's markets and other storefronts than at larger companies. When you shop at smaller retailers, you support both the business and the artists who are providing the work.
Not to be overlooked is the customer service you're likely to receive at smaller companies. While large companies may be able to coast on the strength of their brands, small businesses are more likely to be committed to positive customer experiences. Community shops and restaurants understand that every customer matters, and they are more likely to "go the extra mile" in a way that other stores may not. Additionally, they are invested in their communities; three in four local businesses support charitable organizations.
For more information on how to shop small, check out the accompanying resource by House of Webster.
This infographic was created by House of Webster, a contract food manufacturing company
You may also like: The Importance of Shopping Local