Click here to get this post in PDF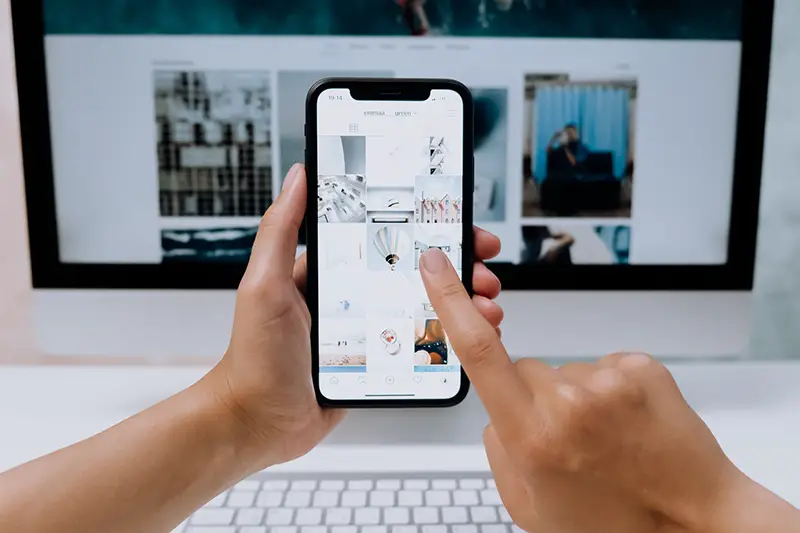 Does my business need a website or a mobile application?
If you're anything like most small business owners, this is one of the conundrums you are bound to run into. In a perfect world, every business would have both an app and a website. Unfortunately, the world is far from perfect.
You have no choice but to choose one or the other, most likely due to budgetary constraints. There's nothing wrong with this because either a website or an app will significantly improve your business.
But which should you go for? In this website vs app comparison, we're giving you the information you need to make a sound decision.
Read on!
What's a Website?
In order to choose between a website and an app, you need to have a clear picture of what they're and how they do what they do.
A website is a collection of web pages under a single domain name. Your business owns the domain name.
Think of a website as an online business address. Anybody who wants to visit the site will need to type in the domain name into the search bar in their browser and they'll be directed to your homepage. From the homepage, they can visit other pages, such as the about us page, contact us page, blog page, product and services page, and more.
You've got complete control of the pages a website will have, along with the content on it.
Although there are providers that offer free domain names and hosting, as a business you want an independent domain name. Check out these examples and note the difference:
freesites.snackieshop.com
snackieshop.com
Which domain name looks more professional? The second one, right?
In addition to purchasing the domain name, you also need a hosting plan. It's possible to design and develop a site on your own, but it's better to outsource the job to a professional. Since customers want the best website experience, hiring a professional to do the job ensures you'll get a site that meets your users' expectations.
If you have to do it on your own, at least consider QA outsourcing.
What's an App?
Apps, short for applications, have been in existence for as long as computers, but it wasn't until smartphones reached our shores that apps went mainstream.
An app is a program or software that's designed to run on a device, such as a computer or a smartphone.
You probably think of mobile applications when you hear the word "app," but an app can also be a computer or even television application.
An app is designed to perform a certain task.
For example, a business app can be used for ecommerce. Or it can be an app that only provides information about a certain business. 
Website vs App: Which Way to Go?
Now that you have a clear picture of what a website and application are, let's focus on what to consider when choosing one.
The Needs of Your Business
This is the primary point of consideration when choosing between a website or app. It also means you need to identify the needs of your business.
For example, let's say your primary goal is to build an online presence. Perhaps your customers are looking up your business on Google but they aren't finding you.
In this case, you need a business website that's optimized for search. This way, it will likely show up on search engine results when your customers are googling.
Or, let's say you want to start selling some of your products online. Although it's possible to build an ecommerce app, what you need is an ecommerce website. An ecommerce app is designed to complement an ecommerce app.
What are some business needs that can necessitate an app instead of a website? Let's say you're a mobile gaming company. Of course, you'll need a website, but a mobile gaming app is your priority. This is the only way to sell your mobile gaming product.
Your Business' Customer Base
Customer demographics also play a crucial role when you want to decide between a mobile app and a website.
Different customers consume services differently. The younger generations, especially GenZers, are heavy mobile app users. If your business predominantly targets customers in this group, you're better off creating a mobile app.
On the other hand, if your business is targeting the older generations, especially GenXers and Boomers, a website will best suit your business.
Bear in mind that the goal is to give your customers what they want. There's no value in creating a mobile app just because it's trendy if the vast majority of your customer prefer shopping on a website.
Your Budget
Building a website costs money. And so does building a mobile app.
However, the figures aren't the same. On average, it will cost you anywhere from $2,000 to $10,000 to build a proper business website. On the other hand, you need between $80,000 and $250,000 to build a proper mobile app for your business.
Clearly, an app is costly, and not many small businesses can afford it.
Even if what your business needs is an app, don't forgo creating a website because you don't have the money to build an app. Ultimately, both an app and a website are digital tools that will help your business become a truly digital enterprise.
Website or Mobile App? It Depends on Your Business
So, who wins in this website vs app battle?
None.
In truth, your business needs both a mobile app and a website. But when you have to choose between the two, it's important to consider the needs of your business, your budget, and the tastes and preferences of your customers.
Need more business tips and insights? Bookmark our blog and visit often.
You may also like: A Step By Step Guide For Building A Business Website For SME Owners
Image Source: Pexels.com