Click here to get this post in PDF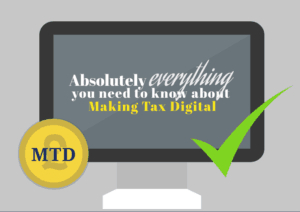 These days, a whopping 82% of adults now claim to use the world wide web daily. That means, for whatever reason – be it shopping or social media – the internet is just something that the majority of us just cannot function more than 24 hours without.
It's no surprise really, with everything from library book renewal to beeping onto public transport now requiring it's very own mobile app. In fact, technology has long since been making things defunct (RIP the rolodex, fax machine, mix tape and alarm clock), and it's only about to get whole load better with 2019 marking the release of the most advanced wireless internet speed yet – 5G.
With the internet now being so centric to not only business, but our entire lives, HMRC have finally taken steps to bring the world of accountancy and bookkeeping into the digital arena, too. That's right – this year, they're digitising the entire VAT process.
As of April 1st 2019, under a new 'Making Tax Digital' initiative, all VAT-registered businesses turning over more than £85,000 per annum must henceforth input all of their financial data into HMRC-approved software. In a bid to simplify and improve the tax process, MTD software will now not only help companies search and access financial information within seconds, but also mean that businesses rely far less on tangible records which have been taking up goodness-knows-how-many-cabinets-worth of storage space.
No need to panic about what's next, though, Business Partner Magazine have teamed up with online business resource, QuoteGrab, to give you a comprehensive rundown on everything you and your business need to know to be MTD-compliant. Whether it's a question of software options or tax timelines, we're here to walk you through the digital switcheroo once and for all. You can thank us later…

So there you have it – strictly the need-to-know info for making that compulsory digital switch come April 1st, all in one handy graphic and available for your downloading pleasure. Complete with a list of some of our favourite software options, and all the important dates for your tax calendar, we hope this helps you along your journey to MTD compliancy – after all, no one really likes change!
For more information on Making Tax Digital, be sure to keep your eyes on the HMRC website, as well as the Business Partner Magazine blog, for more business articles concerning the tax implications of MTD.