Click here to get this post in PDF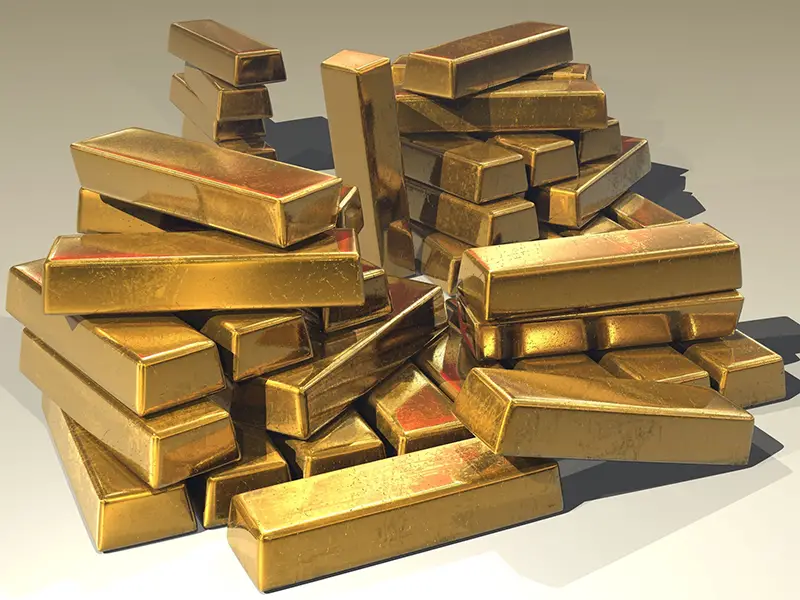 Many people tend to purchase gold due to the fact that it holds its value over time. Others simply enjoy accessorizing with gold jewelry. Unfortunately, it's not uncommon for people to get scammed when buying gold.
Not sure how to tell if gold is real? We've got all the info you need.
Let's explore everything you should keep in mind.
1. The Float Test
Although this test isn't always definitive, it can be used as a preliminary measure. If the gold you have is genuine, it will immediately sink to the bottom of a liquid.
As you might expect, water is the most convenient option to use in this scenario.
If the gold is not legitimate, however, it will often float above the bottom of the container. This means that other metals are present within the piece other than gold, which directly affects its buoyancy. 
If your gold floats to the top of the surface, then all is well. If you find that your goal does not sink, you can move on to other tests to help draw your conclusion.
2. Magnets
Fortunately, using a magnet is a straightforward way to determine whether or not your gold is authentic. Since fake gold pieces are filled with metals like copper and iron, they will be attracted to a magnetic force.
So, even a necklace or bracelet that appears to be made of solid gold could still react when a magnet is placed near it.
To conduct this test properly, though, you'll need a magnet of above-average strength. This can easily be found at most hardware stores.
Keep in mind that some components of gold jewelry may not be solid gold. For example, the clasp of a gold necklace might stick to a magnet while the rest of the piece does not.
It's especially important to test your gold if you have used it as an investment. Otherwise, you will have wasted your money on something that holds little inherent value and will need to resolve the situation. 
3. Hallmarks
Every piece of gold jewelry is supposed to come with a hallmark to help define its quality. These are most often represented in the form of stamps in the metal itself.
For instance, a gold bracelet might have "14K" stamped on the clasp to signify that it is 14 karat gold. In the United States, any gold that is of a value less than 10 karat is legally not considered gold.
So, be wary of any jewelry that says "6K," "4K," etc.
Unfortunately, it's entirely possible for these markings to be faked, so this test should be used in conjunction with other tests. To elaborate, if your gold passes the hallmark test but fails the float test, the hallmark on the piece is fake.
There's also a handful of stamps you should avoid, as they signify that the gold is not legitimate. These include:
If any of the above
 Is stamped on gold jewelry, then it is not actual gold. 
4. Nitric Acid Test
Although this sounds dangerous, nitric acid will only affect fake material since it has no impact whatsoever on genuine gold.
By dropping a small amount of this type of acid on the jewelry, you can quickly determine the legitimacy of the gold.
Pure gold will not react at all. Fake gold will immediately turn a greenish color and gold-plated silver will begin to take on a blurry, creamy appearance.
To help facilitate chemical reaction in this test, you can make a small scratch on the surface of the gold before administering the nitric acid. 
5. Skin Discoloration
Most of us have heard about the skin discoloration that stems from wearing fake gold. Although some will try to brush this off as a myth, it is a legitimate occurrence that signifies that your gold jewelry is not genuine.
As you wear gold against your body and sweat, a chemical reaction occurs that changes the color of your skin. Most often, this has a dark green or black appearance.
Genuine gold will never affect the skin in this manner since it lacks the materials that do so. So, wearing a gold piece for an hour or so can often tell you whether or not it's legitimate. 
6. Ask a Professional
Although the above methods can provide insight into whether or not your gold is real, it's always better to ask a professional.
These individuals are highly trained in recognizing fake gold and can often do so in a far shorter amount of time. For example, the jewelers can tell from the appearance and weight of gold jewelry whether or not it is legitimate.
So, it's in your best interest to contact one if you feel like you need a second opinion.
When in doubt, reach out to a professional in the industry to help you determine whether or not there are issues with your jewelry or bullion. You can visit this resource to find the best gold exchange near me and alleviate any concerns that you have. 
Knowing How to How to Tell If Gold Is Real Can Seem Difficult
But the above information will make the process far smoother. From here, you'll be able to fully understand how to tell if gold is real and avoid scams in the future.
Want to learn more info you should keep in mind? Be sure to explore what the rest of our blog has to offer.
You may also like: Things That Jewelers Don't Tell You About Jewelry
Image Source: Pexels.com