Click here to get this post in PDF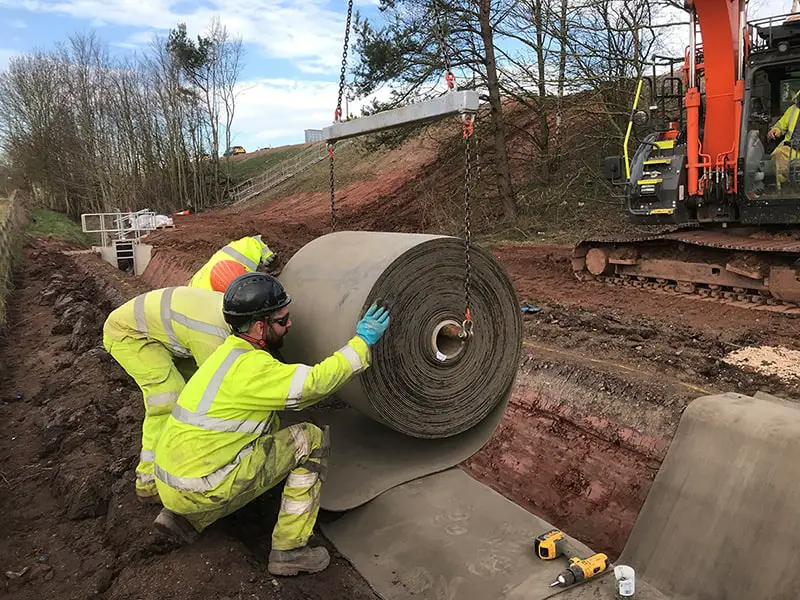 There are a huge number of challenges with any engineering or construction project. Depending on the type of projects and where it's located, some challenges will be different from others. The goal of any organisation responsible for an engineering or construction project should be to finish the project safely, on time, to a high standard and within budget.
Throughout any project, there are countless decisions which can impact the ability to achieve these goals. One of the most crucial, especially on a large-scale project, is the choice of materials that are used. Materials can seriously help or hinder a project and continue to have an impact for years down the line if the ones chosen are not up to standard.
For years concrete has been used in civil engineering projects around the world as it has several benefits for use in many sectors. There are, however, some notable drawbacks to using traditional concrete, either sprayed our poured, which have resulted in more and more projects looking to alternatives.
The UK company Concrete Canvas has developed one such alternative. Geosynthetic Cementitious Composite Mats, or GCCMs, have several benefits over traditional concrete which makes the four goals, referenced earlier, easier to achieve. The fabric is flexible and easy to transport when dry and once hydrated, it sets to form a layer of concrete which is durable, waterproof and fire-resistant.    
Let's look at each of the four goals mentioned above and examine GCCMs compared against traditional concrete.
Safety
Traditional concrete requires a large amount of specialist, heavy machinery to be present on project sites to mix and pour the cement. The presence of these machines poses a risk to workers on a construction site, and the specialist training needed to operate them safely is vital. In contrast, using an alternative like Concrete Canvas which requires no specialist machinery or training, arrives on-site on a pallet ready to install with little more than simple hand tools, making it much safer.
Speed of installation
Some projects have a longer time scale for completion than others, but sometimes the project must be finished quickly. In these instances, materials which can be installed and ready for use quickly are a necessity. One of the main benefits to GCCMs is its speed of installation; GCCMs can be installed at rates ten-times faster than poured concrete and it reaches 80% of its final strength within 24 hours.
Quality
While the speed at which a material can be installed is important, it's also vital that the material can stand the test of time. Clients want to be sure that the project they're paying for is not going to require significant restoration work after just a few years. Concrete Canvas GCCM has a durability of 120 years, as certified by the BBA, and because the concrete mix is reinforced, it provides excellent erosion control, abrasion resistance and resistance to UV and chemicals.
Cost
No matter the business overseeing the project, budgets are always important and as businesses face more competition and costs associated with running their business, remaining under budget for a construction project is vital. With a GCCM, not only can it be installed at a significantly faster rate but, it is much more cost-effective than traditional concrete. One lorry of Concrete Canvas fabric equates to thirty 17-ton mixer trucks of traditional concrete. Along with the financial benefits which come from requiring and using less material, as well as less material waste, there are environmental benefits as no mixer trucks are needed on-site, and GCCMs are a low mass and low carbon alternative.
While concrete remains a popular and commonly used material, more alternatives are arriving, which could reduce the construction and engineering industries reliance on traditional concrete.
You may also like: The benefits to businesses of metal pre-treatment and powder coating