Click here to get this post in PDF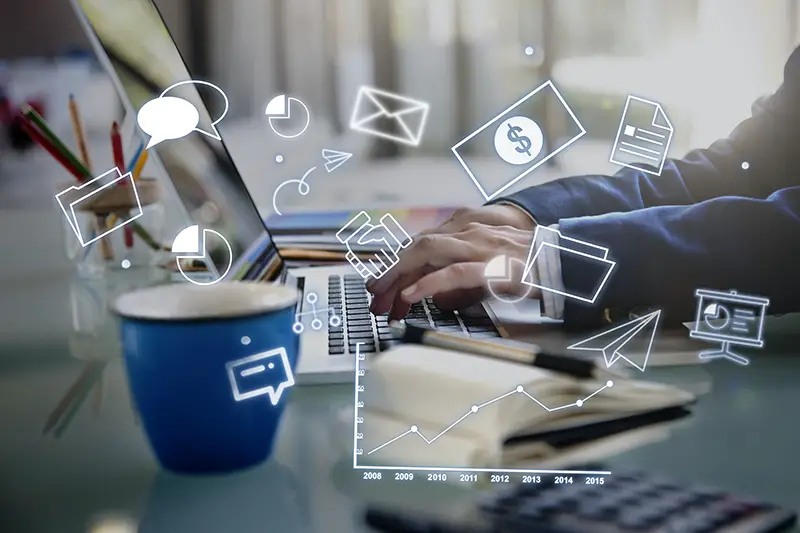 Over time, the complexity of business processes carried out by organizations across the board has increased significantly. As customers demand more personalized services, employees demand more personalized support, and businesses get increasingly diversified, the in-house employees of an organization often find themselves overburdened with work.
In such cases, it is advisable for an organization to avail of managed services to streamline their processes, get their projects managed, and carry out specific tasks in an effective manner. These services relieve your employees from performing an array of different activities and getting distracted from the core business matters. 
According to a report by Mordor Intelligence, the Global Managed Service Provider Market was valued at $152.05 billion in 2020. The market is further expected to grow to $274.20 billion by 2026. This implies that the relevance and adoption of managed services are here to stay.
However, before we move on to the future of these dedicated services, let us refresh your basic knowledge about managed services.
What Are Managed Services?
Simply put, managed services are specialized services provided by dedicated professionals on a contractual basis. Prevalent in the IT sector, these services revolve around helping organizations carry out daily operations and handling the software platforms used by them.
From developing a software platform to providing services related to auditing, analytics, reporting, project management, customer support, helpdesk, and much more, managed services help an organization outsource a chunk of their services to focus on other internal matters critical for management. 
When a company seeks managed services, it is looking towards saving some money. As opposed to hiring full-time salaried professionals, seeking professional help whenever required allows you to spend money only when you are in need of a specific service. Also, this helps an organization to obtain focused help as the professionals have no affiliation with the company, sparing them from priority issues.
Now that we are well-versed with the basics, let us discuss how the future of managed services looks.
The Future of Managed Services
Over time, a number of SMEs have encountered the need to digitize their business processes, streamline the support provided, and implement software platforms that make their work easier. Managed services help these enterprises to attain their objectives by providing them with dedicated services without them having to spend a fortune.
This success of small businesses being able to avail of professional services at an affordable rate has thrown the doors for managed services wide open. 
Looking at the IT needs of organizations and the prevailing trends in the industry, this is how the future of managed service will be:
More Focus on Data Security
In the 21st century, data is rightly referred to as the "digital gold" for organizations operating in all industries. Today, an organization needs to collect, store, access, and assess a number of datasets on a regular basis to keep its processes going. This increases the need for data security and privacy.
Organizations have already started implementing cloud-based SaaS platforms to keep their data secure. These platforms provide layered security to the data stored by an organization, allowing the company to adhere to data compliance regulations like GDPR and CCPA.
In the days to come, the need for data security and privacy will only increase, making organizations look for managed services to deal with the same.
Increased Prominence of IoT
As the need for data management and security is on the rise, so is the need for wireless transfer of data across different devices. Internet of Things (IoT) has already created its niche with technologies such as cellular networks and Bluetooth. As business processes become increasingly impersonal, companies will need help with collecting data by setting up sensors and ensure smooth data transfer for seamless communication.
Rise in AI and Machine Learning
As discussed earlier, the complexity of business processes in organizations is increasing over time. This makes it important for companies to include machines as extensions of their human resource! This is what has led to the widespread adoption of technologies like artificial intelligence (AI) and machine learning.
These technologies help a digitized system think like the human brain when fed with a high volume of data over time and setting specific triggers. Whether it is to provide personalized services to the clients or staying ahead of the competitors, the need for data analytics is only going to increase in the days to come.
This is likely to increase the need for managed services dedicated to the implementation and management of AI/machine learning systems. These systems will help organizations make sense of their complicated database and provide the management with valuable insights that would help them make important business decisions.
Non-conventional Applications Of CRM
For more than two decades, CRM platforms have been used by organizations that operate in the marketing, sales, finance, and IT sector. The majority of these platforms have been known to have applications in conventional industries for commercial purposes.
However, this trend is changing. Over time, industries such as healthcare, retail, and education have started implementing CRM platforms to handle their databases. Just like business enterprises use CRM for keeping a track of their customers, medical institutions use the technology to keep a track of their patients/donors and educational institutions use the same to obtain a 360-degree view of their students, faculty, and alumni.
In the days to come, such non-conventional applications of CRM are likely to be on the rise with institutions in the health, education, and other relevant sectors seeking managed services to implement and manage these platforms.
The Final Word
Looking at the increasing need for specialization and obtaining professional assistance at affordable rates, it is safe to say that managed services are not going anywhere in the years to come. The ongoing struggle with a global pandemic has made the world realize the importance of digitization and off-premise software platforms.
With the help of reliable and dedicated managed services, organizations across the globe will be able to organize their processes and achieve the goals that give them the desired traction.
You may also like: 5 Reasons Why You Should Use a Learning Management System
Image source: Rawpixel.com